Yo, Kyrie Irving has the sickest handles in the game. This is not recency bias based on what he did in game 4. For years, I've felt this way. I've had debates with people on the topic. Steph Curry, John Wall were some examples of whom might be better with the ball. My pseudo brother-in-law (I'm not married) feels that John Wall is a better player than Kyrie. I mean, these are two elite guys at their position, so it's not it's a crazy opinion. Wall is one of the fastest players with the ball in his hands, next to my boy BRODIE (Westbrook) obviously. The way he speeds down court in transition is awesome. He also puts up mad assists, with 10.7 this year. When it comes to handles though, Uncle Drew trumps outshines him. Steph has some pretty great handles too. Kyrie's are dirtier.
---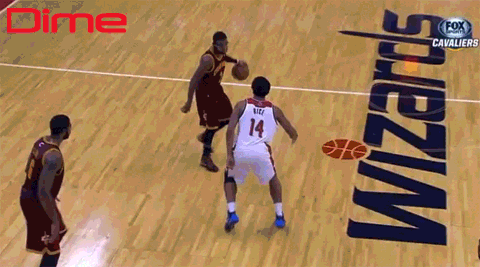 ---
In my opinion, Kyrie is one of the most underrated superstars in the league. He's rarely a topic of conversation for the talking heads of the 24-hour sports news cycle, unless he goes off as he did in game 4. In fact, the only time I remember him being a real topic of interest this year was during All-Star Weekend when he revealed that he believes the Earth is flat. Which is uhh, interesting, but at least we got Richard Jefferson wearing this T-shirt from it…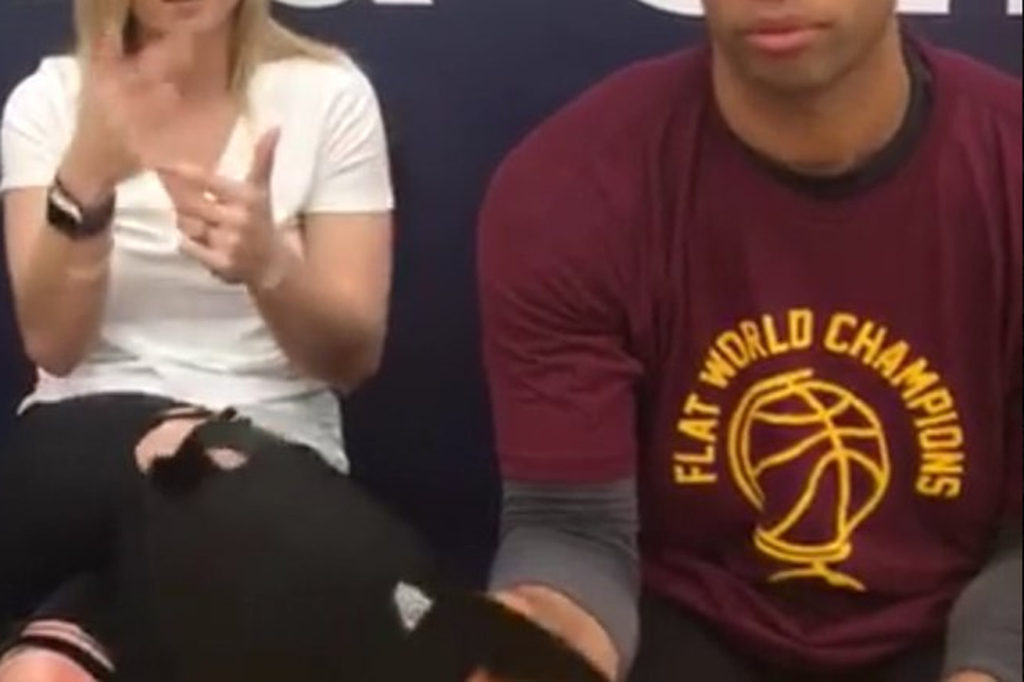 But he's been pulling off crazy games, like game 4, since before LeBron returned to "The Land." Of course, the Cavs were shit and a perennial lottery team during that period, but I fell in love with Kyrie regardless. He's easily one of my favorite players to watch, especially when he gets going. Step-back 3's, crossing dudes up multiple times, splitting the pick & roll, and his amazing body control when taking it to the rim.
---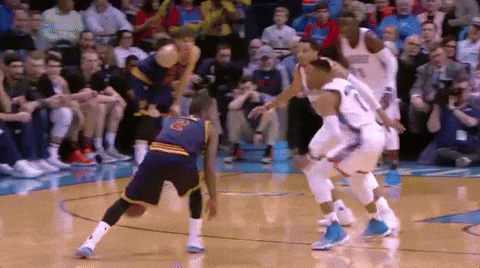 ---
Some of the layups/drives he pulls off are legit unfathomable, where my only reaction is to laugh in excitement and disbelief. I remember asking friends, "Who are the top 3 point guards driving/finishing at the rim?" My answer was always Russell Westbrook, Derrick Rose (pre 783 knee surgeries; which still hurts as a Bulls fan) and Kyrie Irving. Obviously, Rose has fallen out of that group, but Kyrie is sure as shit still there. Westbrook is like a cheetah high on cocaine. Kyrie Irving is a graceful gazelle. Both are beautiful creatures.
---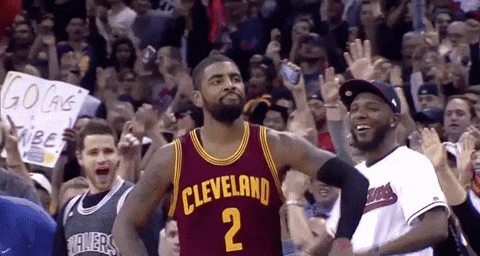 ---
Let's not forget about Kyrie in the clutch. Remember when the Cavs rallied after trailing the Warriors 3-1 in last years finals to force a game 7? Do you remember what clinched their win in game 7? Yep, it was a Kyrie 3-point dagger. Remember the much anticipated Christmas Day game between the Cavs and Warriors this year? Remember how it ended? Yep, Kyrie with a clutch, difficult as hell fade-away over a top defender in Klay Thompson to give them the win & resulting in this beautiful mean-mug.
---
Just typing this out has me so hyped for the Cavs/Dubs 3-match. I know that Kyrie believes he is better at basketball than Steph Curry. Obviously all players should have the confidence to believe they are better than player X. But he is known to give Steph problems (Even though the Warriors are sure to start off with Klay Thompson guarding Kyrie, Steph will need to pick him up at numerous stretches throughout the games & series.) This shouldn't surprise anyone though, because Kyrie has the best handles in basketball.
---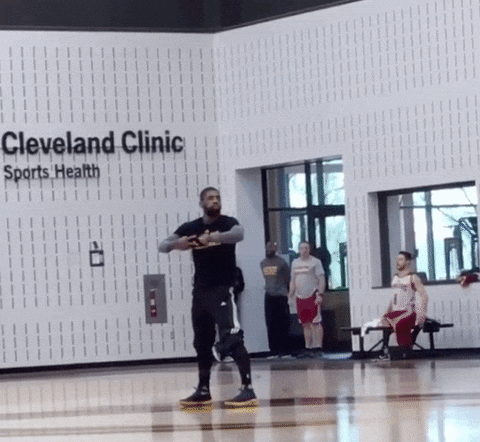 ---
** Kyrie Irving is at like 12-1 odds for Finals MVP.
If I had money, I might throw some cash on that.
---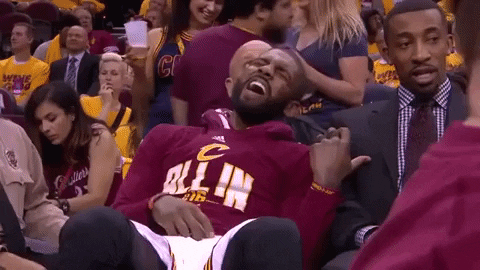 Find Scottie Diggs on twitter at @ScottieDiggs!
---
We talk about Kyrie and the NBA Finals on this week's podcast. You can listen to it here…
Comments
comments