*Rocket Mortgage Classic pick for One and Done leagues: Kevin Na
---
My betting week for the Travelers Championship was salvaged thanks to Doc Redman's Top 20 finish. I'm feeling a little frisky this week. Could be the "new baby swag" giving me false hope, but I do feel a solid betting week is right around the corner.
I'm sticking with the same strategy I wrote about in last week's article for the Travelers Championship. If you didn't get the chance to read it, here is a breakdown of how I research betting PGA Tour events:
Current form – Which golfers are currently playing at a high level in comparison to their peers, with consistency and high leaderboard finishes.
Course/tournament history – The players who always tend to "show up" on the leaderboard at the same course/tournament year after year. (2019 was the first time the Rocket Mortgage Classic was played at Detriot Golf Club, so there wasn't much course history to review this week)
Reviewing the tournament's previous years' leaderboards – This tells me what type of golfer tends to play well at this specific course (bombers, accuracy, ball strikers, good short game, etc.). Then I review player statistics to find out which golfers are currently excelling in those areas.
Odds – I'll do my research before looking at any odds. I typically have a list of 12-15 golfers then narrow it down based on who I think is the most undervalued to exploit their betting line. It's always a good idea to "shop around" for golfer odds. Some sites have better odds than others.
Patience/Luck/Gut Instinct – Each of these should have its own bullet point. 1) Be patient. You will not pick the tournament winner every single week. 2) You need the stars to align once in a while and get lucky. Most of the time, luck will be against you. And, 3) always go with your gut. Don't be influenced by others. If you like a golfer, stick with them.
When all research is done, and my golfer pool has been narrowed down, I place my wagers. See below for my Rocket Mortgage Classic bets and picks. I always add some props, such as first round leader (FRL), for fun. These are very small wagers and I look for long-shots who can catch fire on any given day.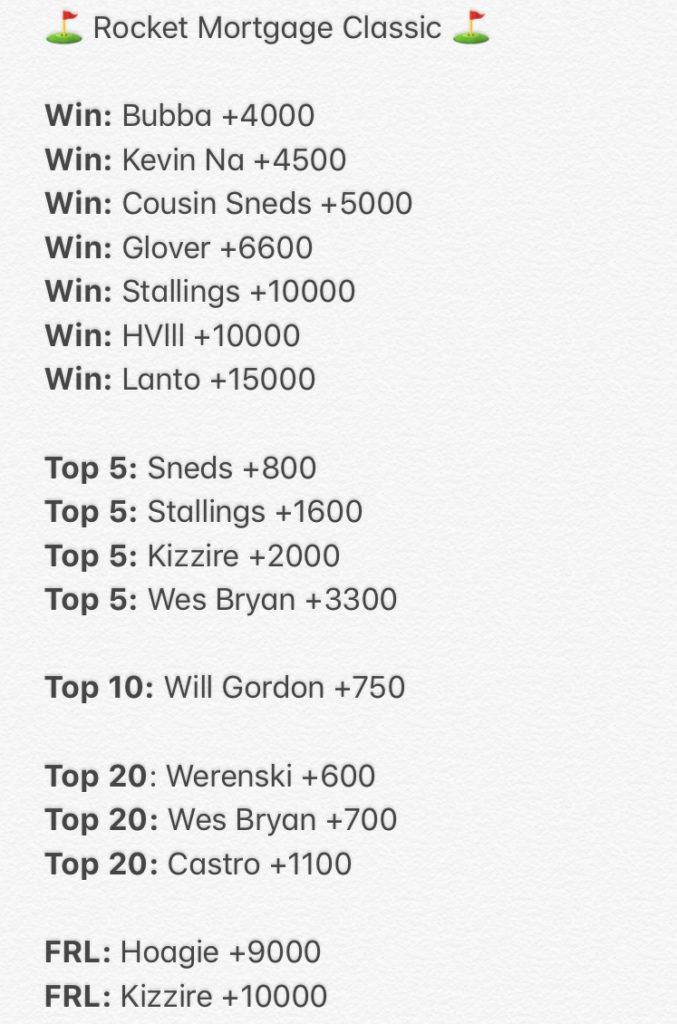 Best of luck this week! Check back Tuesdays or Wednesdays for my weekly PGA betting preview.
Comments
comments