*Favorite One and Done league pick for The Memorial: Justin Thomas
---
Last Sunday's finish at the Workday Charity Open was one of the best and most suspenseful conclusions in recent memory. Too bad the lack of TV coverage failed to capture it in its entirety. I mean with all the live sports on television these days, I guess golf got lost in the programming shuffle *eye roll*. But, big congrats to Coll-win Morikawa. Kid's a stud!
Kevin Streelman's top 10 finish at the Workday kept me from posting back-to-back goose egg weeks. The Memorial will be played at the same course (Muirfield) as last week's tournament, albeit, a much harder setup. I'll be targeting the same mother f-ers I did last week for DraftKings. As far as betting lines go, there were some pretty juicy numbers that the books put out for The Memorial.
My research strategy on choosing players to bet is the same as always:
Current form – Which golfers are currently playing at a high level in comparison to their peers, with consistency and high leaderboard finishes.
Course/tournament history – The players who always tend to "show up" on the leaderboard at the same course/tournament year after year.
Reviewing the tournament's previous years' leaderboards – This tells me what type of golfer tends to play well at this specific course (bombers, accuracy, ball strikers, good short game, etc.). Then I review player statistics to find out which golfers are currently excelling in those areas.
Odds – I'll do my research before looking at any odds. I typically have a list of 12-15 golfers then narrow it down based on who I think is the most undervalued to exploit their betting line. It's always a good idea to "shop around" for golfer odds. Some sites have better odds than others.
Patience/Luck/Gut Instinct – Each of these should have its own bullet point. 1) Be patient. You will not pick the tournament winner every single week. 2) You need the stars to align once in a while and get lucky. Most of the time, luck will be against you. And, 3) always go with your gut. Don't be influenced by others. If you like a golfer, stick with them.
When all research is completed, and my golfer pool has been narrowed down, I place my wagers. See below for The Memorial picks I've chosen for this week. I'll sprinkle in a few prop bets, such as first round leader (FRL), for giggles. Most of my past success, however, has come from Top 10 and Top 20 bets.
The Memorial | Picks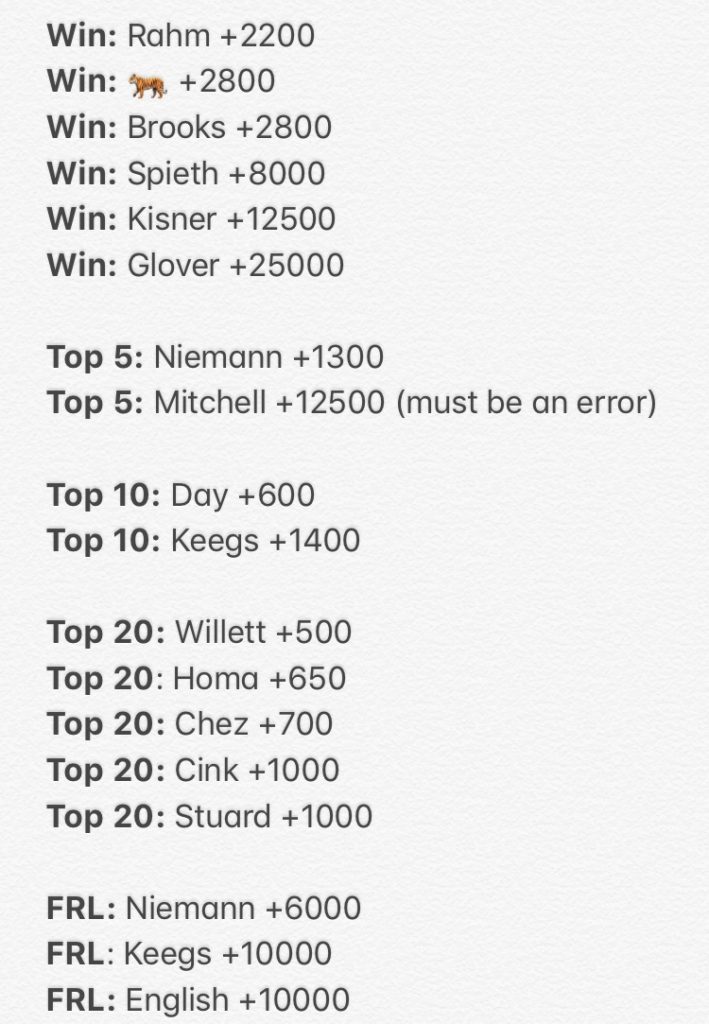 Good luck to all this week! Hope we see another awesome ending.
Comments
comments