I'm obsessed with the NBA. It's the greatest sports league in the world. I realize that first sentence makes the second one sound void of any objectivity, but I'm still right. ¯\_(ツ)_/¯
For those of you who aren't hardcore hoop-heads, this is how the All NBA teams work. It's a 5 man "starting lineup" consisting of 2 Guards, 2 Forwards, and 1 Center. The All Star voting eliminated the Center position a few years back, in favor of a 2 Backcourt – 3 Frontcourt lineup. I imagine this could possibly carry over to the All NBA Team format down the line, but I'm not sure it should. The war against Centers is real! There are 3 All-NBA Teams. Here are my picks:
All-NBA 1st Team
G – Russell Westbrook (OKC)

G – James Harden (HOU)

F – LeBron James (CAVS)

F – Kawhi Leonard (SPURS)

C – Rudy Gobert (JAZZ)
All-NBA 2nd Team
G – Isaiah Thomas (CELTICS)

G – Steph Curry (GSW)

F – Giannis Antetokounmpo (BUCKS)

F – Kevin Durant (GSW)

C – Anthony Davis (NOLA)
All-NBA 3rd Team
G – John Wall (WIZARDS)

G – DeMar DeRozan (RAPTORS)

F – Jimmy Butler (BULLS)

F – Gordon Hayward (JAZZ)

C –DeMarcus Cousins (NOLA)
Making an All NBA Team is an important achievement for multiple reasons. On the surface, it means you were a top player at your position that given year. It could help land you in the Hall-of-Fame someday. But perhaps the biggest payoff (pun intended) is that a selection can determine how much money a player can receive in free agency. For example, Gordon Hayward is about to be an Unrestricted Free Agent once he exercises his player option. Under the NBA's CBA (Collective Bargaining Agreement) a player's current team has the ability to offer substantially more money than any other  team. They can also offer a 5-year contract, compared to a 4-year that can be offered by competing teams. This is to make it easier for small-market teams (like the Jazz) to retain their franchise players.
If Hayward makes an All-NBA Team, he would qualify to receive the super-max , which would equal 35% of the team's total salary cap, opposed to 30% if he doesn't. 5% may not seem like much, but we're talking about nearly $70 Million more dolla dolla billz over the course of the contract, ya'll. NBA players make a shitload of money now, and whether he makes All-NBA or not, Hayward is about to cash in BIGTIME this summer.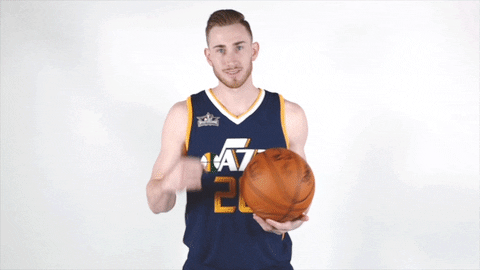 There are also Two All-Defensive teams. The title speaks for itself, so I won't rant on that & will only give you my 1st team picks.
NBA All Defensive 1st Team
G: Chris Paul (LAC)

G: Avery Bradley (BOS)

F: Kawhi Leonard (SPURS)

F: Draymond Green (GSW)

C: Rudy Gobert (JAZZ)
Moving on to my picks for the individual NBA Awards.
MVP – Russell Westbrook (OKC Thunder)
Russell Westbrook is my favorite player in the game. He plays every possession of every game like his life is on the line. He broke the record for most Triple Doubles in a single season, notching 42. FORTY FRIGGIN' TWO! That's over half of the games he played. And to make it more impressive, he's the first player since Oscar Robertson ('61-'62) to AVERAGE a triple-double for a full season, only the 2nd player ever to do so. He ended with averages of 31.6ppg/10.7 rpg/10.4 apg. Oh, and HE LEAD THE LEAGUE IN SCORING! That's just insane. Robertson is an all-time great, but I find Westbrook's feat way more impressive. The level of competition in the NBA is probably the highest it's been since at least the 90's. The game has changed. Man has evolved. Athletes have evolved. We know things now that were never considered/measured back then. There are statistics for everything now. They can study how resting a player on the 2nd night of a back-to-back can help reduce injury and fatigue, for example. It's the "age of analytics." Westbrook is a cyborg. He gives zero fucks (or shits – you pick JOE) about your analytics.
Kevin Durant left the OKC Thunder in favor of an already stacked Warriors squad. We knew before the season even started that Westbrook was going to be locked into complete Eff-You mode. There were talks of him possibly averaging a triple-double, but then he went and actually did it! The Thunder won 48 games, finishing 6th in the Western Conference. Considering the fact they lost a former MVP and the best pure scorer in the game in Durant, OKC probably had no business winning that many games. But, RUSSELL WESTBROOK. 
This MVP race has been crazy all year. People changed their opinions on the subject almost on a nightly or weekly basis, and understandably so. Except for me, I've been team Westbrook all year. James Harden is having himself a year, averaging crazy numbers of 29.1ppg, 8.2 rebounds, and 11.2 assists per game. Kawhi Leonard, in typical Spurs fashion, is an under the radar superstar, and arguably the best 2-way player in the game. Then you have The King, LeBron James, universally recognized as the best basketball player on the planet for the past 11ish straight years. He's led his team to 6 straight NBA Finals, and this year will make it 7. Seven straight years! And wanna know what's crazy? In his 14th year, he's averaging career highs in assists, rebounds, and FG%. Despite all that, he likely won't finish higher than 3rd in voting, more likely 4th. It's been a hell of a year for the MVP race, but it has to be Westbrook.
Most Improved Player :Giannis Antetokounmpo (Milwaukee Bucks)
Ah, the Greek Freak. A 7 footer with the athleticism & handles of a point guard. Giannis is only 22 years old and lacks a consistent jumper, but is already a top 15 talent. He was drafted solely on potential. He was playing small minutes in a pro league in Greece, his home country. He used to sell trinkets with his brother on the side of road to make money. Now in his 4th year, he led the Bucks in total points, rebounds, assists, steals, and blocks. He also finished top 20 in the league in every one of those categories, the first player ever to achieve that feat. He'll win an MVP within the next 5 years. Once he gets that jumper, holy shit. He really is a freak. Rather than go on and on, I recommend you just go watch some of his highlights. Like this one.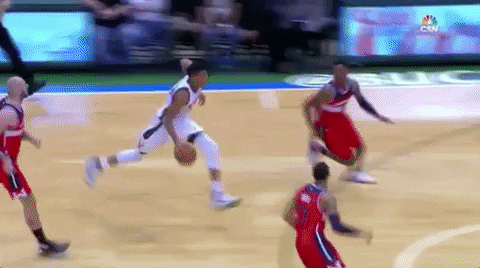 Rookie of the Year: Dario Saric/but really Joel Embiid (Philly 76ers)
Joel Embiid finally got on the court this year, and he was nothing short of amazing in the 30 games he played in. He proved that the hype about him was warranted. Unfortunately, he was set back by more injuries, which was a total bummer. When he played, he was a beast. Whether it was giving dudes the Olajuwon "Dream-Shake" in the post, driving from the top of the key to the hoop for a dunk, swatting shots, and even stepping out to hit the 3, he showed many flashes of brilliance.
He also has the best personality in the league, by far. He's absolutely hilarious. I strongly recommend following him on Twitter.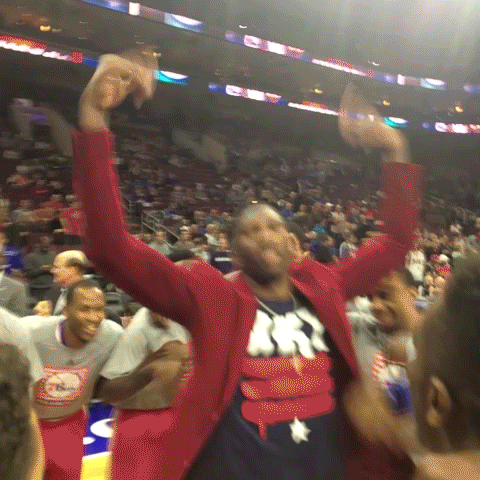 As for the award, it should be split. Embiid for the first half of the year, and Saric for the second half. Saric had a very solid year. A big guy who stretches the floor to knock down the 3, can handle the ball & pass well. Just send the trophy to the Sixers organization. They can have shared custody of the ROY baby they collectively gave birth to. Malcolm Brogdon of the Bucks also had a fantastic year, and is the only other player who should & will be considered. 
6th Man of the Year : Eric Gordon (Houston Rockets)
Remember when Eric Gordon was a fantastic young player with great potential and high trade value? Maybe you don't, it was a short window. I mean, he was the centerpiece of the trade which landed the Clippers Chris Paul. Injuries over the years have prevented Gordon from really showing us what he could do at his peak. He couldn't stay healthy for the Hornets/Pelicans aka Anthony Davis. But he's found a home in Houston. The Rockets are a very analytics based organization *See: Morey, Daryll*. With the hiring of Mike D'Antoni & his run-and-gun, three-point barrage, who gives a shit about defense coaching style, Gordon is able to thrive in his destined position. A 6th man who can consistently knock down the 3-ball and is likely to be on the court to finish games.
Defensive Player of the Year: Rudy Gobert (Utah Jazz)
The Stifle Tower. The French Rejection. Gobert is the best big man defender in the league. He's the defensive anchor of a young Jazz squad that finished with a top 3 defense. He lead the league with 2.1 blocks per game. If he's not blocking a shot, he's altering it. His presence in the paint alone is enough to make the opposition think twice before daring to bring the ball anywhere near him.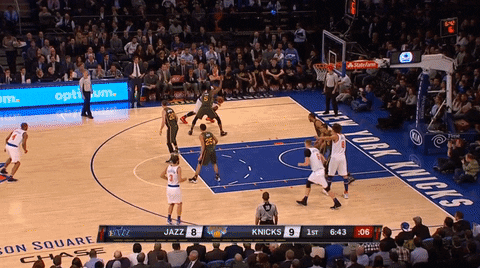 He grabbed 12.8 boards per game, with 3.9 coming on offensive rebounds. This is another tight race, with Draymond Green & Kawhi Leonard also just as deserving of the award. I went back and forth between all 3, but I'll go with RUDAYYY. I see many DPOY awards in his bright future. 
Coach of the Year: Mike D'Antoni (Houston Rockets)
You can argue that Mike D'Antoni is somewhat responsible for how the NBA game is played today. The league has shifted towards "Small Ball." Traditional "back to the basket" big men are becoming more and more scarce. It's all about pace and space. The 3-point shot is utilized more now than ever before. Remember that Suns team piloted by Steve Nash? He was the perfect maestro for the cracked-up "7 seconds or less" offense constructed by D'Antoni. That system was perfect for Nash. So much so that it resulted in him winning back-to-back MVP awards in '04-'05 and '05-'06.
The Rockets were nothing short of a disaster last year. 1 year removed from upsetting the Clippers (coming back from a 3-1 deficit) to make the Western Conference Finals, people had high expectations. They fired head coach & Celtics legend Kevin McHale just 11 games into the season. They ended up finishing with a .500 record, squeaking into the playoffs as the #8 seed. The team had no chemistry. It was obvious their stars, James Harden and Dwight "the fucking worst" Howard, did not like each other. Dwight bounced in free agency this past summer for Atlanta, they hired D'Antoni, and signed free agents Eric Gordon, Ryan Anderson, and Nene. The most important move though was D'Antoni's decision to make James Harden the team's Point Guard. With the ball starting in his hands every possession, Harden thrived, having the best season of his career (see MVP section for stats). He may end up winning MVP, and will finish no lower than 2nd. Remember that part about Steve Nash? See the parallels? Harden is a great talent, and would no doubt put up great numbers regardless of the coach/system. But, Mike D'Antoni is a big reason why he had a career year, and why the Rockets have been widely considered a top 5 team.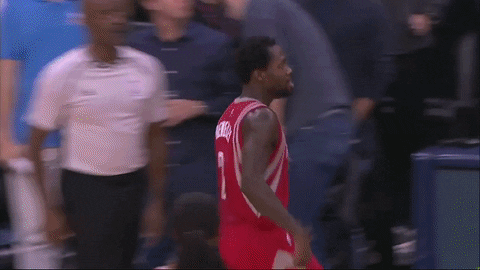 So those are my picks. This year, the NBA is having an inaugural Awards Show to announce all of the winners. Normally, they announced the results during the 2nd round of the playoffs. Now, we have to wait until June 26th, after both the Finals and the Draft are over. That's pretty damn late. I wish they had given us at least the MVP winner before the 1st round this year, considering Westbrook was matched up against Harden in round 1. Whoever loses this MPV is going to be PISSED. Would've been great to see the runner-up have that extra motivation going into that series. But the NBA would rather cash in with a show, which is being hosted by Drake. Cool, I guess.  
To sign off, I'll leave you with the wise words once sung by national treasure Lil' Bow Wow. "Basketball is my favorite sport, I like the way they dribble up and down the court." Yep, the NBA is the best.
Comments
comments