Richard Sherman isn't one to bite his tongue, especially when he believes he has the moral high ground. Yesterday, during an interview he as asked what the thought about Colin Kaepernick. Well, It turns out that he had a lot to say.
---
USA Today: "The funny thing about it, when you're not being blackballed, you don't have to say he's not being blackballed," Sherman told USA TODAY Sports. "When football's a safe game, you don't have to say, 'Football's a safe game.' It seems like the Commissioner always has to say things to justify something.
"But you didn't even do this with Mike Vick. Vick came back and (eventually) got a $100 million deal."
---
This is the point that I keep trying to drive home for months. So many NFL players have done or been accused of so much worse and have been forgiven. To name a few: Ray Lewis, Ben Rothlisberger, Josh Brown, Michael Vick. It's unbelievable that Kaepernick hasn't landed on a team yet. The only thing that I can attribute it to is the mental shift of "Trump's America." I mean, Donald Trump has literally spoken about how he thinks he affected Kaepernick's employability and Tomi Lahren gave him more air time than the election.
---
USA Today: "What is it about?" Sherman said. "It's not about football or color. It's about, 'Boy, stay in your place.'
"He played in Chip (Kelly)'s system last year and went 16-4 (TD-to-INT ratio) on a bad team. He played well because he's a good football player. He may not be the best, but he's better than a lot of these dudes starting."
"Not a lot of guys are willing to step out there," he said. "So the guys not speaking up for him are doing him a disservice. There should be a lot more guys saying something. Most guys are like, 'I don't want my job to end up the same way.'
---
I generally can't stand Richard Sherman, but I don't disagree with a word that Sherman has to say here. It does surprise me more guys aren't speaking up and supporting Kaepernick.
But, can I blame them? No. This incident has proven that even if you're a great football player, the powers that be can keep you out of the league. If you piss off "the masses" that yell the loudest, you're out. The majority of American really doesn't give two shits about this incident. But, a certain subset of Americans that yell the loudest are affected by this on a level that rational humans can't understand. Some might say they're "triggered."
---
USA Today:  "Mike B, speaks up," he added, referring his teammate, defensive end Michael Bennett, "but on our team it's like, 'They're a bunch of hippies over there.' "
Bennett indeed has a strong opinion on Kaepernick.
"I think it shows the racial divide in the league," Bennett told USA TODAY Sports. "There are (accused) rapists and drunk drivers in the league. But he's somebody who didn't do anything to anybody. But you hear owners say, 'We have to ask our fan base first.' But the Giants kept Josh Brown (amid a domestic violence issue). Ben Roethlisberger has been accused of rape twice. The organization didn't turn their back on him. They gave him a contract extension. Kaepernick didn't do anything. That's why racism is the biggest issue in America."
---
Let me be clear. I love America. Because, we all know that'll be the first argument used against me.
But, if Colin Kaepernick wants to silently protest, that is his right as an American. Fighting against his right to do that is UN-AMERICAN. That's what our soldiers have fought and died for, his right to do it. You don't have to agree with what he's doing or why he did it. But, you should realize that he had the right to do it. His employer also has a right to not employ him because of it. That's the society we live in.
But, Ray Lewis was accused of murder, Ben Rothlisberger was accused for rape (twice), Josh Brown is in the middle of a domestic abuse case, and Mike Vick was involved in a dog fighting ring. They all played in the league after their incidents.
Why are we cool with all of that? Ray Lewis was "vindicated" in court. By that, I mean, he didn't catch the body. Ben Rothlisberger's cases went away and Mike Vick went to jail.
What Kaepernick did wasn't illegal. He didn't kill anyone. He didn't rape anyone. He didn't kill dogs. He didn't physically harm anyone. So, there's no way for him to pay public penance for what he did and he shouldn't have to.
Literally, the only way out of this would be to turncoat and say he was wrong for what he did. I for one hope he never does that. Even if I didn't believe in what he did, I would still want to know that he had the ability to express his beliefs openly without persecution. That's literally one of the foundations of American society. When we start picking and choosing who that applies to, we're heading down a dangerous road.
---
USA Today: "Richard Sherman cited a few examples, including the Jacksonville Jaguars' Blake Bortles and the Los Angeles Rams' Jared Goff, as starters that don't measure up to Kaepernick.
"Blake Bortles has shown you enough to where you don't think Kaep would be a solid fit?" Sherman added. "Kaep has won games."
"Now if you told me this guy threw eight pick-sixes last year and played like a bum, had no talent, that's one thing. But Ryan Fitzpatrick, Ryan Mallett or whoever is playing for the Jets right now – whoever is starting for the Jets is terrible – have jobs. You're telling me fans would rather you lose and put a worse player out there because a guy took a stand? That's where it's so troublesome to me."
---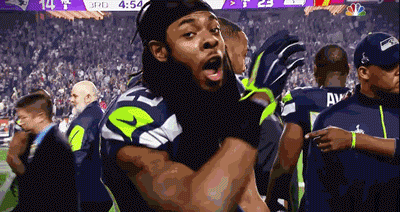 You almost have to appreciate Richard Sherman's inability to not be an asshole. He felt the need to casually call out all the NFL quaterbacks that he thinks suck. I agree that Goff might not be ready to be a starter in the NFL, but I think Blake Bortles is going to have a bounce back year. Ryan Fitzpatrick and Ryan Mallet ought to just retire. I don't know how you come back from that burn.
---
USA Today: "We've been rivals," Sherman said. "But it goes beyond football. On the field, I'm an adversary. Off the field, we're cool. Cordial. You just don't ever want anything like this to happen to anybody. It's unfair. He's out there sacrificing for more people than himself."
---
Comments
comments