Breaking News: Carbondale Area football's very own, Noah Yates, has committed to play football for Army (The United States Military Academy).
Update: It should be noted that Noah attends Forest City Regional High school, but plays football for Carbondale Area.
How about those Chargers!? It's been awhile since Carbondale has had a football recruit go to a Division 1 program. As former Carbondale guys ourselves, we want to extend our deepest congratulations to Noah Yates! We'd also like to thank him for his commitment to serve our country. It's because of guys like Noah that we're able to write our sports blog and trash Lena Dunham freely.
Noah made his announcement yesterday via twitter.
Blessed to announce my commitment to The United States Military Academy #GoArmy #USMA ?◼ pic.twitter.com/LZlPGDULZu

— yates (@King_Noah_) July 6, 2017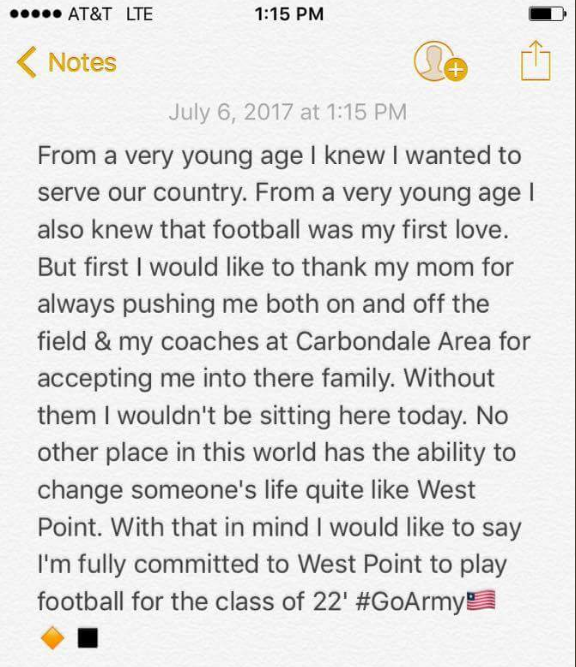 Carbondale Area Head Football Coach, Larry Gabriel, had this to say about Noah Yates on Facebook:
"I am proud to announce that Charger football player, Noah Yates, has verbally accepted an offer from the West Point Military Academy (Army Football).. This is quite an accomplishment for this young man and his family.. From my very first interaction with Noah, many years ago, I knew he had something special that could not be coached.. Very few times are coaches blessed with natural born athletes.. well, Noah is certainly one of those athletes… I have no doubt he will be successful in anything he sets out to do in his life.. To say I am THRILLED for Noah is an understatement.. I am looking forward to see him continue to progress as an athlete and GENTLEMAN in his upcoming senior year.."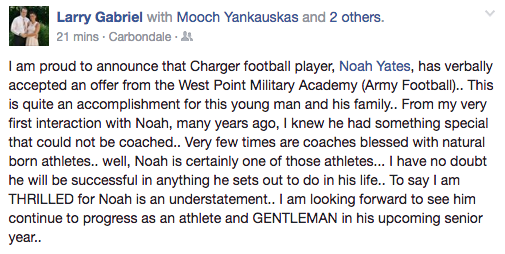 P.S. Can we start getting a little respect NEPA? Come to us to break your stories. We beat Joby Fawcett, the Carbondale News and The Scranton Times to this story. Just saying.
Carbondale Area (Pa.) DE Noah Yates (@King_Noah_) tweets he's committed to #ArmyFootball.

— Sal Interdonato (@salinterdonato) July 7, 2017
Congratulations @King_Noah_ Noah Yates on your commit to Army Black Knights football! #chargerpride @JobyFawcett26 @FCRSD @CA_FB_LG3

— CAHS Athletics News (@cahsathletics) July 7, 2017
COMMITMENT: Army Black Knights anchor in another quality prospect in LB, Noah Yates #ArmyFootball #GoArmy READ IT➡️ https://t.co/g3potKFfRe pic.twitter.com/uMpIJZXBjm

— #GoBlackKnights (@goblackknights) July 7, 2017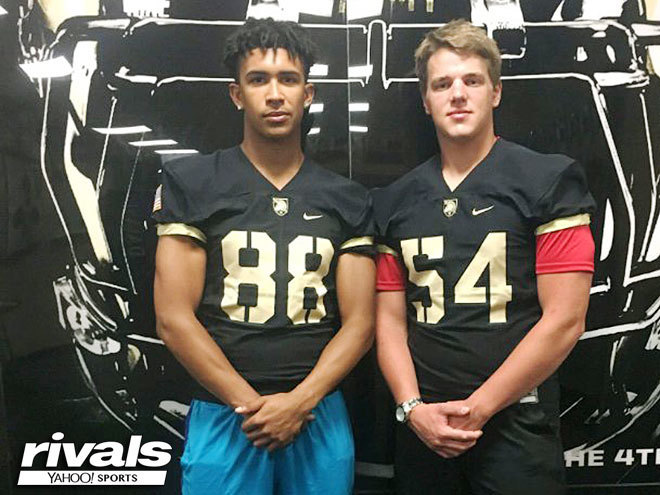 We'll be rooting for you Noah Yates!
… except when you play Notre Dame. Sorry.
Comments
comments