I'll be the first to admit it, I was all onboard the #SMASHville train. I hopped on that bandwagon like a groupie. This was the first time in my life that I cared about hockey. But, I'm also a Pennsylvania guy, so it's cool to see the cup come "home." A bunch of those guys on the Penguins came through the Scranton/Wilkes-barre organization, so there's a local connection. I hope everyone in the city of Nashville loves their home team. It's good of the game of hockey. But, can we stop pretending that Country music stars love hockey?
There are exceptions to the rule, of course. I'm sure that Carrie Underwood actually loves hockey. She's married to a dude on the Predators, she has to. I bet Shania Twain likes it too; she is Canadian, right? Neil Young is Canadian, but he's only kind of country music. So, if he's a fan, I'm kind of okay with it.
If they live in Nashville, they also get a pass. Because, everyone should love everything about their hometown.
Tonight was a prime example of how painful it can be. They threw Luke Bryan on TV during the break and he stumbled through a 10 minute interview. The guy couldn't even make eye contact with anyone. He clearly knew nothing about hockey and the announcers were clearly annoyed. They talked to him in an extremely condescending tone, brought up that he was actually from Georgia and made fun of him for being a Falcons' fan. It was painful to watch. Now, that's not Luke Bryan's fault; it's whoever made the decision to force this agenda.
The other night, watching Keith Urban and Nicole Kidman pretend to know what was going on at a hockey game was comical. You could see their handlers telling them when to cheer.
Then there was Jason Aldean…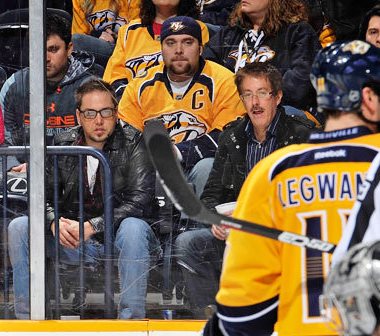 … Yeah, you totally look like you love hockey, bro.
Hockey is not taking over in the south.
No matter what Country Music stars say.
Gameday in Smashville!! Hockey & Country Music have officially taken over. Fired up for Game 6 tonight. Bring on the catfish! Go @predsnhl!! pic.twitter.com/tbk4VkZ2IA

— Rascal Flatts (@rascalflatts) June 11, 2017
Comments
comments