PGA Tour professionals travel to Jeju Island for the CJ Cup at Nine Bridges Golf Club this week. This will
mark the first time ever the country of Korea hosts a PGA Tour event. Below is our new and improved fantasy golf rankings.
---
The CJ Cup | Fantasy Golf Rankings
DFS extraordinaire, Taylor @Sgrignoli3, has updated the rankings model we've been using to create our
fantasy golf rankings. Current form statistics for the past 12, 24 and 36 rounds are weighted at 75% this
week while Vegas odds rank is weighted at 25%. Since there is no tournament history for the CJ Cup, no
historical stat data is available.
Our "PAS Power Index" (trademark pending) is created by gathering, sorting and ranking all of the data
to generate the best fantasy golf rankings available on the internet.
FantasyNational.com is used to help create our weekly fantasy golf rankings. Taylor and I discuss which
statistical categories we feel are most important for the week's tournament and then develop our
rankings based on those weighted statistics.
The weighted player statistics for the CJ Cup include:
Strokes Gained: Approach
Birdie or Better
Fairways Gained
Strokes Gained: Ball Striking
Strokes Gained: Par 5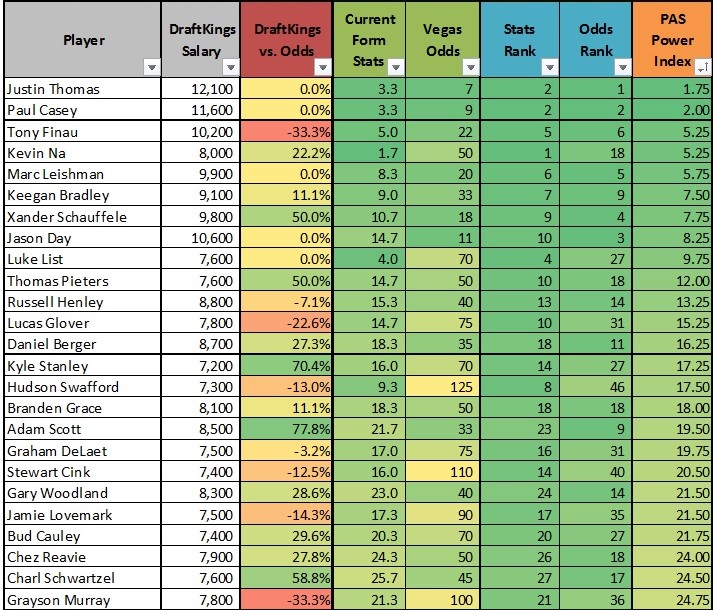 Good Luck! And once again, DFS lineups lock at 7pm EST on Wednesday, October 18th.
**Disclaimer: FantasyNational.com is used as source for all data and player statistics. If there happens
to be a numerical error, blame them not us. Also, European Tour statistics are currently NOT included in
the rankings calculations.
Comments
comments