It was obvious that Adrian Peterson was not happy with his involvement in the Saints offense during Monday Night's game. Peterson said earlier in the week that he wanted to show his old team that he was still a beast. AP carried the rock 6 times for 18 yards. He was second in carries and led the team in rushing yards. Yikes! Obviously the Vikings have a solid defense that didn't open many holes for the Saints RBs to break through. Nonetheless, the Peterson & Saints marriage might be over before it really got started. With David Johnson going down for an extended period of time, can we see Adrian Peterson to the Cardinals?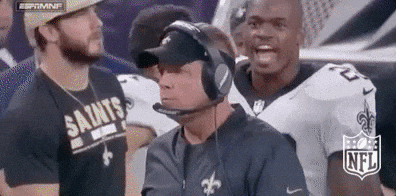 Why Adrian Peterson to the Cardinals?
Peterson is accustomed to being "the guy" on the team he plays for. It was obvious that he didn't feel that way in Sean Payton's offense during their Monday night game versus the Minnesota Vikings. Both parties will quickly grow frustrated if this relationship continues down its current road. Obviously David Johnson and AP aren't the same type player coming out of the backfield. Their running styles might be similar, but their ability to catch out of the backfield are light-years apart. DJ has averaged 58 receptions, 702 yards and 4 TDs per year since entering the league in 2015. Peterson on the other hand averaged 24 catches, 194.5 yards and .5TDs per year since entering the league in 2007. The Cardinals are desperate at this point. They really can't rely on Carson Palmer's soon to be 38 year old arm to take them to the promise land. With the current depth chart reading Kerwynn Williams and Andre Ellington, it's safe to assume that the Cardinals will be out shopping for a running back. So why not Adrian Peterson to the Cardinals? The Cardinals will be able to get Peterson cheap seeing that his deal is only 2-years and at most $8.25 mil with all of his potential incentives. The Cardinals could probably gobble him up for a 5th round pick at this point.
So Cardinals Nation….. Let's get the Adrian Peterson to the Cardinals movement going!!!
Comments
comments