The Raiders Go BeastMode
Oakland! Not a destination spot many people put high on their final wish list, unless they are going to a Raiders game and/or a Golden State Warriors game.
The Raiders have officially announced they are headed for Sin City as soon as they can, which may not be until 2020. This can either deter or attract many Oakland fans. On one hand, your team is leaving town and you may not want to support them anymore for the betrayal. Then there's the glass half full approach of, 'Well, this is the last chance I have to see them at the Coliseum.'
Realizing fans may be split on the subject resulting in the loss of possible millions, the Raiders made a huge PR move and in the process bolstered what is one of the most interesting rosters in the AFC.
Marshawn Lynch, the prodigal son of Oakland, has officially come out of retirement just to see the Raiders off during their remaining years in the Bay Area. With Lynch playing his high school ball at Oakland Technical High School and then tearing the NCAA apart at Cal, it only made since to end his career by coming full circle and helping the Raiders finish with what could be their best seasons since 2002 when they fell to the Tampa Bay Buccaneers in Super Bowl XXXVII.
Is Oakland A Good Fit?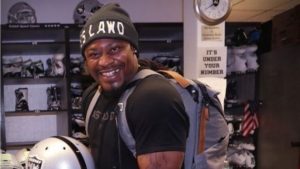 Oakland went 12-4 in 2016, the best mark for the franchise since 2000. Derek Carr is entering his fourth season under center. His main weapons are third-year wide out Amari Cooper and 2016 standout Michael Crabtree. The addition of Lynch puts Oakland on track to be one of the most potent offenses in the AFC and possibly the entire NFL.
Sure, Lynch is coming off a groin and hamstring injury, both not good, but out of the 10 years he has been in the league, Lynch has played in 15 or more games five of those seasons and 12 or more for three seasons. He has a career total of 9,112 rushing yards and would become the 30th rusher all time to crack the 10,000 yard mark should he gain at least 888 yards this year(very doable). In 2016, through just seven games, Lynch compiled nearly half of the 888 he needs. Should he stay healthy for an entire season, there's no doubt he racks up his seventh 1,000 yard rushing campaign. He may even crack double digit touchdowns for the fifth time in his career.
Another downside people will point to is age. Lynch is 31, way past his prime in running back years. However, after a year of stress and tackle free retirement, Lynch is practically 30. Curtis Martin had his best year, winning his only NFL rushing crown, at age 31. He sits at No. 4 all time, rushing for 15,269 career yards. Everyone wants to point at Martin's 31-year-old season when it comes to backs defying Father Time and say it can't be matched. Never say never, especially for a back motivated by the pride of his city.
By The Numbers
Latavius Murray is gone from the Raiders three-headed monster of a back field from 2016. Despite Murray accounting for just 45% of Oakland's carries last season, he was able to rank 13th in overall fantasy points scored at running back last year after rushing for 788 yards and 12 touchdowns. He also accounted for 264 yards through the air and another four scores.
Jalen Richard and DeAndre Washington combined for 170 carries, 958 yards and three touchdowns behind Murray. Should Lynch handle Murray's primary back/ goal line back role, 788 yards leaves Beast Mode 100 short of the coveted 10,000 yard mark. A player of his caliber and talent level will use his bulldozing skills to punish would-be-tacklers and gain that extra 100 yards Murray wasn't able to. If Lynch eats into Richard and Washington's numbers, which is likely, another 1,000 yard season behind the NFL's fourth ranked offensive line according to profootballfocus.com seems like a foregone conclusion.
For the sake of argument, let's say Lynch gets 900 yards. Let's also say he does one better than Murray's 12 TDs putting him at 13. If he just matches Murray's receiving numbers, that makes Lynch the No. 11 overall back.  Just a little over four points behind Mark Ingram last season.
In Closing
If you're looking for a proven, motivated, skittle-eating, Beast Mode of a back, look no further. Marshawn Lynch is your man. Expect him to still be available in the late third, early fourth round if you really want him. If you are willing to wait, I'm sure he could last until the fifth or sixth round. I think you're pushing your luck though. This is a back that has the potential to easily put up top 10 numbers in 2017.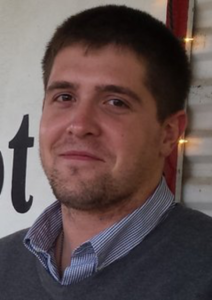 -Ethan Lillard
Follow me on twitter: @JPSports217
Comments
comments