This series is an ode to all of the greatest goals I've seen during the week in the Premier League. I will also include goals that are great enough to overcome the PL favoritism. That will include dumpster diving for diamonds throughout this series as I will attempt to do this article every day. I feel as though this won't end well, but just as in soccer, the feeling of hope that I feel right now, is more addictive than dope.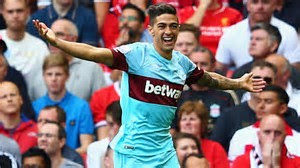 Today's goal appreciation goes to Manuel Lanzini of West Ham United. This was a top class goal from about 20-25 yards out, that was created from two simple touches: One for control, and one for space. Two dragging touches with his right foot gives him a clear path to see the goalie wasn't prepared for the shot he had planned.
The defender was a step behind Lanzini the whole time and could do nothing but watch as Lanzini took the second touch to put it on his left foot and pressed the RB/R1 + shoot button combination to curl his foot around the ball and send a low floater, bouncing right before it lands in the bottom left corner of the net. (insert Mr. Krabs meme)
Too bad West Ham took their foot off the gas and let an extra time goal from Johnny Evans spoil their party, as their new stadium still doesn't look to provide the comfort that Boyelyn Ground gave them last year
Check it out right here
Update: The Goal Accreditation Panel also has the Johnny Evans goal under review as it seems that after Evans had sent a thundering header into the back of the net, the panel feels as though it hit a teammates blade of hair before it went in. This is the ugly, in the beautiful game.
Evans goal here
Comments
comments