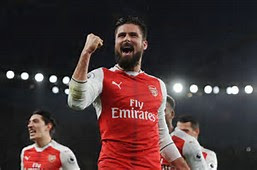 Today is day 3 and I feel like me saying in my first article, that I would have trouble finding goals is easily being refuted by the amount of great goals I have found. This one comes from a team that I despise, but have had one of the goals of the year…and this one was actually onside
Olivier Giroud delivers a top class behind the back, cheeky goal that took his whole finesse shot meter down to red. I wasn't watching this game, but I remember the internet reaction to this goal. Within minutes, soccer twitter was in a frenzy, making memes and comparing it to Henrikh Mkhitaryan's goal, which blew the internet up in the same way that Giroud's goal did. The difference you ask? The memes included Mkhitaryan's position when the goal took place, which also pointed out, that he was offsides.
Enough hating on Manchester United for the moment as we get back to this amazing goal from Giroud. It starts off with a menacing counter attack that Crystal Palce was obviously not ready for (side-note: they're never ready for anything; always get top class goals scored on them). CP's defense was all "6's and 7's" out there trying to figure out how to stop the counter, but Arsenal kept pushing the ball and opening up the field with their flawless passing.
The key pass that I noticed made the whole play open up was the pass from Iwobi to Sanchez down the left hand side of the pitch which drew 3 defenders toward him. Iwobi's pass also impressed me because he knew the spacing the pass would create if he put it in the exact spot it needed to be. As the pass rolls past the 3 defenders leaving them to look on, Sanchez then has the opportunity to look up and then see the field. As he does that, the result is this…
As Sanchez spots Giroud, he sends in a cross with some air under it, which is also a little bit behind him, but in the perfect space between 2 defenders, and as one tries to head it away, mistimes it and forces Giroud to change his plan and adlib on the spot
The result: A top class Scorpion Kick straight from the FIFA engineering system that flies into the top left corner of the net, bouncing down off the crossbar and just out of reach of the goalies hands….The celebration increased the staying power of that goal by 5000 xp
Too bad that was the last moment of hope Arsenal had for any league title hopes as they have taken critical losses to Everton and Watford, as well as getting humiliated by a struggling Southampton 4-0. At least they have this and ArsenalFanTV to console them
P.S. I want to go into surgery one day and have one of those freak accident accent switch ups and come out sounding like Troopz from ArsenalFanTv just so I can say "Fraud" "Blud" and "Big man ting"
Comments
comments