My One and Done league Travelers Championship pick: Abraham Ancer
If you're one of the millions of readers who has followed my (along with the help of @Sgrignoli3) fantasy golf rankings in the past, I've decided to resurrect my weekly PGA articles from the dead. However, this time around, I'm going primarily with outright winner picks along with a few prop bets for some added action.
DFS and betting websites are a dime a dozen. Each having their own model, rankings, "expert" picks, yadda yadda yadda. I still glance at few for insight and reassurance after I've done my own research from time to time. You can subscribe and pay out the wazoo for some of these "expert" sites if you really wanted to. This is more of a hobby for me…but that doesn't mean I still don't want to win some extra cash to pay for baby diapers. Oh, I forgot to mention: as I write this, my wife Jess and I are expecting our first child at any moment, so winnings are more important now than ever.
After several years of using models and rankings from different websites, I've seemed to have found the most success when researching on my own. The 5 simple factors I continue use when researching and picking golfers for a given tournament include:
Current form – This is pretty straight forward. Which golfers are currently playing well with consistency and high finishes.
Course/tournament history – The guys who always tend to "show up" on the leaderboard at the same course/tournament year after year.
Reviewing the tournament's previous years' leaderboards – This tells me what type of golfer tends to play well at this specific course (bombers, accuracy, ball strikers, good short game, etc.). Then I will review current statistics to find out which golfers are currently doing well in those areas.
Odds – I try to do my research before looking at odds. I typically have a list of 10-12 golfers then narrow it down based on who I think is the most undervalued.
Patience/Luck/Gut Instinct – Each of these should have its own bullet point. 1) You need to be patient…you are not going to pick the winner every single week. 2) You need all stars to align every once in a while and get lucky, because most of the time it will be the opposite. And, 3) always go with your gut. Don't let other people influence your picks. If you like a golfer, stick with them.
With all that said, I've done my research, narrowed down my player pool, and placed my Travelers Championship picks for the week.
Travelers Championship Picks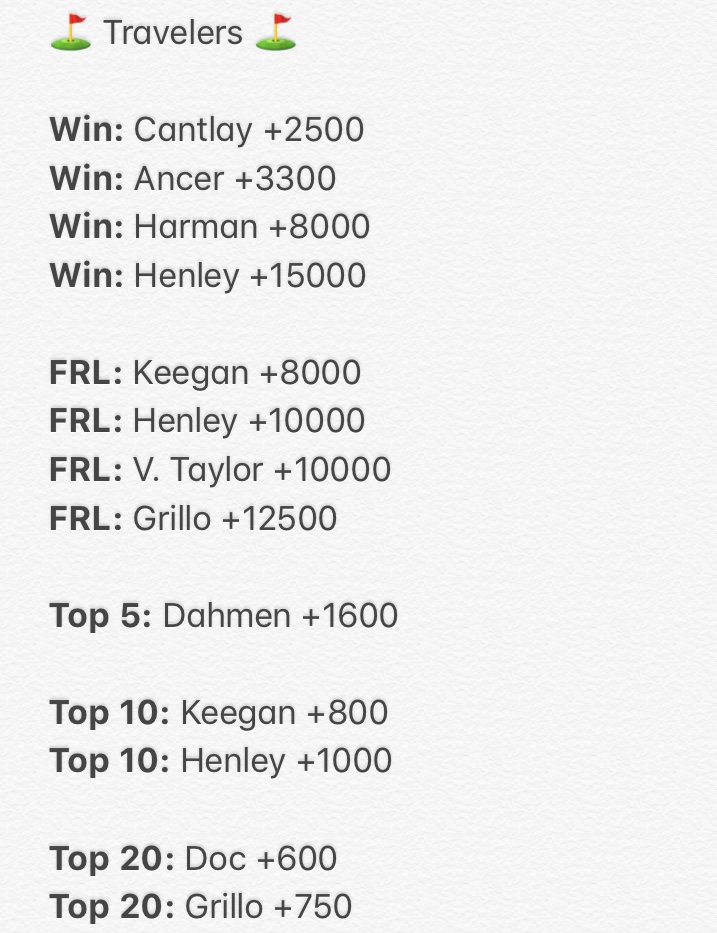 *Honerable Mentions – Travelers Champtionship picks that didn't make my sheet: Hovland, Niemann, Reed, Conners, Frittelli
…in the end, you can't bet on everyone! Good luck this week.
Comments
comments