The PGA Tour lassos a new venue this week for the AT&T Byron Nelson. Trinity Forest Golf Club, located on the outskirts of the Dallas-Ft. Worth, Texas area, is unknown territory to many PGA professionals…well, except for Jordan Spieth who just so happens to be a member here.
Strategizing from a DFS standpoint is tough when new courses come into play. There is no historical data to clearly indicate which statistical categories are most important to find the type players the course best suits. So, this week, we're pretty much going in blind. Good news is that every other DFS competitor will be, too.
With many unknowns, this week's course stats are straight to the point. After researching the course and listening to "experts" in the DFS golf industry, statistician Taylor (@Sgrignoli3), selected the course stats for Trinity Forest that will give us the best chance at profiting this week.
See below for a breakdown of Taylor's rankings model and top 30 fantasy golf rankings for the 2018 AT&T Byron Nelson.
---
Rankings model breakdown
The "Course Stats Rank" incorporates a wide range of player statistics, each individually weighted. This range includes the past 4, 8, 12, 24, 50 and 100 rounds played.
This week's weighted course statistics for the AT&T Byron Nelson include:
Strokes Gained: Tee to Green
Strokes Gained: Approach
Birdie or Better Gained
Strokes Gained: Around the Green
Strokes Gained: Par 4s
"Current Form Rank" is derived from the average number of Strokes Gained: Total per tournament played this season.
"Course History Rank" is derived from the average number of Strokes Gained: Total per year played at this event/course. *Several players may not have course history so their course history weight percentage has been shifted to current form.
The "Prestige Rank" column was back-tested and has consistently shown positive results. "Prestige Rank" is derived from a combination of current Official World Golf Ranking (OWGR) and Vegas odds to win the week's event.
The "PAS Power Index" is generated by calculating and combining the categories mentioned above: course stats (weighted at 50%), current form (weighted at 25%), and prestige rank (weighted at 25%). *There is no "Course History Rank" this week due to the new venue for 2018.
---
Top 30 Fantasy Golf Rankings | Byron Nelson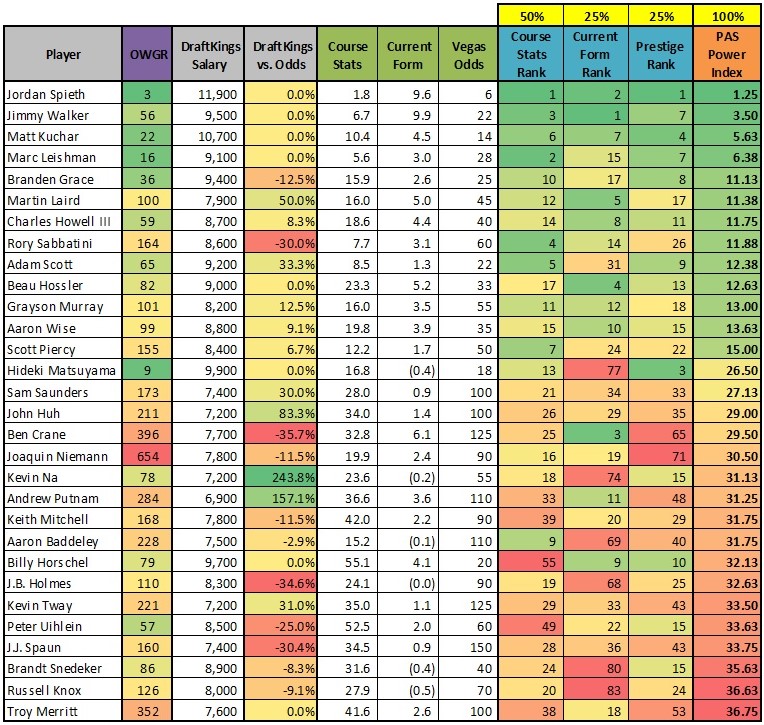 **Disclaimer:  FantasyNational.com is used as source for all data and player statistics. If there happens to be a numerical error, blame them not us. Also, European Tour statistics areNOT included in the rankings calculations.
Comments
comments