It's Masters week—I have a golf chubber looking those three words. The biggest, most sacred tournament in professional golf begins this Thursday at Augusta National Golf Course. The 2018 chase for the coveted green jacket might be the most anticipated in Masters history and fantasy golf history. One of the main reasons…Tiger Woods.
Tiger is displaying the old Tiger form we have not witnessed in years. His physical health concerns are in the rear-view mirror, and I've just received word that he's nailed two cosmetic counter girls since I began writing this article.
This will surely be a Masters to remember. Here at the PAS, it's our job to provide you with the best information to help you succeed at the year's first major.
Below, rankings expert Taylor @Sgrignoli3 provides a breakdown of this year's Masters pricing tiers on DraftKings to help you build your million dollar lineup. *There is no historical "Strokes Gained" data available for the Masters; however, we have done our best to pinpoint the stats we feel are most important to thrive at Augusta.
---
Sgrignoli's Strategy
Over $10,000
I think the first question you have to ask yourself is, "What do I do with Tiger?" I know it sounds crazy but I'm full fading Tiger. He's struggling with the driver and you need to hit the big stick at Augusta to score on the par 5s to keep up with the DJ/JT/Rory's of the field who can bomb it out there.  Tiger's been playing irons and "fairway metals" off the tee, as seen at Bay Hill and Valspar, leading to his good recent finishes, but that's not going to get it done here. Plus, the casual fans are going to flood into DraftKings this week wanting to play Tiger, pushing his ownership even higher.  Lastly, the opportunity cost of taking Tiger is not taking the other golfers priced around him, all who I like more anyway.
DJ is the highest priced golfer in the field and was an enigma at the match play. It's sometimes hard to tell if he cares or if that's just his face. But, given the play of Spieth at Houston this past weekend, paired with his great track
record at Augusta, I think Spieth now becomes the most popular golfer over $10k, and I think both DJ and JT could be flying under the radar this week making for a decent gpp play. DJ has solid course history here but puzzling lately while JT has "blah" course history but has been on a scorcher really since the start of 2017.
$9,000+
Of all the Masters podcasts I listened to so far Justin Rose has been the most talked about DraftKings play at $9,200. He's going to be the chalk and for pretty good reason with finishes of 2, 10, 2 the past three years here.  I think he's a lock in cash games but he could push +30% ownership this week, which makes for a reasonable fade in large field tournaments.
Not surprisingly, I will also be full fading Phil too. Again, I think the John Q. Public is going to bump Phil's ownership up and I'm happy spreading some shares on Rory, Day, and even Rahm as he may be the lowest owned golfer in this tier.
$8,000+
I think this could be the most important tier this week.  If you pick the correct 2-3 guys in this tier you could really separate yourself from the field.  If Justin Rose is chalk #1 then I think Paul Casey might be chalk #2 at $8,800.  He's coming off of a win at Valspar and finishes of 6, 4, 6 the past three years at the Masters.
Bubba Watson is relevant again after winning the Genesis and crushing the field in the Match Play. He has a pair of green jackets and is reasonably priced. In my extensive podcast listening, it sounds like Sergio is getting no
respect as the defending champ. He leads the field in Strokes Gained: Approach over the last 24 rounds, has the best current form of any golfer in this tier, and just named his daughter Azalea for crying out loud…what a boss move!
A month ago golf Twitter was abuzz for Tommy Fleetwood, but it sounds like the luster has worn off a bit.  If it sounds like he's going to be closer to single digit ownership %, then I'm good with fire a couple bullets from the Tommy Gun this week. Hideki is in a similar boat with little fanfare coming into this week as he has been battling a wrist injury of late. He has finishes of 11, 7, 5 the past three years here. It's a high risk/high reward play but Hideki has the game to win here if the wrist is a non-issue.
Adam Scott has the track record at Augusta but I might zig to Alex Noren if it sounds like folks are going to zag to Scott.  Yes, Noren was fairly terrible here last year but I think that will keep his ownership depressed a bit and he's also playing at a higher level than this time a year ago.
$7,000+
This is a massive tier with 29 golfers between $7,900 and $7,000 and I really don't have any strong leans in this tier.  I've heard several times how underpriced Henrik Stenson is at $7,800 given his recently play with 6 and 4 in his last two events but his track record at Augusta is middling.  Sure, his go-to 3 wood off the tee is somewhat negated by the demand to pound driver here, but a world-class player at his price is solid.
You will almost assuredly hear the term "debutante" this week which is a fancy way of saying "first-timer."  True, debutantes have a history of not winning the green jacket but in this price range if one of these guys can get
hot with some birdies and outscore his finishing position I think there's merit to playing guys like Xander Schauffele, Tony Finau, or Patrick Cantlay (yes, he played in 2012 but that's a long time ago).
$6,000+
The reason I'm fairly indifferent on the previous tier is because I really like a few of these guys at $6,900. Bryson DeChambeau checks in at 11th in my model this week regardless of price.  He may be the most popular "punt" play
this week but I don't think that will scare me off of him too much.
Kevin Chappell withdrew from the match play event with a back concern.  Maybe it's something, maybe it's nothing.  If it's the latter, then I love Chappell's off the tee game over the last 24 rounds, sitting 3rd in the field behind DJ and Rahm.  Maybe the back issue keeps his ownership down enough to make him a nice target.
Brenden Steele is another guy at $6,900 that sits right behind Chappell at 4th in Strokes Gained: Off the Tee in this field.
You could conceivably cross off every player from $6,800 and below.  Sure, a couple of those guys could make the cut and threaten a top 20 maybe, but seem very unlikely to challenge for a win.  If you want a deep flyer or two from down here, I'm always a sucker for Kyle Stanley who always seems to pop in my model thanks to his strong tee to green game and Austin Cook has made 10/11 cuts this year and does most of his damage with the putter if he can figure out these greens.
---
Rankings model breakdown
The "Course Stats Rank" incorporates a wide range of player statistics, each individually weighted. This range includes the past 4, 8, 12, 24, 50 and 100 rounds played.
This week's weighted course statistics for the Masters Tournament include:
Strokes Gained: Approach
Strokes Gained: Off the Tee
Birdie or Better Gained
Greens in Regulation Gained
Strokes Gained: Par 5
"Current Form Rank" is derived from the average number of Strokes Gained: Total per tournament played this season.
"Course History Rank" is derived from the average number of Strokes Gained: Total per year played at this event/course. *Several players may not have course history so their course history weight percentage has been shifted to current form.
The recently added "Prestige Rank" column was back-tested and has consistently shown positive results. "Prestige Rank" is derived from a combination of current Official World Golf Ranking (OWGR) and Vegas odds to win the week's event.
And finally, the "PAS Power Index". The PAS Power Index is generated by calculating and combining the categories mentioned above to get our overall rankings for the week: course stats (weighted at 40%), current form (weighted at 20%), course history (weighted at 20%) and prestige rank (weighted at 20%).
---
Top 25 Fantasy Golf Rankings | The Masters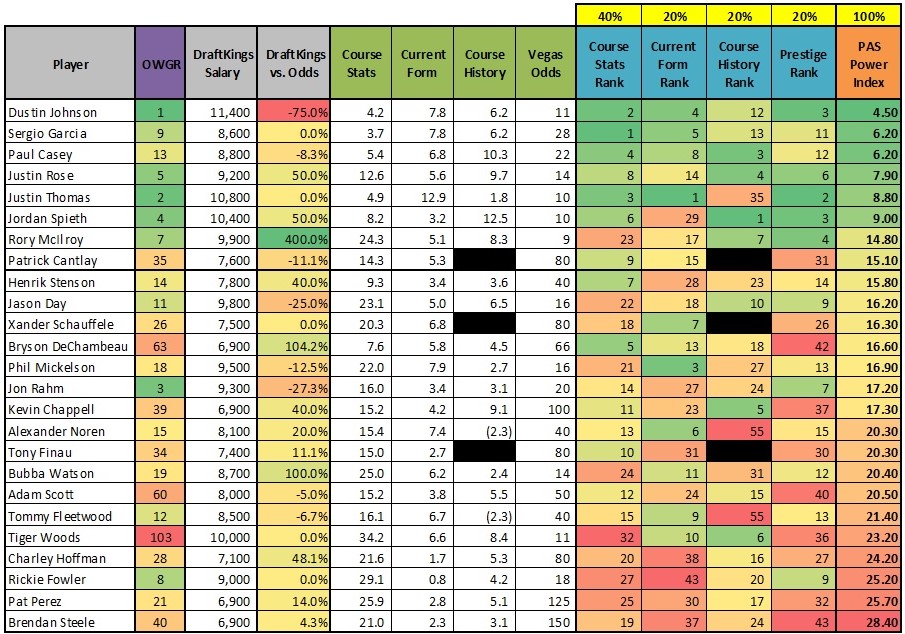 **Disclaimer: FantasyNational.com is used as source for all data and player statistics. If there happens
to be a numerical error, blame them not us. Also, European Tour statistics are NOT included in the
rankings calculations.
Comments
comments