Below are this week's fantasy golf rankings for the Genesis Open at Riviera Country Club. It's a stacked field so we are giving our loyal readers the top 30 golfers for this event (rather than the normal 25).
---
Fantasy golf rankings
The fantasy golf rankings model for the Genesis Open has added another new feature. Last week, there was the addition of "Current Form" data, and this week includes a "Prestige Rank" for each golfer. Our DFS rankings expert, Taylor @Sgrignoli3 has combined Official World Golf Ranking with Vegas Odds to create the "Prestige Rank" for this specific tournament.
If you remember from last week's model, the "Current Form" rank weight is derived from the average number of total strokes gained per event played this season.
FantasyNational.com is used to help develop these weekly fantasy golf rankings. Taylor and I discuss which statistical categories we feel are most important for the week's tournament then those stats are weighted accordingly.
The course stats formula incorporates a wide range of player statistics, each individually weighted. This range includes the past 4, 8, 12, 24, 50 and 100 rounds played.
This week's weighted statistics for the Genesis Open include:
Strokes Gained: Approach
Par 4 Scoring: 450-500 yards
Strokes Gained: Tee to Green
Birdie or Better Gained
Strokes Gained: Putting (Poa)
Bogey Avoidance
The "PAS Power Index" is generated by calculating and combining the following: course statistics (weighted at 40%), *NEW* recent form (weighted at 30%), course history (weighted at 15%) and *NEW" prestige rank (weighted at 15%).
Several players may not have course history so their course history weight percentage has been shifted to current form.
---
Genesis Open Top 30 PAS Power Rankings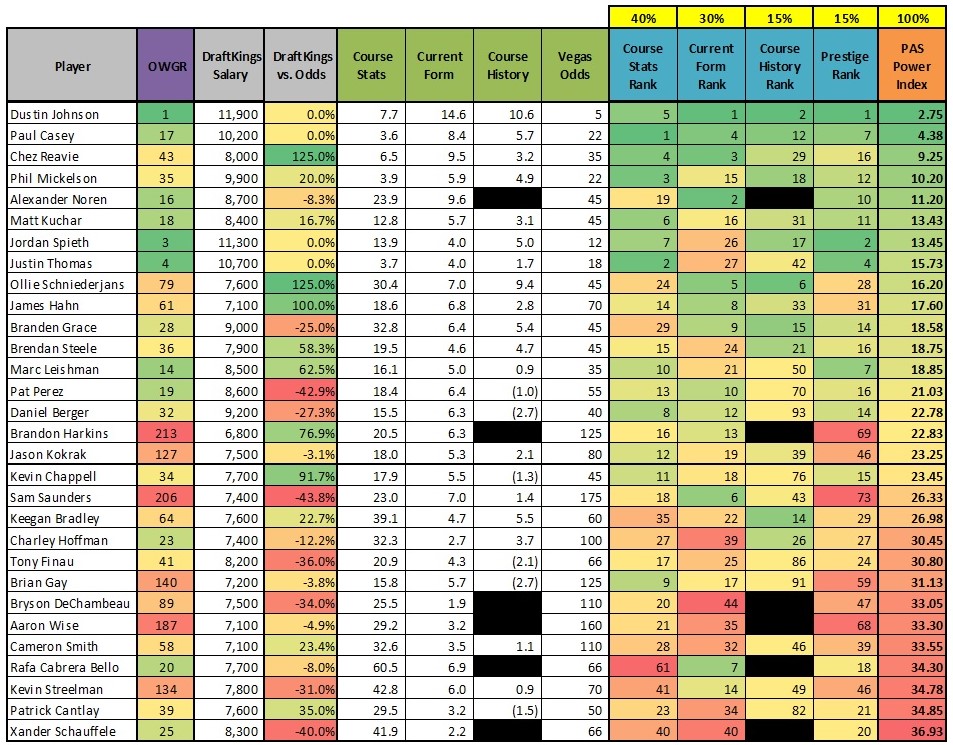 **Disclaimer: FantasyNational.com is used as source for all data and player statistics. If there happens to be a numerical error, blame them not us. Also, European Tour statistics are currently NOT included in the rankings calculations.
Comments
comments