Here are your first official fantasy golf rankings for the 2018 calendar year. Hudson "Swaffy" Swafford
(ranked #26 this week) looks to defend as the CareerBuilder Challenge champion.
---
Fantasy Golf Rankings
PAS contributor and DFS juggernaut, Taylor @Sgrignoli3, has developed one of the top fantasy golf rankings models available (for free) on the internet.
FantasyNational.com is used to help develop these weekly fantasy golf rankings. Taylor and I discuss which statistical categories we feel are most important for the week's tournament and then weight those stats accordingly.
The current form formula incorporates a wide range of player statistics, each individually weighted. This range includes the past 4, 8, 12, 24, 50 and 100 rounds played.
The current form player statistics for the CareerBuilder Challenge include:
Strokes Gained: Approach
Birdies or Better
Strokes Gained: Par 5 Scoring
Strokes Gained: Putting
Strokes Gained: Ball Striking
"PAS Power Index" is generated by calculating and combining the following: total current form player
statistics weighted at 60%, course history weighted at 30% and Vegas odds weighted at 10%. Several
players in the field may not have course history so their course history weight percentage has been
shifted to current form.
It should be noted that the CareerBuilder Challenge is a Pro/Am event, played at three different courses with a cut after 54 holes.
---
Top 25 Rankings | CareerBuilder Challenge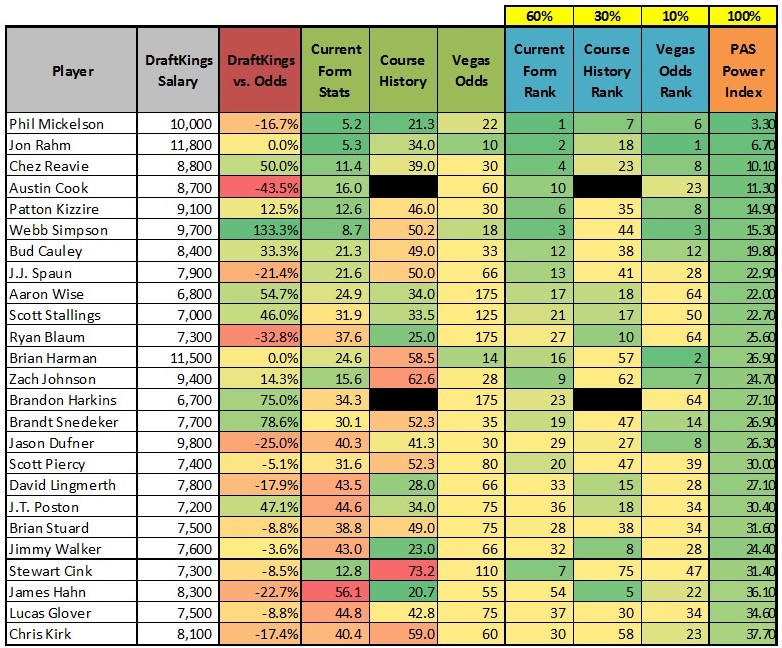 **Disclaimer: FantasyNational.com is used as source for all data and player statistics. If there happens
to be a numerical error, blame them not us. Also, European Tour statistics are currently NOT included in
the rankings calculations.
Comments
comments