There are two PGA events that take place this week. The first World Golf Championship event of the 2017-2018 swing season, the WGC-HSBC Champions in Shanghai, China tees off on Wednesday evening at 8:50pm EST. The chubbier, less attractive PGA tournament, Sanderson Farms Championship, will begin on Thursday at the Country Club of Jackson in Mississippi.
There are DFS contests offered for both events; however, for fantasy golf purposes, we at the PAS are
focusing primarily on the WGC-HSBC Champions this week.
---
WGC-HSBC Champions Fantasy Golf Rankings
The man behind the DFS curtain, Taylor @Sgrignoli3, has been working diligently to create the best fantasy golf rankings model available on the internet.
A new addition to this week's formula incorporates a wider range of current form statistics, each individually weighted. This range includes the past 4, 8, 12, 24, 50 and 100 rounds played.
The "PAS Power Index" rankings is generated by calculating and combining the following: total current form player statistics which have been weighted at 50%, course history at 25% and Vegas rank at 25%. Several players in the field do not have any course history for this event so, by default, their course history weight was shifted to current form.
FantasyNational.com is used to help create our weekly fantasy golf rankings. Taylor and I discuss which statistical categories we feel are most important for the week's tournament and then develop our rankings based on weighting the statistics chosen.
The weighted current form player statistics for the WGC-HSBC include:
Strokes Gained: Approach
Birdie or Better
Strokes Gained: Tee to Green
Par 4 Scoring: 400-450 yards
Par 3 scoring: 200-225 yards
---
Top 25 WGC-HSBC Champions Rankings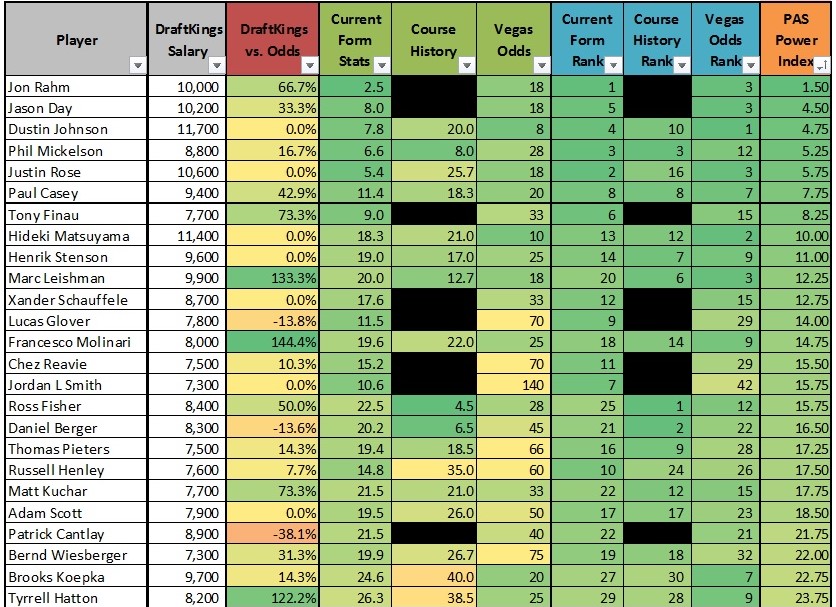 **Disclaimer: FantasyNational.com is used as source for all data and player statistics. If there happens
to be a numerical error, blame them not us. Also, European Tour statistics are currently NOT included in
the rankings calculations.
Lineups lock at 8:50pm EST on Wednesday. Good luck!!
Comments
comments