Wide Receiver 2 Headed Monsters
There are a lot of star wide receivers in the NFL today. Mostly becasue the NFL has become such a pass happy league and becasue there are some amazing athletes that play the postion. In addition to the elite wide receivers in the league, you have the up and comers. We in the fantasy football world like to call them WR2s. I get asked a lot of times if I would consider taking a pair of receivers on my fantasy team that play on the same NFL team. If you follow our podcast you would know Producer Cavi did this last year. Not exactly by design, but after some moves within the season found himself in this positon.
The question always makes me think. Is there are wide receiver tandem I would take on my team? I could think of 6 that might not be too bad to own in fantasy football. Here they are.
#6: Mike Evans and Desean Jackson – Tampa Bay Buccaneers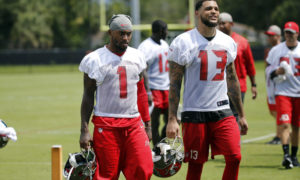 Image courtesy of: Kim Klement-USA TODAY Sports
Mike Evans is a top tier wide receiver and DeSean is definetley a wide receiver 3 with wide receiver 2 upside. If you play best ball you could have huge pops for both of these guys on any given week. Evans will be the more consistent player as Winston will continue to pepper him with targets. DJax is more of a boom or bust type guy but still worthy of a roster spot.
#5: Demaryius Thomas and Emmanuel Sanders – Denver Broncos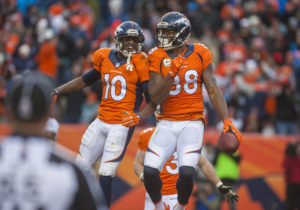 Image courtesy of:  Evan Semón for CBS4
A little bit riskier of a play, but much bigger upside than #6. the risk is becasue of the Denver Broncos quarterback play from last season. Ever since Peyton Manning decided to ride off into the sunset, Denver has not found the quarterback that can help these two great receivers strive. Trevor Siemian seems to have a better rapport with Thomas, but Sanders numbers dip heavilty when he is the quarterback. Conversely, when Paxton Lynch has had his opportunities Sanders feasted and Thomas starved. Hopefully they figure out how to spread the love in 2017, but too talented to pass on these guys for my team.
#4: Odell Beckham and Brandon Marshall – New York Giants

Image courtesy of:  Giants.com
Some may argue that this pairing should be higher on the list. After all, Beckham has racked up at least 1,300 receiving yards and 10 touchdowns in each of his first three seasons. Marshall has 941 receptions and 82 touchdowns in an 11-year career. My concern is not talent as much as it is ego and Branden Marshall's age. He is 33 years old and on the downside of his career. 2 of the last 3 season Marshall didn't crack 800 yards. He could be a redzone monster, but he would have to eat into some of the 21 targets OBJ saw last year inside the 20. Full disclosure, I've never been one to put Eli in any sort of exception classification. I understand you can't spell ELITE withour ELI, but he is far from elite as a quarterback. This year will be a realization year. With this much talent at receiver, he should have little problem moving the ball through the air. He will have to make the right reads and even distribute to these fantasy beasts.
#3: Devante Adams and Jordy Nelson – Green Bay Packers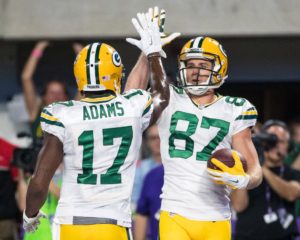 Image courtesy of:  Packers.com
This duo ranked the highest of any two teammates last year with regard to fantasy. Jordan Nelson led all receivers in 2016 in fantasy points and landing only 6 places behind was Adams as the 7th best fantasy wide reciever. These two get the benefit of playing with one of the best quarterbacks in football and the Packers ground game is currently in rebuild status. So why are these guys only ranked 3? First its Jordy Nelson's age. Much like Marshall, Nelson is on the wrong sie of 30. Turning 32 in May it makes his risk a little higher for me. Not to mention he has had 2 serious ACL injuries in his career. I still belive he is elite though. Adams is my real concern. Is he real or was 2016 just an anomaly?  Hearing 7th best fantasy receiver last year sounds great, but what if you think about the fact he ranked 22nd in receptions and 24th in receiving yards? His 2016 stats were totally TD dependant. Admas had 12 TDs last year. His previous two years combined he has 4. so is that an outlier or is that really what he can sustain? My thoughts? It's somewhere in between. That being said, if adams can put up 8 or 9 TDs and Cobb has another off year, he and Nelson together would be a beautiful fantasy 1, 2 punch, again.
#2: Antonio Brown and Martavis Bryant – Pittsburgh Steelers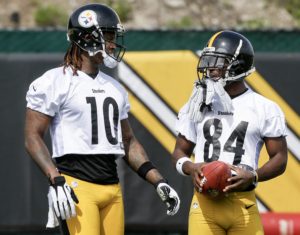 Image courtesy of:  AP Photo/Keith Srakocic
In 2015, Brown and Bryant caught more passes, gained more receiving yards and snagged more touchdowns together in 2015 than any other combination on this list  Going off for a ridiculous 186 catches for 2,599 yards and 16 touchdowns. So why are they only #2 on my list? Obviously it's the question marks of Martavis Bryant. He didn't play at all in 2016 and any false move or positve test he can be gone from the NFL in a blink of an eye. So with reward, comes risk. Persoanlly I'm willing to take that risk if it comes in the right round with the right value.
#1: Amari Cooper and Michael Crabtree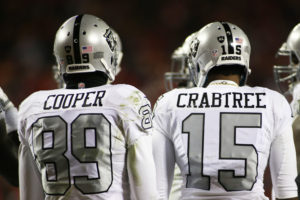 Image courtesy of: Scott Winters/Icon Sportswire
Neither Amari Cooper nor Michael Crabtree may be an elite wide receiver in fantasy football, but collectively they are the best. Why? Its easy, because for all intensive purposes the WR2 in this duo is actually their best player. Amari Cooper is the young stud for the Raiders organization. Michael Crabtree is supposed to be his compliment. Unfotunately no one told Crabtree that was the role he was supposed to play. as a matter of fact, in the last two years these guys played together Crabtree has been the better fantasy play. Even though Cooper has been historiaclly drafted ahead of him each year. This year is no different, Crabtree's ADP is in the 4th round. Cooper is still in the 2nd round. Now look at their wide receiver finishes the last two years.
Crabtree – 20th (2015) and 12th (2016) 
Cooper – 23rd (2015) and 14th (2016)
Having these two guys as your WR1 and WR2 for fantasy has been dynamic. So go for Cooper in the 2nd ound knowing you are going to steal your best WR in Crabtree during the 4th round. Much like myself, I'm sure Producer Cavi would approve of that move.
Please feel free to comment below and follow me on Twitter: @TheFFAdvantage
Comments
comments