Risers & Fallers: 250 Fantasy Football Player Stocks
Here is the most updated top 250 fantasy players of 2017 based on 1/2 PPR. We had 6 players make the list that were not here last week. The stock change is based on movement from last week to this week.
Is LeSean McCoy a first round draft pick in 2017?
Does Maclin to the Ravens this increase his value? 
How big was Martavius Bryan's jump this week?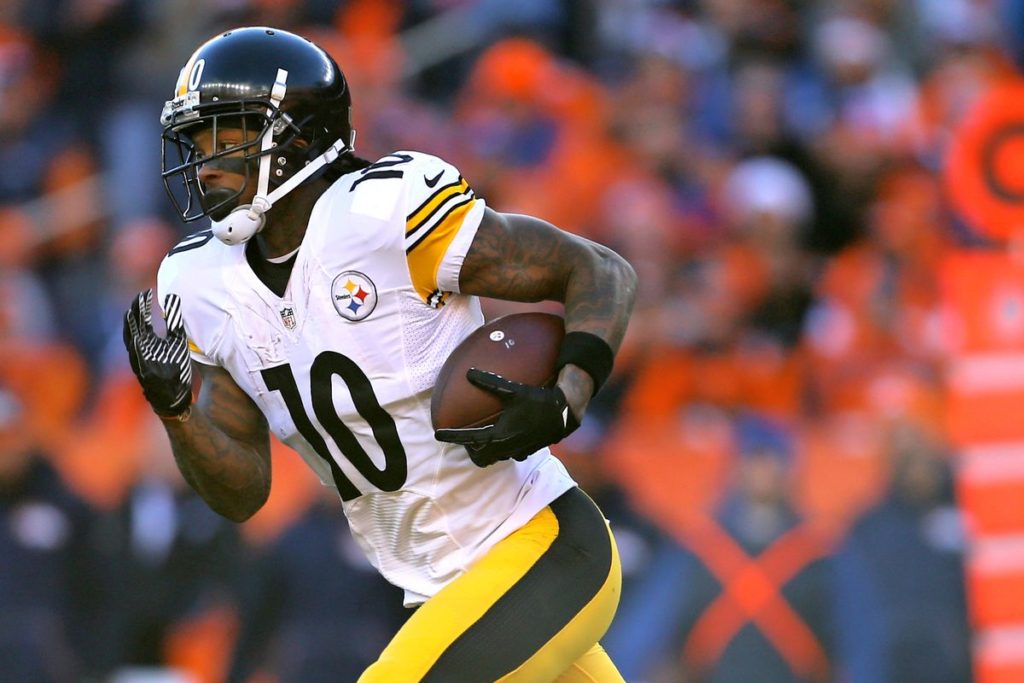 June 14th 2017 Top 250 Fantasy Football Players
| | | | | | | |
| --- | --- | --- | --- | --- | --- | --- |
| New Rank | Rank Last Week | Player Name | Team | Position | Bye Week | Stock Change |
| 1 | 1 | David Johnson | Cardinals | RB | 8 | 0 |
| 2 | 2 | Le'Veon Bell | Steelers | RB | 9 | 0 |
| 3 | 3 | Antonio Brown | Steelers | WR | 9 | 0 |
| 4 | 4 | Ezekiel Elliott | Cowboys | RB | 6 | 0 |
| 5 | 5 | Julio Jones | Falcons | WR | 5 | 0 |
| 6 | 6 | Odell Beckham Jr. | Giants | WR | 8 | 0 |
| 7 | 7 | LeSean McCoy | Bills | RB | 6 | 0 |
| 8 | 8 | Mike Evans | Buccaneers | WR | 11 | 0 |
| 9 | 9 | A.J. Green | Bengals | WR | 6 | 0 |
| 10 | 10 | Melvin Gordon | Chargers | RB | 9 | 0 |
| 11 | 11 | Devonta Freeman | Falcons | RB | 5 | 0 |
| 12 | 14 | DeMarco Murray | Titans | RB | 8 | 2 |
| 13 | 12 | Jordy Nelson | Packers | WR | 8 | -1 |
| 14 | 16 | Michael Thomas | Saints | WR | 5 | 2 |
| 15 | 15 | Jordan Howard | Bears | RB | 8 | 0 |
| 16 | 18 | Jay Ajayi | Dolphins | RB | 11 | 2 |
| 17 | 17 | Dez Bryant | Cowboys | WR | 6 | 0 |
| 18 | 13 | T.Y. Hilton | Colts | WR | 11 | -5 |
| 19 | 21 | Todd Gurley | Rams | RB | 8 | 2 |
| 20 | 23 | Rob Gronkowski | Patriots | TE | 9 | 3 |
| 21 | 19 | Amari Cooper | Raiders | WR | 10 | -2 |
| 22 | 20 | Doug Baldwin | Seahawks | WR | 6 | -2 |
| 23 | 22 | DeAndre Hopkins | Texans | WR | 7 | -1 |
| 24 | 24 | Lamar Miller | Texans | RB | 7 | 0 |
| 25 | 25 | Leonard Fournette | Jaguars | RB | 8 | 0 |
| 26 | 27 | Isaiah Crowell | Browns | RB | 9 | 1 |
| 27 | 32 | Aaron Rodgers | Packers | QB | 8 | 5 |
| 28 | 28 | Alshon Jeffery | Eagles | WR | 10 | 0 |
| 29 | 30 | Keenan Allen | Chargers | WR | 9 | 1 |
| 30 | 26 | Demaryius Thomas | Broncos | WR | 5 | -4 |
| 31 | 29 | Brandin Cooks | Patriots | WR | 9 | -2 |
| 32 | 31 | Allen Robinson | Jaguars | WR | 8 | -1 |
| 33 | 39 | Christian McCaffrey | Panthers | RB | 11 | 6 |
| 34 | 36 | Carlos Hyde | 49ers | RB | 11 | 2 |
| 35 | 37 | Tom Brady | Patriots | QB | 9 | 2 |
| 36 | 34 | Travis Kelce | Chiefs | TE | 10 | -2 |
| 37 | 35 | Marshawn Lynch | Raiders | RB | 10 | -2 |
| 38 | 33 | Sammy Watkins | Bills | WR | 6 | -5 |
| 39 | 38 | Davante Adams | Packers | WR | 8 | -1 |
| 40 | 42 | Drew Brees | Saints | QB | 5 | 2 |
| 41 | 47 | Joe Mixon | Bengals | RB | 6 | 6 |
| 42 | 40 | Michael Crabtree | Raiders | WR | 10 | -2 |
| 43 | 41 | C.J. Anderson | Broncos | RB | 5 | -2 |
| 44 | 43 | Jarvis Landry | Dolphins | WR | 11 | -1 |
| 45 | 45 | Andrew Luck | Colts | QB | 11 | 0 |
| 46 | 53 | Spencer Ware | Chiefs | RB | 10 | 7 |
| 47 | 49 | Jordan Reed | Redskins | TE | 5 | 2 |
| 48 | 46 | Mark Ingram | Saints | RB | 5 | -2 |
| 49 | 52 | Greg Olsen | Panthers | TE | 11 | 3 |
| 50 | 44 | Terrelle Pryor | Redskins | WR | 5 | -6 |
| 51 | 50 | Larry Fitzgerald | Cardinals | WR | 8 | -1 |
| 52 | 56 | Eddie Lacy | Seahawks | RB | 6 | 4 |
| 53 | 48 | Golden Tate | Lions | WR | 7 | -5 |
| 54 | 51 | Emmanuel Sanders | Broncos | WR | 5 | -3 |
| 55 | 59 | Tevin Coleman | Falcons | RB | 5 | 4 |
| 56 | 55 | Ty Montgomery | Packers | RB | 8 | -1 |
| 57 | 54 | Julian Edelman | Patriots | WR | 9 | -3 |
| 58 | 62 | Matt Ryan | Falcons | QB | 5 | 4 |
| 59 | 58 | Ameer Abdullah | Lions | RB | 7 | -1 |
| 60 | 60 | Stefon Diggs | Vikings | WR | 9 | 0 |
| 61 | 61 | Russell Wilson | Seahawks | QB | 6 | 0 |
| 62 | 57 | Bilal Powell | Jets | RB | 11 | -5 |
| 63 | 69 | Donte Moncrief | Colts | WR | 11 | 6 |
| 64 | 65 | Tyler Eifert | Bengals | TE | 6 | 1 |
| 65 | 63 | Tyreek Hill | Chiefs | WR | 10 | -2 |
| 66 | 67 | Frank Gore | Colts | RB | 11 | 1 |
| 67 | 64 | Dalvin Cook | Vikings | RB | 9 | -3 |
| 68 | 71 | Jimmy Graham | Seahawks | TE | 6 | 3 |
| 69 | 68 | Delanie Walker | Titans | TE | 8 | -1 |
| 70 | 70 | Brandon Marshall | Giants | WR | 8 | 0 |
| 71 | 73 | Cam Newton | Panthers | QB | 11 | 2 |
| 72 | 78 | Martavis Bryant | Steelers | WR | 9 | 6 |
| 73 | 76 | Kirk Cousins | Redskins | QB | 5 | 3 |
| 74 | 75 | Paul Perkins | Giants | RB | 8 | 1 |
| 75 | 86 | Mike Gillislee | Patriots | RB | 9 | 11 |
| 76 | 77 | Pierre Garcon | 49ers | WR | 11 | 1 |
| 77 | 72 | Danny Woodhead | Ravens | RB | 10 | -5 |
| 78 | 98 | Adrian Peterson | Saints | RB | 5 | 20 |
| 79 | 66 | Jamison Crowder | Redskins | WR | 5 | -13 |
| 80 | 84 | Jameis Winston | Buccaneers | QB | 11 | 4 |
| 81 | 74 | Willie Snead | Saints | WR | 5 | -7 |
| 82 | 89 | Dak Prescott | Cowboys | QB | 6 | 7 |
| 83 | 81 | Kelvin Benjamin | Panthers | WR | 11 | -2 |
| 84 | 100 | Kyle Rudolph | Vikings | TE | 9 | 16 |
| 85 | 79 | DeSean Jackson | Buccaneers | WR | 11 | -6 |
| 86 | 83 | Ben Roethlisberger | Steelers | QB | 9 | -3 |
| 87 | 95 | Doug Martin | Buccaneers | RB | 11 | 8 |
| 88 | 82 | Theo Riddick | Lions | RB | 7 | -6 |
| 89 | 88 | LeGarrette Blount | Eagles | RB | 10 | -1 |
| 90 | 87 | Derek Carr | Raiders | QB | 10 | -3 |
| 91 | 85 | Marcus Mariota | Titans | QB | 8 | -6 |
| 92 | 92 | Martellus Bennett | Packers | TE | 8 | 0 |
| 93 | 106 | Corey Davis | Titans | WR | 8 | 13 |
| 94 | 107 | Devante Parker | Dolphins | WR | 11 | 13 |
| 95 | 80 | Eric Decker | FA | WR | | -15 |
| 96 | 91 | Rishard Matthews | Titans | WR | 8 | -5 |
| 97 | 99 | Corey Coleman | Browns | WR | 9 | 2 |
| 98 | 96 | C.J. Prosise | Seahawks | RB | 6 | -2 |
| 99 | 104 | Eric Ebron | Lions | TE | 7 | 5 |
| 100 | 94 | Zach Ertz | Eagles | TE | 10 | -6 |
| 101 | 101 | Jordan Matthews | Eagles | WR | 10 | 0 |
| 102 | 102 | Matthew Stafford | Lions | QB | 7 | 0 |
| 103 | 103 | Philip Rivers | Chargers | QB | 9 | 0 |
| 104 | 109 | Matt Forte | Jets | RB | 11 | 5 |
| 105 | 93 | Cameron Meredith | Bears | WR | 8 | -12 |
| 106 | 90 | Robert Kelley | Redskins | RB | 5 | -16 |
| 107 | 97 | Kenny Britt | Browns | WR | 9 | -10 |
| 108 | 114 | Hunter Henry | Chargers | TE | 9 | 6 |
| 109 | 110 | Samaje Perine | Redskins | RB | 5 | 1 |
| 110 | 113 | Jonathan Stewart | Panthers | RB | 11 | 3 |
| 111 | 117 | Kenneth Dixon | Ravens | RB | 10 | 6 |
| 112 | 108 | Randall Cobb | Packers | WR | 8 | -4 |
| 113 | 118 | Derrick Henry | Titans | RB | 8 | 5 |
| 114 | 112 | Adam Thielen | Vikings | WR | 9 | -2 |
| 115 | 115 | Tyrod Taylor | Bills | QB | 6 | 0 |
| 116 | 119 | Eli Manning | Giants | QB | 8 | 3 |
| 117 | 116 | John Brown | Cardinals | WR | 8 | -1 |
| 118 | 123 | Latavius Murray | Vikings | RB | 9 | 5 |
| 119 | 105 | Mike Wallace | Ravens | WR | 10 | -14 |
| 120 | 124 | Jack Doyle | Colts | TE | 11 | 4 |
| 121 | 138 | Jamaal Charles | Broncos | RB | 5 | 17 |
| 122 | 111 | Kareem Hunt | Chiefs | RB | 10 | -11 |
| 123 | 121 | Andy Dalton | Bengals | QB | 6 | -2 |
| 124 | 122 | Duke Johnson | Browns | RB | 9 | -2 |
| 125 | 126 | Jeremy Maclin | FA | WR | | 1 |
| 126 | 120 | Tyrell Williams | Chargers | WR | 9 | -6 |
| 127 | 125 | Giovani Bernard | Bengals | RB | 6 | -2 |
| 128 | 141 | Jeremy Hill | Bengals | RB | 6 | 13 |
| 129 | 128 | Carson Wentz | Eagles | QB | 10 | -1 |
| 130 | 129 | Marvin Jones | Lions | WR | 7 | -1 |
| 131 | 137 | O.J. Howard | Buccaneers | TE | 11 | 6 |
| 132 | 131 | Blake Bortles | Jaguars | QB | 8 | -1 |
| 133 | 146 | Sterling Shepard | Giants | WR | 8 | 13 |
| 134 | 133 | Carson Palmer | Cardinals | QB | 8 | -1 |
| 135 | 148 | Quincy Enunwa | Jets | WR | 11 | 13 |
| 136 | 132 | James White | Patriots | RB | 9 | -4 |
| 137 | 140 | Coby Fleener | Saints | TE | 5 | 3 |
| 138 | 136 | Darren Sproles | Eagles | RB | 10 | -2 |
| 139 | 127 | Breshad Perriman | Ravens | WR | 10 | -12 |
| 140 | 145 | Alvin Kamara | Saints | RB | 5 | 5 |
| 141 | 130 | Robert Woods | Rams | WR | 8 | -11 |
| 142 | 150 | Dion Lewis | Patriots | RB | 9 | 8 |
| 143 | 143 | Cameron Brate | Buccaneers | TE | 11 | 0 |
| 144 | 151 | Thomas Rawls | Seahawks | RB | 6 | 7 |
| 145 | 134 | Jason Witten | Cowboys | TE | 6 | -11 |
| 146 | 135 | Josh Doctson | Redskins | WR | 5 | -11 |
| 147 | 147 | Kevin White | Bears | WR | 8 | 0 |
| 148 | 149 | C.J. Fiedorowicz | Texans | TE | 7 | 1 |
| 149 | 142 | Terrance West | Ravens | RB | 10 | -7 |
| 150 | 152 | Mike Williams | Chargers | WR | 9 | 2 |
| 151 | 153 | Antonio Gates | Chargers | TE | 9 | 2 |
| 152 | 167 | Charles Sims | Buccaneers | RB | 11 | 15 |
| 153 | 144 | Tyler Lockett | Seahawks | WR | 6 | -9 |
| 154 | 154 | Ryan Tannehill | Dolphins | QB | 11 | 0 |
| 155 | 169 | Julius Thomas | Dolphins | TE | 11 | 14 |
| 156 | 160 | Joe Williams | 49ers | RB | 11 | 4 |
| 157 | 157 | Jamaal Williams | Packers | RB | 8 | 0 |
| 158 | 159 | John Ross | Bengals | WR | 6 | 1 |
| 159 | 166 | David Njoku | Browns | TE | 9 | 7 |
| 160 | 139 | Ted Ginn | Saints | WR | 5 | -21 |
| 161 | 162 | Zay Jones | Bills | WR | 6 | 1 |
| 162 | 158 | Rex Burkhead | Patriots | RB | 9 | -4 |
| 163 | 156 | Will Fuller | Texans | WR | 7 | -7 |
| 164 | 155 | Zach Miller | Bears | TE | 8 | -9 |
| 165 | 164 | Marlon Mack | Colts | RB | 11 | -1 |
| 166 | 165 | Joe Flacco | Ravens | QB | 10 | -1 |
| 167 | 161 | Chris Thompson | Redskins | RB | 5 | -6 |
| 168 | 168 | Jared Cook | Raiders | TE | 10 | 0 |
| 169 | 171 | Austin Hooper | Falcons | TE | 5 | 2 |
| 170 | 163 | Marqise Lee | Jaguars | WR | 8 | -7 |
| 171 | 170 | Kenny Stills | Dolphins | WR | 11 | -1 |
| 172 | 177 | Jerick McKinnon | Vikings | RB | 9 | 5 |
| 173 | 174 | Taylor Gabriel | Falcons | WR | 5 | 1 |
| 174 | 175 | Evan Engram | Giants | TE | 8 | 1 |
| 175 | 178 | Alex Smith | Chiefs | QB | 10 | 3 |
| 176 | 183 | T.J. Yeldon | Jaguars | RB | 8 | 7 |
| 177 | 184 | Sam Bradford | Vikings | QB | 9 | 7 |
| 178 | 182 | Shane Vereen | Giants | RB | 8 | 4 |
| 179 | 181 | D'Onta Foreman | Texans | RB | 7 | 2 |
| 180 | 176 | Cole Beasley | Cowboys | WR | 6 | -4 |
| 181 | 179 | Malcolm Mitchell | Patriots | WR | 9 | -2 |
| 182 | 185 | Allen Hurns | Jaguars | WR | 8 | 3 |
| 183 | 173 | Jalen Richard | Raiders | RB | 10 | -10 |
| 184 | 196 | Mohamed Sanu | Falcons | WR | 5 | 12 |
| 185 | 189 | Deshaun Watson | Texans | QB | 7 | 4 |
| 186 | 192 | Curtis Samuel | Panthers | WR | 11 | 6 |
| 187 | 187 | Robby Anderson | Jets | WR | 11 | 0 |
| 188 | 197 | Ryan Mathews | Eagles | RB | 10 | 9 |
| 189 | 186 | Jonathan Williams | Bills | RB | 6 | -3 |
| 190 | 172 | J.J. Nelson | Cardinals | WR | 8 | -18 |
| 191 | 188 | Devin Funchess | Panthers | WR | 11 | -3 |
| 192 | 180 | Jacquizz Rodgers | Buccaneers | RB | 11 | -12 |
| 193 | 199 | Jesse James | Steelers | TE | 9 | 6 |
| 194 | 198 | Charles Clay | Bills | TE | 6 | 4 |
| 195 | 203 | Jeremy McNichols | Buccaneers | RB | 11 | 8 |
| 196 | 195 | Tavon Austin | Rams | WR | 8 | -1 |
| 197 | 204 | Ladarius Green | FA | TE | | 7 |
| 198 | 249 | Aaron Jones | Packers | RB | 8 | 51 |
| 199 | 209 | Cooper Kupp | Rams | WR | 8 | 10 |
| 200 | 191 | Chris Conley | Chiefs | WR | 10 | -9 |
| 201 | 194 | DeAndre Washington | Raiders | RB | 10 | -7 |
| 202 | 216 | Devontae Booker | Broncos | RB | 5 | 14 |
| 203 | 217 | Tim Hightower | 49ers | RB | 11 | 14 |
| 204 | 200 | Zach Zenner | Lions | RB | 7 | -4 |
| 205 | 193 | Dwayne Allen | Patriots | TE | 9 | -12 |
| 206 | 229 | Chris Ivory | Jaguars | RB | 8 | 23 |
| 207 | 248 | ArDarius Stewart | Jets | WR | 11 | 41 |
| 208 | 210 | Chris Hogan | Patriots | WR | 9 | 2 |
| 209 | 202 | Kendall Wright | Bears | WR | 8 | -7 |
| 210 | 214 | JuJu Smith-Schuster | Steelers | WR | 9 | 4 |
| 211 | 227 | Wayne Gallman | Giants | RB | 8 | 16 |
| 212 | 190 | Wendell Smallwood | Eagles | RB | 10 | -22 |
| 213 | 235 | Laquon Treadwell | Vikings | WR | 9 | 22 |
| 214 | 201 | Eli Rogers | Steelers | WR | 9 | -13 |
| 215 | 233 | Torrey Smith | Eagles | WR | 10 | 18 |
| 216 | 220 | James Conner | Steelers | RB | 9 | 4 |
| 217 | 206 | Brian Hoyer | 49ers | QB | 11 | -11 |
| 218 | 223 | Kamar Aiken | Colts | WR | 11 | 5 |
| 219 | 238 | A.J. Derby | Broncos | TE | 5 | 19 |
| 220 | 228 | Trevor Siemian | Broncos | QB | 5 | 8 |
| 221 | | Gerald Everett | Rams | TE | 8 | |
| 222 | 221 | Jared Goff | Rams | QB | 8 | -1 |
| 223 | 219 | Kenny Golladay | Lions | WR | 7 | -4 |
| 224 | 212 | Andre Ellington | Cardinals | RB | 8 | -12 |
| 225 | | Mitch Trubisky | Bears | QB | 9 | |
| 226 | 215 | Mike Glennon | Bears | QB | 8 | -11 |
| 227 | 222 | Kyle Juszczyk | 49ers | RB | 11 | -5 |
| 228 | 243 | Michael Floyd | Vikings | WR | 9 | 15 |
| 229 | 240 | Jermaine Gresham | Cardinals | TE | 8 | 11 |
| 230 | 224 | Tajae Sharpe | Titans | WR | 8 | -6 |
| 231 | 234 | Cody Kessler | Browns | QB | 9 | 3 |
| 232 | 211 | Tyler Higbee | Rams | TE | 8 | -21 |
| 233 | 208 | Benjamin Watson | Ravens | TE | 10 | -25 |
| 234 | 205 | Tyler Boyd | Bengals | WR | 6 | -29 |
| 235 | | Austin Seferian-Jenkins | Jets | TE | 11 | |
| 236 | 237 | Terrance Williams | Cowboys | WR | 6 | 1 |
| 237 | 225 | Aldrick Robinson | 49ers | WR | 11 | -12 |
| 238 | 241 | Tom Savage | Texans | QB | 7 | 3 |
| 239 | 239 | Jeremy Kerley | 49ers | WR | 11 | 0 |
| 240 | 207 | Paul Richardson | Seahawks | WR | 6 | -33 |
| 241 | 213 | Jeremy Langford | Bears | RB | 8 | -28 |
| 242 | | Jordan Leggett | Jets | TE | 11 | |
| 243 | 230 | Vance McDonald | 49ers | TE | 11 | -13 |
| 244 | 236 | Erik Swoope | Colts | TE | 11 | -8 |
| 245 | 247 | Lance Dunbar | Rams | RB | 8 | 2 |
| 246 | 244 | Darren McFadden | Cowboys | RB | 6 | -2 |
| 247 | | Cordarrelle Patterson | Raiders | WR | 10 | |
| 248 | 250 | Phillip Dorsett | Colts | WR | 11 | 2 |
| 249 | | Robert Turbin | Colts | RB | 11 | |
| 250 | 231 | Travis Benjamin | Chargers | WR | 9 | -19 |
Follow me on twitter: @TheFFAdvantage
Comments
comments