Blount Will Be a Top 20 Running Back in 2017
LaGarrette Blount is an outstanding sign for the Eagles today. The Eagles were in desperate need of that bruising back that can help grind down the defenses while still keeping the safety honest. LaGarrette Blount coming in, gives the Eagles that exact element.
For me Blount moves up to a top 20 back in value. I understand he just hit 30 years old and had one of the worst per yard average in NFL history last season. I also know he rushed for over 1100 yards and punched in 18 touchdowns.
So who does this signing help and who does it hurt on the Eagles?
Who Blount Helps:
Well it definitely doesn't hurt Wentz and all the receivers on the team. If anything Blount helps. It also helps their defense. Now, they can control the time of possession, on the offensive side, by grinding the ball.
Who Blount Hurts:
It hurts the value of every other running back on the team except Darren Sproles. I don't believe Ryan Mathews will be an Eagle much longer. This pretty much assures that. Wendall Smallwood and Kenyon Barner are obviously not a 3 down back or ready to carry a full work load. Let's compare what the Eagles running backs did in 2016 versus LaGarrette Blount.
2016 Comparison
Blount: (Good)
299 Rushing Attempts, 1161 Yards Rushing, 18 Rushing Touchdowns, 7 Receptions, 38 Receiving Yards and 0 Receiving Touchdowns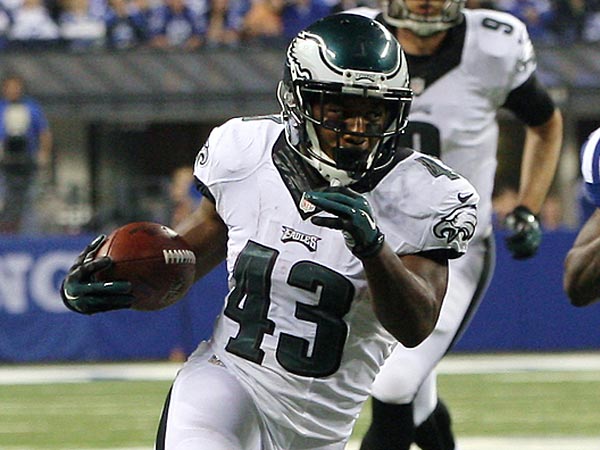 Darren Sproles: (Good)
94 Rushing Attempts, 438 Yards Rushing, 2 Rushing Touchdowns, 52 Receptions, 427 Receiving Yards, 2 Receiving Touchdowns
Wendall Smallwood: (Bad)
77 Rushing Attempts, 312 Yards Rushing, 1 Rushing Touchdowns, 6 Receptions, 55 Receiving Yards, 0 Receiving Touchdowns
Kenyon Barner: (Bad)
27 Rushing Attempts, 129 Yards Rushing, 2 Rushing Touchdowns, 5 Receptions, 42 Receiving Yards, 0 Receiving Touchdowns
Ryan Mathews:  (Ugly)
155 Rushing Attempts, 661 Yards Rushing, 8 Rushing Touchdowns, 13 Receptions, 115 Receiving Yards, 1 Receiving Touchdowns
If Ryan Mathews is released, as I anticipate, you can expect Blount to be the primary down back Day 1. Sproles will not lose his role as the third down catching back, much like last year he will not eat into the primary roles productivity.  I expect Blount to be the Eagles first and, a lot of times, second attempt inside the red zone.
Double digit touchdowns will not be out of the question this season. In fact, it will almost be a certainty.
My Blount projection for 2017: 1201 Yards Rushing, 13 Rushing Touchdowns
Follow me on twitter: @TheFFAdvantage
Comments
comments