Tony Parker Suffers Injury
Tony Parker will be out for the rest of this season after he ruptured a tendon in game 2 vs Houston. Obviously he has played a key role to the long-term success of the Spurs. So with Tony out, can the Spurs make a run for another championship?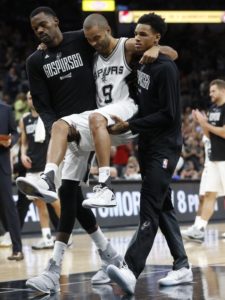 Parker has played in more playoff games, since 2002, than the Kings, Pelicans, Bucks, Timberwolves, Knicks and Hornets combined. Since being drafted by the Spurs in the 1st round of the 2001 draft the Spurs have won 4 NBA titles. They played in a total of 5 NBA championships during that period. Obviously not all the credit goes to Parker, but he clearly played a pivotal role.
Tony's postseason stats are lit (@ProducerCavi, am I using that term correctly?). Parker is averaging over 18 pts per game along with 5.1 assists per. He has 4,012 points during the postseason ranking him 9th on the all-time list. With 1,137 total assists during the postseason, Parker ranks 5th on the all-time list. I'm not going to bore you with anymore stats. I hope that I am getting my point across that Parker is good. I mean really good. Oh yeah, he won Finals MVP in the 06-07 season.
So can the Spurs pull this off? Yes, but it will be tough. They have a roster full of talent. Kawhi Leonard , a potential NBA MVP winner, can put this team on his back. He is two-way player that score at will and shut the opposing team's best scorer down. They have Manu and Gasol that have been here before and know what it takes to get the job done. Aldridge came to the Spurs because he saw the potential to get those rings. Did I mention they have one of the best coaches of all-time? Pop!
Good Luck San Antonio! Win this one for Parker and all the fans across the world.
Comments
comments