UFC Interim Titles are Bulls***
I just saw a report where Nate Diaz turned down Dana White's offer to fight Tony Ferguson at UFC 213. This would have been taken place in July for the Lightweight interim title.  Nate Diaz simply said, "No."
I agree Nate you should not have to fight for a fake title.  Dana White making up all these interim titles is like your Little League giving out participation trophies at the end of the season!  Nate has more than earned a real title shot. Time for Dana to open up that checkbook.
I think Nate Diaz has a point.  Why should he strain his body to cut weight for a fake title? Even if he win, this only puts him "next" to fight for the real one?  The UFC should listen to Diaz and let him fight Ferguson at 165 lbs.  They would both be healthier and neither would have any problem making weight.  I believe that fight would draw good money and ratings. Both are excellent trash talkers and will put on a war no one would want to miss.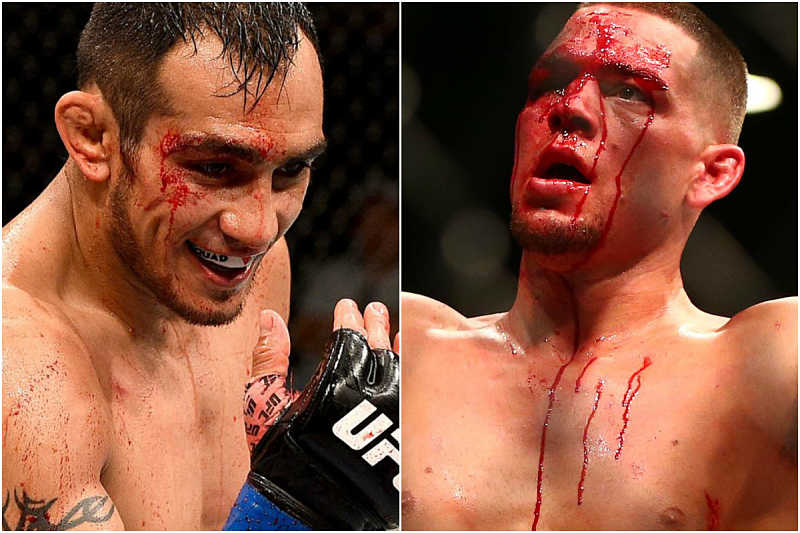 Giving New Title Belts Out Is Stupid
Another thing that bothers me is UFC fighters getting new championship belts after each title fight.  Why does Demetrious Johnson need 10 belts?  If he is defending his Flyweight Championship then shouldn't he be walking into the building and Octagon with the first belt he won?  Shouldn't that be passed from fighter to fighter? Provided UFC can ever find someone to beat him.  This aggravates me.
UFC was just bought out by WME-IMG and they were looking at ways to cut costs, well here's an idea, stop giving fighters brand new freakin' belts!  They also are starting to state they are entertainers. In that case, take a page out of Vincent Kennedy McMahon's book, and stick with one belt to be used.  The winner of the match walks out with the belt the champion walked in with; get it, got it, good!
All of these interim title fights waste time and money for the UFC and their daddy WME-IMG.  They need to go through their books with a fine tooth comb and see where the useless spending is really going.
Remember this is my opinion and if I want yours, I'll give it to you.
Follow me on twitter: @Stroudrounder
Comments
comments