It appears that Marshawn Lynch will be returning to the NFL and to fantasy football teams for the 2017-2018 season. This has a lot of people talking, especially Raiders fans. Let's take a look at what Marshawn has accomplished and where he might fall in fantasy drafts this year.
Let's start with the cons of taking Lynch in your fantasy leagues. Marshawn hasn't played many snaps since sustaining an injury in week 10 of the 2015 season. Lynch retired after that season and hasn't played in the NFL since. Beast Mode made a career out of meeting any defender in the hole, violently I may add, and chugging along for additional yardage. Obviously this style of running takes its toll on running backs. Lynch has only played in all 16 regular season games three times in his entire career. Finally, he will be 31 years old when the season starts and statistics show that there tends to be a big drop off in production for running backs after the age of 30.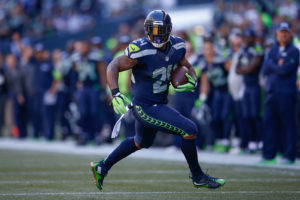 Having said that, I think there are a lot of pros to taking Lynch on your fantasy team. I look at his "break" from action as a positive. He essentially had 2 years to get his body healthy so I think there is still some thread on those tires. I don't think another 3+ years, but I can see another solid year or two. Prior to his injury in 2015 Lynch averaged 1,612 total yards and 14 TDs per season since 2011. That's obviously top-5 fantasy running back in any league.
In closing, I think Lynch can be a value if selected at the right time during your draft. Rumor has it that his contract is going to be based heavily on incentives. He is going to be hungry for production and most importantly, touchdowns. I can see Marshawn totaling 1,200 yards and 13 TDs this year if he stays healthy. I would happily take this guy between the 8th and 12th running back off the board in standard leagues and between the 10th and 14th in PPR leagues.
Comments
comments