Da Bears or Dumb Bears?
So let me get this right! Last month the Chicago Bears go out and sign Mike Glennon as their quarterback. Not only did they sign a unproven quarterback in Glennon, but they did it for about $45 million dollars.  Alright, so they got a quarterback they are obviously confident in right? Yeah, so confident they went out of their way to sign another quarterback in the first round of last nights draft.
So, it took roughly 48 days for the Bears to have buyers remorse with Glennon. So much so, they gave up the world for an even more unproven quarterback. Here's how it went down. The Bears gave up their 3rd overall pick to move up one pick to get the 2nd overall pick from the 49ers. Seemed like a no brainer to get Solomon Thomas or Jamal Adams. Wait they didn't go with either of those guys? They went with who? Mitchell Trubisky? Wait it gets worse. They also gave up a 2017 third-round pick (No. 67), a 2017 fourth-round pick (No. 111 overall) and a 2018 third-round pick.

Trouble With Trubisky?
Yeah! You know, Mitchell Trubisky. The kid who played in 13 total college games at North Carolina and had a career starting record of 8-5. I will not take away from his promise or his size. At 6'3″ and 220 pounds he has potential. Other positives include Trubisky completing 68 percent of his passes. He threw for 30 touchdowns and only six interceptions. Unfortunately, that's it.
The Bears gave up three draft picks to move up one spot and grab the most inexperienced quarterback they could find. Did Chicago actually fall for the "We're really interested in this guy." trick? One thing I do know for sure, the Bears may have set their organization back five years if Mr. Titty Kisser doesn't work out.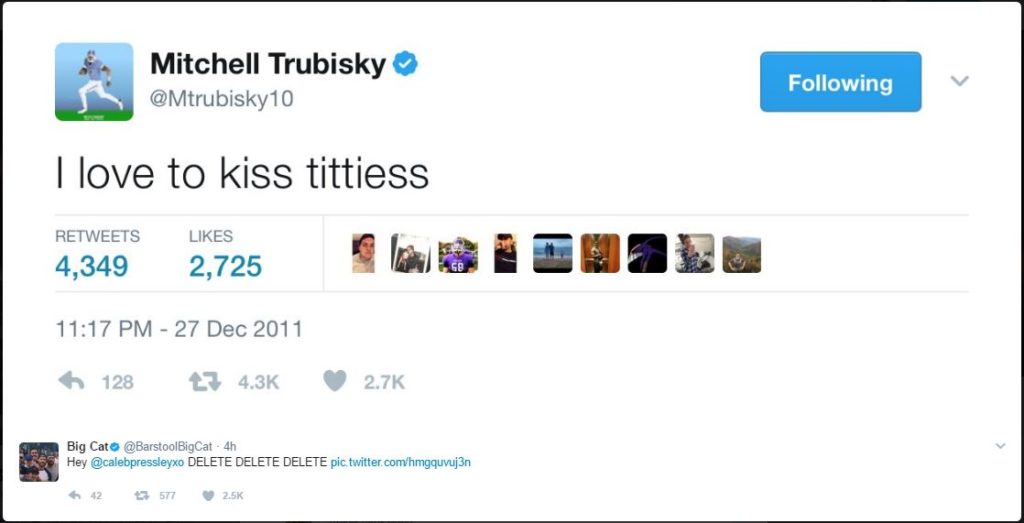 Good luck Bears fans.
Follow me on twitter: @theffadvantage
Comments
comments