Fastlane
Starting at the Royal Rumble in January, the WWE has been on their annual road to Wrestlemania that occurs in April. And what is becoming a new feature to the road to Wrestlemania the last few years, the WWE is still scrambling to figure out what to do to try and not look like a company that has no idea what they're doing or a company that wants nothing to do with listening to their audience. Thankfully, nothing can be as bad last year. So we got that going for us.
Kickoff Show-
Rich Swann & Akira Tozawa vs. The Brian Kendrick & Nomar Dar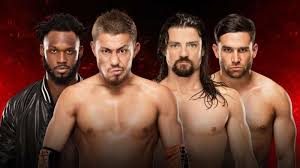 This will be an entertaining match that you will probably find an excuse to skip because it's the pre show match. But, that doesn't mean if you do find a way to catch this match, that you'll be disappointed. The offense will be there will all types of spots being performed. The history of Tozawa not wanting to be Kendrick's apprentice is the focal point where I would expect Kendrick and Dar to hand out "lessons in respect." Also, Swann has some sort of beef with Dar over Alicia Fox. I'm sure that won't get resolved and we'll have a repeat of this match on Monday Night Raw. Besides Neville, Jack Gallagher and The Brian Kendrick, the cruiserweights all blend together to me. Not saying that I believe all cruiserweights look alike but I'm also not not saying that either.
Prediction- The Brian Kendrick & Dar
Sasha Banks vs. Nia Jax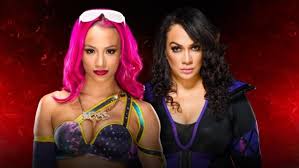 I'm actually a fan of what Nia Jax has been able to do in a short amount of time on the main roster. She was on NXT not to long ago and already is in the main event picture. But, that's not that hard to do when there are only about 5 people in your division as is the women's division. Be that as it may, Jax has mostly dominated Banks when they have encountered each other. Putting her on crutches and simply bodying her up when ever she gets a chance. Classic small person vs larger person here. There hasn't been much of a build for this match except for this past Monday but WWE doesn't think you'll notice that and they are dead right. Jax has been booked as a monster so there's no good reason to have her lose now. Plus, this is all just leading to the eventual Sasha heel turn that's coming.
Prediction- Nia Jax
Neville(Champion) vs. Jack Gallagher for the Cruiserweight Title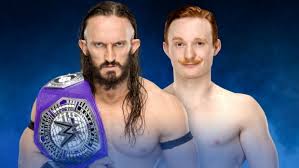 I didn't think I was going to care about Neville changing heel. I thought it would just come and go without me ever noticing but I was wrong. Neville has done a great job of being the guy you want to hate. What sets him apart from other heel turns is that he makes me actually believe that he despises everyone else and that he thinks he's on another level compared to everyone else. It's nice that he's right about that because look at him but still he portrays it well. The fact that he turns on other heels like this past week on RAW is another smart way to go about it. True heels don't like anybody. The Gentlemen Jack Gallagher has also done a nice job of sticking out in a division that some people believe that everyone looks exactly the same. His charisma sets him apart but I don't think that will get the job done nor will William, his umbrella. A good match is what you will get with these two.
Prediction- Neville retains the title
Luke Gallows & Karl Anderson (Champions) vs. Enzo Amore & Big Cass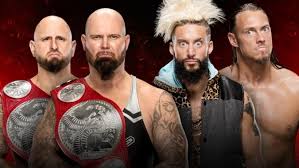 This match a few months ago could of had a great feeling attached to it. Now all I feel is the future agony I'm going to be dealing with as I watch it. Nobody including myself have ever cared about Gallows or Anderson since they've been in WWE. WWE has done them no favors either. Turning them into part time comedy guys didn't go over? Who knew? And for Enzo and Cass, I've been a big mark for these guys back to there NXT days. They were so funny and fresh. Enzo was white hot on the mic and Big Cass was the perfect compliment to keep him in check. But there was the big elephant in the room when it came to them even back then. And that's eventually you could only go out there and do the same routine literally every single night and say just about the same few lines over and over. Eventually, it's going to get old. It's at the point where people were chanting "thank you Sheamus" when he shut Enzo up. I hate this feeling I have about Enzo and Big Cass. It's like the feeling George Jung had at the end of Blow where he finally realized he got setup by his friends one last time. He just sat there and said "let's do it." He knew it was over. Enzo and Big Cass might be over. As for the match, it will just be okay. Nothing to crazy will happen. Typical stuff. Enzo and Big Cass will win the titles but not on Sunday. Nope, they'll win them at Wrestlemania in a hope that it will be a big deal. I hope it is for me and the rest of the Realest Guys in the Room.
Prediction- Gallows & Anderson retain the titles via Disqualification
Samoa Joe vs. Sami Zayn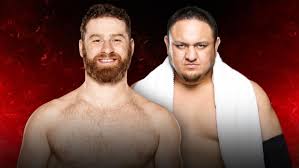 Nothing on the line here but it is Joe's first PPV in WWE. So that's pretty cool. WWE is doing a fine job with Samoa Joe. They're having him be the supreme ass kicker that he is. Having him say few words and when he does speak it comes from a place of truth. Don't have to be a genius to know the best guys on the mic are the ones who speak from a place of honesty. Again, who knew? Besides his first appearance where he injured Seth Rollins, which might be an all timer on the list of all time worst first days of work, Joe has been very solid in the ring. His ground and pound style will work great with Zayn's high flying, high energy move set. These guys had a classic in NXT in 2016 so I would expect another gem here. It appears that Zayn's biggest contribution to the company is being the guy they feed to guys they want to push. Sunday will be no different.
Prediction- Samoa Joe
Bayley(Champion) vs. Charlotte Flair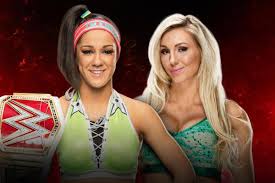 In WWE's quest to have Charlotte eclipse her father's record of 16 championships in his career in just one year, Charlotte once again finds herself in another title match. WWE also took a moment from Bayley that should have been a huge moment of winning the title on a PPV and instead had her win it on a episode of RAW. Stuff like that is reserved for bigger stages and although Bayley I'm sure is thrilled where she is in her career, first time title winners of people who are loved by the fans are meant to be big deal culminations. But when your goal is to make Flair the biggest and most prestigious women's wrestler of all time, that's going to happen. Make no mistake Charlotte will have upwards to about 18 title reigns in her career. Fact. The match on Sunday will be a very good one. These two have fantastic chemistry. They've been working with each other for years. Possible match of the night candidate. As I said, Flair will be champion. It just won't happen Sunday. That will come at Mania in some sort fatal fourway match with Jax and Banks.
Prediction- Bayley
Roman Reigns vs. Braun Strowman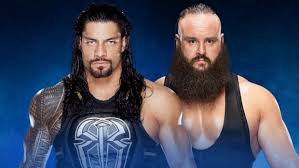 In a battle of the two guys WWE wishes people liked more, you have two guys who have had a very physical few weeks. The contract signing thing they had last week, which is always stupid, wasn't the worst thing ever with Reigns getting demolished and still signing it. A lot of storylines here. I can't see Strowman losing clean here and I can't see Reigns losing clean either. Also, let's not forget the Undertaker is looming for Reigns, the guy who eliminated him at the Royal Rumble. Dead people have long memories, everyone knows this. Usually the Undertaker has already made his presence felt at this point heading to Wrestlemania but he hasn't yet. This is when the phenom will show up, cut the lights with his powers and appear and cost Reigns the match thus setting up their anticipated Wrestlemania match. I think that might be a casket match and possibly the Deadman's last match. I might be wrong, but I also might not be. As for Strowman, they'll probably put him against the Big Show or something like that. I don't really know. Maybe have him destroy the Andre the Giant battle royal.
Prediction- Braun Strowman
Kevin Owens(Champion) vs. Goldberg For The Universal Title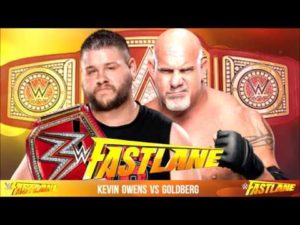 This match can go many different ways. Does either Chris Jericho or Brock Lesnar get involved? That's the big what if in the match. You gotta think something funky happens. It won't be a straight squash for Goldberg and there's no way he loses clean. The question is, will Goldberg be holding the belt vs. Lesnar at Mania or will Owens be facing Jericho for the strap? You can make arguments for both. The thought just occured to me that maybe both get involved in this match. WOW, that be something. I think the match will be one that starts real slowly with Owens darting out of the ring a few times. It will look like it's going to be a Goldberg beatdown and then Owens just hang around for a bit. Since, it looks like someone will get involved in this match and that I should expect interference, I'm officially going with no interference by anyone. Expect the unexpected. The match will go longer than Lesnar's match with Goldberg but Goldberg will be holding the title at the end and then Lesnar's music will hit and they will have a big staredown from the ramp to the ring. WWE better have Owens look strong here. Can't have him get steamrolled by a guy who won't be with the company in a few months. But WWE loves to do that kind of stuff, so it probably will happen. Hope it doesn't
Prediction- Goldberg wins and becomes the new Universal Champion
Comments
comments