Kenny Stays with Dolphins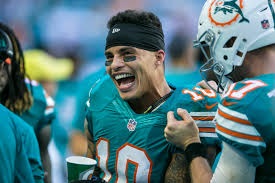 As a guy who cheers for Miami resigning their deep threat receiver is something I'm glad they did. Let it be know I also understand the disappointment my fellow Dolphins fan have year after year. 2016 was different though. Miami actually put together a full season instead of collapsing like they typically love to do around week 12.
There's some optimism for the future. Another year in the "crappy team whisperer" Adam Gase's offense, alongside the diet of an 8 year old 3rd year receiver Devante Parker and Jarvis "all I want to do is look for contact and would never go out of bounds regardless of how career longing it would be" Landry, Stills should be primed to do better than his 42 receptions, 726 yards. Wow, let me catch my breath.
Stills Valuable?
He was asking for $12M per year deal, which I never thought he would get and I guess the rest of the NFL thought the same. Instead, he got a four year $32M contract and some people can't understand how he could get money like that, but that's just how the NFL works. The more money the NFL makes, the more money teams are allowed to spend. Teams actually have salary floors. This requires teams to spend a certain amount of money. Its also how a third best wide receiver on a mediocre team can making $8M a year. Good for him. Go get your money, because once it's over, the checks stop coming. Then you have to figure out your next move.
By the way, if you think that Stills will be in Miami after the next 2 seasons, you're delusional. I like the guy, but this smells like a guy who's cap number will be to high compared to his statistical production in a few years and he's just too expensive to keep.
-Serniak
Comments
comments