Will Dallas Grant Help Keep PSU, Linebacker U?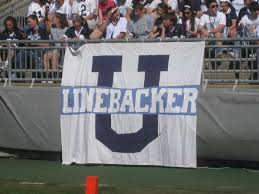 It has been debated for years. Is Penn State is the true Linebacker U? Obviously fans and alumni from PSU will say without question. However fans and alumni of schools like Ohio State and University of Miami may tell you different. Regardless of who's side you favor, one thing is indisputable. Penn State consistently produces NFL caliber linebackers.
This year's recruiting class may be just another notch in the belt of Penn State recruitment efforts. That is of course, if the Nittany Lions can land, four-star linebacker, Dallas Gant.
At 6-foot-3, 225-pounds, Gant is the No. 5 outside linebacker in the nation according to 247Sports. Penn State is obviously not alone in their bid to win Dallas' heart. Ohio State is the hometown favorite of the Toledo born beast. Notre Dame, Michigan and Michigan State are the other schools that could be top landing spots for Gant.
My commitment announcement this Tuesday will be at 3:30 in the McCade Theatre at my school, St. John's. Everyone is welcome to attend!

— Dallas Gant (@dallas_gant) May 10, 2017
If Penn State is lucky enough to bring Gant to Happy Valley, his name may someday be along side some of these other great linebackers to come out of PSU.
NFL Linebackers That Played At PSU
The list goes on and on. But for the sack of time, lets just say there were a lot!
Follow me on twitter: @TheFFAdvantage
Comments
comments