The PGA Tour heads south of the border this week for the OHL Classic at Mayakoba. With the fall swing nearing its end, now is as good a time as any to check out our fantasy golf rankings and cash in on some DraftKings this Sunday.
---
OHL Classic at Mayakoba
This week's weighted current form player statistics for the OHL Classic include:
Strokes Gained: Approach
DraftKings Points
Strokes Gained: Par 5
Fairways Gained
Strokes Gained: Ball Striking
The live rankings model we provide to you each week is constantly being tweaked and improved by Dr. DFS, Taylor @Sgrignoli3, to deliver the best fantasy golf rankings available. A few minor changes in current form weight distribution for the past 4, 8, 12, 24, 50 and 100 rounds were made for the OHL Classic. This should result in a more positive correlation going forward.
The "PAS Power Index" is generated by calculating and combining the following three weighted categories: total current form player statistics weighted (50%), course history (25%) and Vegas odds (25%). Several players in the field may not have any course history so their course history weight percentage was shifted to current form.
FantasyNational.com is used to help develop our fantasy golf rankings model. Taylor and I discuss which statistical categories we feel are most important for the week's tournament and then weight those stats accordingly.
---
Top 25 Fantasy Golf Rankings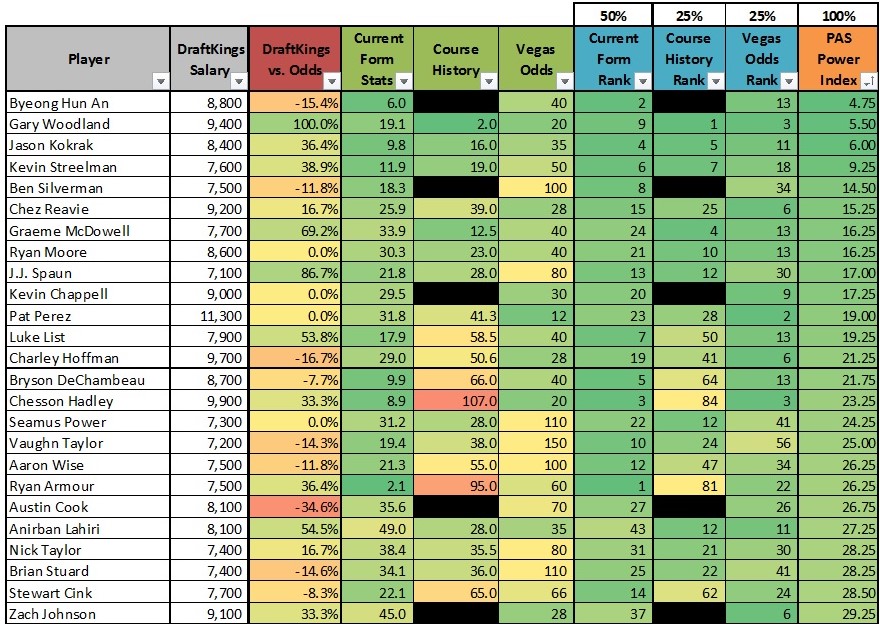 **Disclaimer: FantasyNational.com is used as source for all data and player statistics. If there happens
to be a numerical error, blame them not us. Also, European Tour statistics are currently NOT included in
the rankings calculations.
Comments
comments