…. and now he's our Fantasy Football DFS guy, too!
I have to admit, I wasn't terribly pumped up for the start of the NFL season like I had been in the past. I dropped out of three of the five seasonal leagues that I had been in last year; I just wasn't getting the "butterflies in my stomach" feeling that a recalled having in past years as the NFL season approached. Maybe I thought I would enjoy football more this year if my emotions weren't being pulled in every direction on Sundays tracking all of my fantasy players across five leagues. I was looking forward to calmer, more relaxed Sundays (I know my wife would be happier if I wasn't yelling at the TV).
But then funny thing happened on the way to the NFL season; with the help of the sage advice from my friends at The Point After Show, I was fortunate enough so hit for $2,000 on a freeroll on FantasyDraft.com during week 3 of the preseason. FantasyDraft.com is a burgeoning daily fantasy sports site that attempts to differentiate itself from FanDuel and DraftKings by putting "#PlayersFirst." Notably they offer more flexibility to lineup structure and larger payout zones in their gpps. I've been playing smaller stakes here and there on FantasyDraft for about a year now and really enjoy it. I'm mostly a micro stakes player who more enjoys the strategy of daily fantasy sports so this was easily my biggest score of my young DFS career. So I wanted to write an NFL DFS blog for The Point After Show and now I have $2k to blow so why not see what kind of mess we can get into with this new found bankroll! The $2k is currently deemed "Fantasy Cash" which can be used as entry fees into tournaments with real cash prizes. Once (If) I win money from those contests, the Fantasy Cash is converted into cold hard cash. Each week I'm going to walk through my thought process and some of the plays I'm considering in hopes that I can grow the stack and compete with the best of the best in the DFS industry. Stay tuned for my week 1 article discussing general NFL DFS strategy as well as pontificating plays specific to FantasyDraft as we attempt to either grow the stack or at least churn the $2k of Fantasy Cash into tangible cheddar.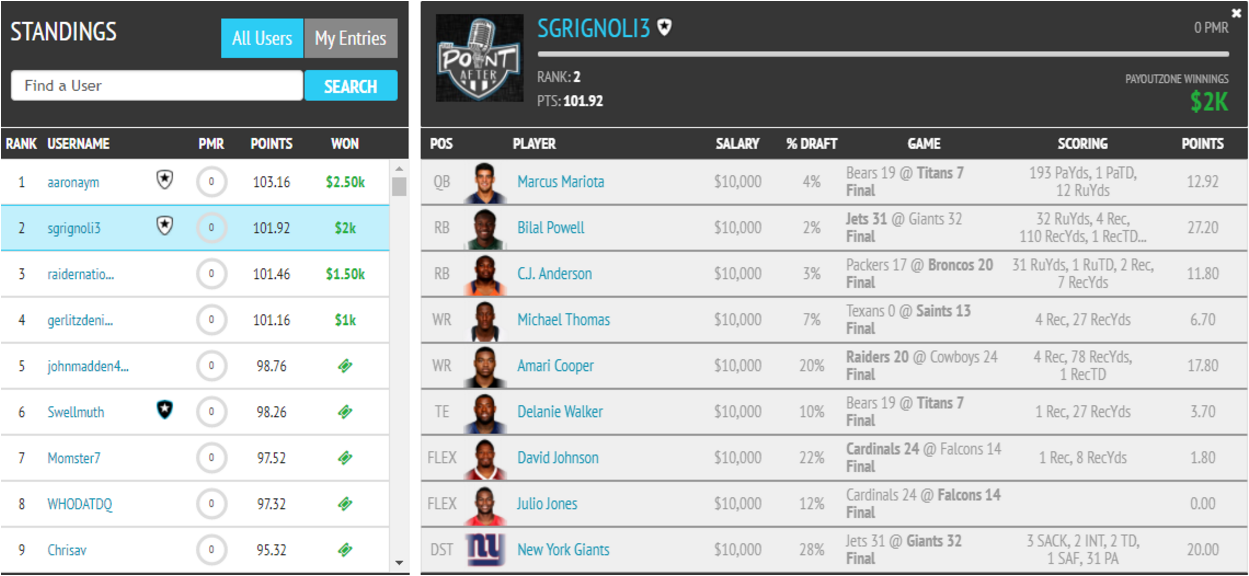 Comments
comments