Late Round Receivers
The guy who said, "You can't polish a turd and make it a diamond." didn't play fantasy football. Anyone who has played fantasy long enough knows that you won't lose a season with a bad early round pick, but you can win a season with great late rounders.
Here are five late round receivers you can target in round 11 or later that could end up in your starting line up often this year.
#5: Tyler Lockett – Seattle Seahawks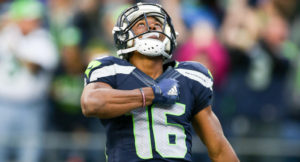 Coming off a late season injury, Tyler Lockett appears to be close to 100%. Last year, Lockett only had three games with at least 70 yards and didn't reach the end zone until Week 15. However, the upside for Lockett showed up during Weeks 13-16. He was top 10 fantasy receiver during that span. He was also able to produce two weeks last year with 20 or more fantasy points.
Sometimes opportunity comes at the expense of someone else, and for Lockett it may come becasue of Paul Richardson. Richardson sprained his AC joint in Week 1 preseason game giving valuable practice time reps to Lockett. Don't be surprised to see Lockett win the job back and have a nice 2017.
#4: Cole Beasley – Dallas Cowboys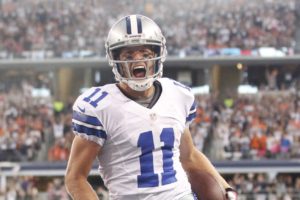 Zeke being out, boosts Cole Beasley for me. Granted he is not the sexiest player you will draft, but his productivity can't be argued for his current draft value. Currently being drafted in the back of the 11th, this guy produces as a great little plug and play option with an opportunity to be a WR3 or Flex play every week.
Last year, Cole had 75 receptions for 833 yards and 5 TDs. This was good enough to rank him the 40th best receiver over all. Want to talk about a safe play? This guy had 8 games with 5 or more catches and 0 games with less than 2 catches. Combine that with Beasley only having 3 games last year with under 40 yards receiving along with being a red zone threat you have a great late round flex option.
Cole Beasley is 10th among wideouts in Redzone TDs the past two seasons.

— Andy Holloway (@andyholloway) August 18, 2017
#3: Cooper Kupp – Los Angeles Rams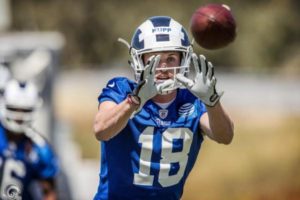 A lot of people have fallen off the Cooper Kupp bandwagon since the Rams acquired Sammy Watkins. That's good news for owners who see value. Kupp will probably line up in the slot, but in order to do that he needs to beat out incumbent Tavon Austin. I don't see that being very difficult personally. Tavon has been nursing a hamstring injury and not getting the reps he needs in Sean McVay's new offense. The slot position is very lucrative with McVay. Jamison Crowder and Pierre Garcon lined up in that position a lot last year for McVay in Washington.
Kupp's current ADP is the 14th round according to Fantasy Football Calculator. Now the only question is how many 2 Gurleys 1 Kupp, jokes can you make.
#2: Ted Ginn Jr. – New Orleans Saints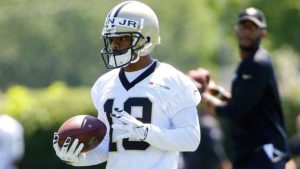 Ginn's stock is rising as fast as he can get down the field on a helpless defender. Last week, Ted Ginn Jr. was being drafted in the 14th round. This week you are luck to snag him in the 11th. Is it because everyone is finally starting to realize he can do everything Brandin Cooks was asked to do in NOLA? Is it because he has one of the most accurate quarterbacks in history throwing to him? Or is it because he was named the #2 starter in the offense and everyone thought by some weird reason Snead was going to get that spot? Chances are its all of the above.
Long story short, he can do everything that the Saints gave up in Brandin Cooks. He can stretch the field like no other. He has a quarterback that can throw the long ball with pin point accuracy. All Teddy has to do is catch it. With the abundance of opportunity Ginn will see he could produce similar numbers to his 2015, 739 yards and 10 TDs.
"I could not be more impressed with Teddy," -Drew Brees
#1: Zay Jones – Buffalo Bills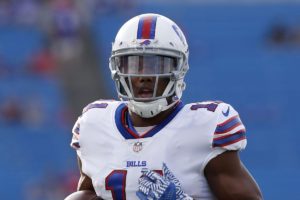 "Its a new Zay! Yes it is!" That's what every dynasty owner of Zay Jones is saying after news broke Sammy Watkins was traded to the Rams. Although still not out of the Woods yet, (see what I did there?) Jones' spot on the depth chart is starting to look clearer.
With Robert Woods and Sammy gone, I think Zay is the most talented wide receiver now on this team.  I say that even with the additions of Anquan Boldin and Jordan Matthews. Boldin is clearly a threat to Zay's red zone targets but other than that he will out play both of these guys.
The only concern I currently have is the lack of looks Tyrod Taylor is giving Zay early this preseason. In game 1 of the preseason Jones was not targeted 1 time. It took Nathan Peterman to come in the game in preseason week 2 for him to finally get a chance. The good news is he made the best of that chance and all the other chances he got in that game. He finished with 3 catches for 42 yards including some sweet tow drag swag. He should have had a TD in his stat line, but couldn't keep his second foot in bounds. Lot's of talent and with a 12th round ADP, little risk!
Couple observations from early games: 1) Zay Jones' route running is impressive. Excellent footwork/angles. Shields well. Unfazed in traffic

— Brad Evans (@YahooNoise) August 18, 2017
Please feel free to comment below and follow me on Twitter: @TheFFAdvantage
Comments
comments