Rhys Hoskins went yard twice last night. Not only did he hit two home runs, they were absolute bombs. One went 402 feet and the other went 400 feet.
Fantasy owners, this is a guy to keep on your radar.
Wait, does his team hate him?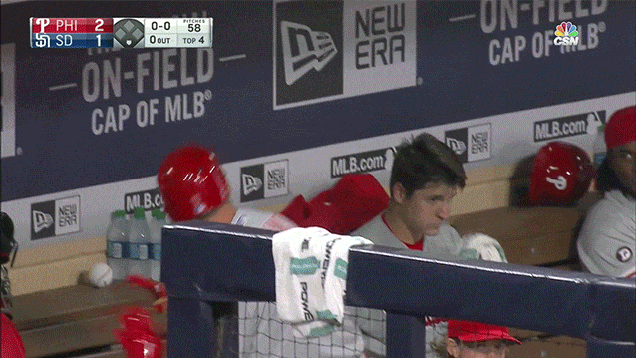 No! That's just a tradition. They jumped all over him after the second home run.
---
CSN Philly: "For the past five days, Rhys Hoskins has been living the dream, as they say.
First it was the promotion to the major leagues on Thursday.
Then it was his first big-league hit on Sunday.
Monday night brought what all power hitters live for — his first major-league home run.
But Hoskins didn't stop there. He clubbed two home runs and was the Phillies' lone highlight in a 7-4 loss to the San Diego Padres at Petco Park (see Instant Replay).
Hoskins, who was leading the International League with 29 home runs when he was promoted last week, smacked a solo shot in the fourth inning on a full-count fastball from lefty Travis Wood. He belted another solo shot off righty Craig Stammen on a 1-2 pitch in the seventh.
Both home runs were well-struck line drives that traveled 402 and 400 feet, respectively."
---
Comments
comments