Hahaha! Man! The Knicks are an absolute dumpster fire. A dumpster fire full of James Dolan's money. Remember that the Knicks drafted Tim Hardaway Jr. Then, he was so terrible that they promptly traded him away, so they could drafted Jerian Grant. Then, they traded away Grant to draft what was left of Derrick Rose. Now, they're resigning Hardaway for an absurd amount. Makes sense. Knicks fans didn't want Tim Hardaway Jr. then and they certainly don't want him now.
A live look at Madison Square Garden: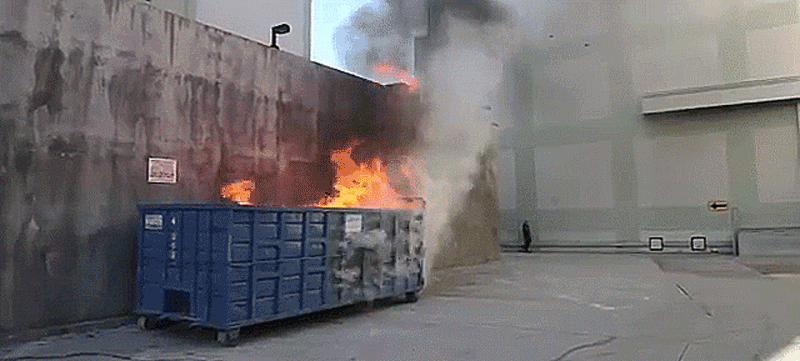 When you think about it, the Knicks basically paid the Hawks to develop Hardaway into a serviceable player. But, this would be the ultimate slap in the face to Phil Jackson, as the Hardaway trade was generally regarded as the only good move he made. This isn't a done deal yet; the Hawks could match the Knicks' offer. They have called Hardaway an off season priority. So, who knows how this will play out. But, if you're a Knicks fan… I'm sorry.
Also, they would have to sever their ties to Derrick Rose's decaying body to clear room for this deal.
So Knicks drafted Tim Hardaway Jr to trade him for Jerian Grant to trade him for Derrick Rose to sign back THJ to avoid signing back Rose

— Jeffrey Bellone (@JeffreyBellone) July 7, 2017
---
ESPN: "Restricted Atlanta Hawks free agent Tim Hardaway Jr. has signed a four-year, $71 million offer sheet with the New York Knicks, league sources told ESPN.
Hardaway, a 25-year-old shooting guard, has spent the past two seasons in Atlanta after spending his first two in New York.
The Hawks will have two days to match the offer. which contains a 15 percent trade kicker and a player option in the fourth year, per ESPN sources.
Hardaway, 6-6, had a breakout season in 2016-17 for Atlanta, scoring 14.5 points per game in 28 minutes.
In particular, Hardaway flourished after the Hawks traded Kyle Korver to Cleveland midway through the season. In the final six weeks of the regular season, Hardaway averaged 18 points in 32 minutes per game, hitting 38 percent of his 3-point attempts.
New York, under then team president Phil Jackson, traded Hardaway on draft night in 2015 in exchange for the rights to point guard Jerian Grant.
Hardaway thrived offensively but struggled at times on defense in New York, which selected him in the first round of the 2013 NBA draft."
---
At least Tim Hardaway Jr. will feel wanted…
I keep telling myself that if the Falcons can blow a 28-3 lead in the Super Bowl, the Hawks can match a $71 million deal to Tim Hardaway Jr.

— Clemzingis (@TheClemReport) July 7, 2017
Congrats to Tim Hardaway JR for getting that "Well shit. We gotta pick up SOMEBODY" money.

— Larry Beyince (@DragonflyJonez) July 7, 2017
Knicks just gave Tim Hardaway Jr $71M. pic.twitter.com/M1kIDfrnhj

— LegionHoops.com (@LegionWebsite) July 7, 2017
Justin Holiday: 2/$9M
Andre Roberson: 3/$30M
PJ Tucker: 4/$32M
Tony Snell: 4/$44M
Joe Ingles: 4/$52M
.
..
…
….
Tim Hardaway Jr: 4/$71M

— Dan Favale (@danfavale) July 7, 2017
Michigan Men:

Tom Brady has 3 years left on his contract worth $58 million.

Knicks just gave Tim Hardaway Jr. 4 years, $71 million.

— Adam Schefter (@AdamSchefter) July 7, 2017
Knicks have signed Tim Hardaway Jr. to a four-year $71 million offer-sheet. pic.twitter.com/vhl9wwr2XW

— The Knicks Wall (@TheKnicksWall) July 7, 2017
Tim Hardaway Jr's salary just jumped from $1.3 million to $17.75 million. It's the most Knicks thing ever.

— Fake SportsCenter (@FakeSportsCentr) July 7, 2017
I need Tim Hardaway Jr's agent to negotiate every aspect of my life

— Blake Lindsey (@Mopey2) July 7, 2017
Comments
comments