That's it. Just cancel Penn State's football season now. If the most electrifying man in college football isn't on the team, Penn State's season is already over. It's being reported that 5'10, 258 lb. kicker, Joey Julius is no longer on the Nittany Lion's roster.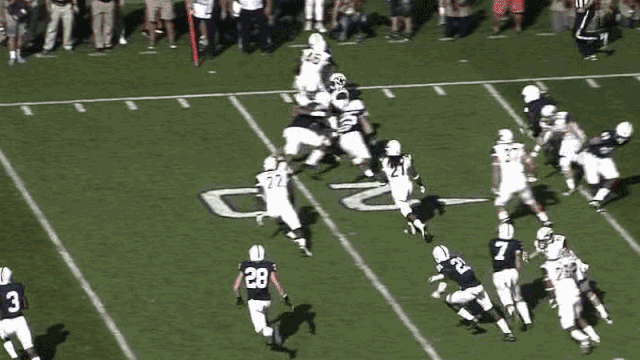 First of all, we wish Joey Julius the best.
He's guy who grew up in our local area, hailing from Hummelstown, PA. When it comes to Penn State, I'm not a fan. I'm actually whatever the most extreme opposite of a "fan" would be. But, I'm an ENORMOUS Julius fan. The kid is electric! He's good for the game.
If you ask me, he's what the prototypical idea of a kicker should become. A 5'10, 258 lb. ball of grit, spit and fury? Forty-five of 98 kickoffs for touchbacks and bone crushing hits? People afraid to block him? Returners nervous about being hit by him? Yes. Yes, please. That's exactly what I want from my kicker.
---
ESPN: "Penn State kicker Joey Julius, known for bone-rattling hits as well as a battle with an eating disorder, is no longer on the Nittany Lions' roster.
Julius, listed at 5-foot-10 and 258 pounds, announced in October 2016, that he had missed Penn State's spring and summer workouts so he could receive treatment for a binge-eating disorder. He made a similar announcement in May and did not take part in Penn State's spring game.
"I have been struggling over the last couple months with my eating disorder," the 22-year-old Julius said in a Facebook post in May. "It got to the point where I had to return to St. Louis to seek further treatment at the McCallum [P]lace."
At the time, Julius said he was improving while away from school and did not put a timetable on his return.
"I am doing well and the treatment is helping," Julius said in the post. "There is light at the end of the tunnel. It is just a very long tunnel."
Last season, as a sophomore, Julius was Penn State's kickoff specialist. Forty-five of his 93 kickoffs went for touchbacks. As a freshman, he converted 10 of 12 field goals and 20 of 24 extra points."
---
The only other kicker (well, punter… same difference) with this much swag is my hero, Pat Mcafee. Maybe, just maybe if Joey can get his eating disorder in check, Pat Mcafee would be the perfect mentor for him. I love that idea. Good job, me.
Go ahead. Stunt on 'em Pat.
Main photo courtesy of SI.com.
Comments
comments