Kentucky Recap
Kentucky played out EXACTLY as I expected. The cars starting on the front row led all but 10 laps of the race. Kyle Busch ran out front early leading 112 laps but Martin Truex Jr. ran him down all night on the long runs leading 152 laps and ultimately winning his 3rd race of the season. Kyle Larson started 40th and found himself up to the top 5 in short order and continued his stellar form.
In terms of DraftKings, we kept it rolling another week. If you played Truex, Kyle Busch, and Larson you won money this past weekend. In the NAS $300K MEGA BEAST $8 per entry gpp here was their ownership levels: Busch, on the pole, 54.3%, Truex, starting 2nd and has been the most consistent driver this year, 42.9%, and Larson, starting 40th, 68.9%. All of these numbers were way too low given the context for each driver. We know the front row has led all the laps this year and Kentucky, a night race, had an even higher concentration of lap leaders starting on the front row. You can make the case that no one is ever a "must play" but Larson starting 40th was as close as I have seen and he should have been +90% owned. These three guys scored the top three fantasy point totals and you weren't winning a gpp without all three of them. As I said last week, sometimes playing the obvious plays is the correct approach and let the rest of the field make the mistakes fading guys. With the DraftKings account at a season high balance, I'm a happy fella and ready to breakdown New Hampshire.
New Hampshire Preview
With half of the NASCAR season complete, we head to race 19 which is the New Hampshire 301 at New Hampshire Motor Speedway, Sunday at 3:00pm EST. New Hampshire, sometimes referred to as Loudon, is a 1.058 mile oval with relatively flat banking. With 301 laps on tap, I think targeting two lap leaders is the ideal number and let the rest of the lineup generate points from finishing position and place differential. Since this is a short track, I'm inclined to avoid the super punts starting deep in the 30s as these cars will quickly find themselves down laps if the race starts green. We want drivers who can fight to stay on that lead lap and have the shot to finish inside the top 15 at the end of the race. My guess is about 20 cars finish on the lead lap so if we don't envision our picks finishing top 20 then let's look elsewhere. In terms of looking at pole positions and who leads the most laps here I see an interesting nugget. The 2nd place starting position has led 26.44% of total laps over the last 8 races here and the 1st place starting position has led only 9.31% over the same period. It might just be variance but at least something to consider. 74.99% of total laps led over the past 8 races have come from drivers starting inside the top 8 so that will be the target area for the lap leaders.
Top Tier (over $9,000)
Stop me if you've heard this one before…Kyle Larson ($9,700) will start in DFL (dead f***ing last, 39th). Larson's qualifying time would have won the pole except he failed the post qualifying inspection with a rear deck lid issue forcing him to now start 39th. I'm assuming for DraftKings purposes that he will be scored as if he is starting 39th. His practice times were 1st, 2nd, 4th. Just lock him in every lineup again this week.
Martin Truex Jr. ($10,300) is your de facto pole sitter after the Larson snafu. His practice times were 2nd, 1st, 2nd. He's on the pole, he was silly fast in practice, and he's been dynamite almost every week. Play him.
Kyle Busch ($10,500) is dynamite at New Hampshire with a 115.1 driver rating here over his past 8 races. He's starting 7th which is moderately concerning that he might not lead enough laps here but his practice times backed up his track dominance with 3rd, 7th, 1st.
I feel like I just write up the same three guys in this top tier every week but until further notice or something changes, these are the top 3 drivers this season.
In gpps there's merit in firing off any of the top-tier guys really, but I'll have zero shares of Matt Kenseth ($9,300) this week.
Mid-Tier ($8,900-$7,000)
I think we're going to want a handful of these plays here as these are the drivers that should be able to hang onto that lead lap and score the finishing position points for us. I'll likely fade all of the guys in this tier starting in the top 10. They aren't likely to lead the laps we need and have more risk for negative place differential points. By default give me the drivers in the teens and twenties in this pack.
Joey Logano ($8,800) feels like this is the cheapest he's been this season starting 13th.
Dale Jr. ($8,000) is starting 18th with an average running position of 10.0 over his last 6 races here. He has said they are going to be "checkers or wreckers" from here on out trying to get into the playoff. So he's an ideal gpp play but don't touch him in cash in case the "wreckers" wins out.
Ryan Newman ($7,300) is starting 24th with an average running position of 15.6 over his last 8 races. He looks like a solid option again this week. Same with Austin Dillon ($7,000) starting 26th but has less inspiring track history.
Bottom Tier ($6,900 and under)
I don't think I'm playing anyone lower than Danica at $6,200 this week from this tier. We want to envision our drivers in that top 20 and maybe catching a lucky dog or two from the cautions. The four plays that stand out to me here are Trevor Bayne ($6,900) starting 27th but practice times of 24th, 14th, 20th. He doesn't have great history here but if he finishes like he practiced he should be fine for what we need. A.J. Allmendinger ($6,800) is starting 23rd and is typically better on the flatter tracks. Paul Menard ($6,500) is starting 29th with an average running position of 18.9 over the last 8 trips here. And lastly the aforementioned Danica ($6,200) starting 30th. With an average running position of 22.9 over her last 8 races here she has the gumption to fight to stay on that lead lap. Eventually she has to catch a break.
"Sgrignoli's Strategy"
I honestly think it's 100% Truex and 100% Larson again this week and fit things in around them you like. If you think Truex leads half of the laps which he very well may, I'm ok taking him as your sole lap leader driver then dropping down a little bit and going more balanced: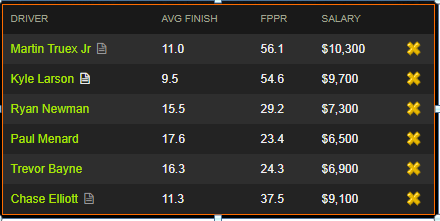 I didn't write up Chase Elliott above, but he averaged 5.3 over the three practice sessions and is starting 11th. I think he could make a move for a top 5 and swing some lineups. But it's Truex/Larson and figure the rest out.
Good luck PAS-Holes and I'll see you in the winner's circle.
Comments
comments