New Hampshire Recap
Another race and another week the chalk came through.  If you've been paying attention the last month then you probably have been playing Kyle Larson, Martin Truex Jr., and Kyle Busch.  It's not been rocket science really.  Larson keeps failing/missing qualifying inspections and starting at the rear of the field, i.e. he's been a free square, and Truex and Busch both start up front.  I'm anxious for a week where the plays aren't glaringly obvious and we actually have to craft some lineups with strategy and thought.  Oh yeah, Denny Hamlin took the checkers at New Hampshire.  He seems like a cool dude.
In terms of DraftKings, we kept it rolling yet another week by playing the aforementioned chalk trio.  If you played Truex, Kyle Busch, and Larson you won money again this past weekend.  In the NAS $325K MEGA BEAST $8 per entry gpp here was their ownership levels: Truex, on the pole, 61.0%, Kyle Busch, starting 7nd but had elite track history, 35.2%, and Larson, starting 39th, 71.7%.  I can repeat all of the commentary from a week ago here:  "All of these numbers were way too low given the context for each driver.  We know the front row has led all the laps this year…You can make the case that no one is ever a "must play" but Larson starting 40th was as close as I have seen and he should have been +90% owned."   Had Busch not gotten slapped with two pit road speeding penalties he could have easily battled for the win at the end but instead he restarted 26th after the last caution and drove his way back to 12th at least for some respectability.  I opened up the DraftKings app at the conclusion of the race knowing I should have won some money rostering the "Big 3" and sprinkling in some Danica who finished 13th scoring 48 fantasy points but I was a little disappointed that I didn't win more.  I had a 60% ROI and I was disappointed…let that sink in for a minute.  I had a 60% ROI and not entirely happy with my performance.  That's the kind of run I've had over the last few weeks and it feels good when the screens are green.  Hopefully you are cashing in as well.
Indianapolis Preview
With only seven races until the playoffs, we head to race 20 which is the Brantley Gilbert Big Machine Brickyard 400 at the famed Indianapolis Motor Speedway, Sunday at 2:30pm EST.  Indy is a 2.5 mile quad oval with flat 9 degree banked turns spanning 160 laps.  Given the low lap count here, we shift our focus a smidge to place differential and finishing position though, as always, we need to nail the one or two lap leaders to push us over the top in gpps.  Over the last 8 races at Indy, the first two starting positions have led 50.8% of the total laps with a pretty significant fall off after the front row.  I will be focusing on the front row (a constant theme this year) and drivers with the capability scoring the big place differential points to take down a gpp.  We've been on a good run over the past month so let's keep the cash coming and win a gpp.
Top Tier (over $9,000)
We want drivers on the front row.  Kyle Busch is on the pole.  Kyle Busch has elite track history here.  Play Kyle Busch.  Everywhere.
We want drivers on the front row.  Kevin Harvick is starting 2nd alongside Kyle Busch.  I say pair these two guys and look for place differential for your other four drivers.
The gift that is Kyle Larson just keeps on giving.  Larson's average running over the last three races here is 7.3 and he's gifted us with a 25th place starting position.  He should find himself inside the top 10 in short order.
Mid-Tier ($8,900-$7,000)
I'm going to try to play Kyle Busch, Harvick, and Larson in cash lineups so this is going to be a dead range for me in cash games but there's some gpp options here if you want to fade one of the aforementioned three drivers.
I don't love anyone in this range in particular but Kasey Kahne has some really nice track history at Indy and will be starting 19th.  He's in the "checkers or wreckers" mode but that can push you over the top if he gambles and it pays off.
Jamie McMurray starting 3rd probably has more risk than upside when he starts that high.  He will likely finish in the back half of the top 10 but that still means negative place differential.
Ryan Blaney starting 10th and Erik Jones starting 9th are rolls of the dice I might get some shares of this weekend.  They both had some of the best practice times and while the risk exists here, there's a little bit of upside if they can move up a couple spots.
Bottom Tier ($6,900 and under)
If we fire off Busch, Harvick, and Larson then we need a few plays here.  First, A.J. Allmendinger is starting 39th so simply play the Dinger.  He has an average running position of 23.4 over his last 7 races here.  If he can finish somewhere close to 23rd you will want him in your lineups.
It was good to see Aric Almirola back in action.  This week he's starting 29th with an average running position of 22.4 over his past 5 races here.  If he finishes 18th he scores 37 fantasy points which is as valuable as the savings he provides.
David Ragan is the only real punt option I like here starting in the 30th spot.  His average running position over his last 8 races at Indy is 23.8.  If he finishes top 25 at $5,800 you're in good shape.
"Sgrignoli's Strategery"
I think cash games are pretty straightforward for yet another week.  I keep saying play the chalk guys and let other people make the bad moves and over the past few weeks they have.  I don't see any reason to fix something if it isn't broken: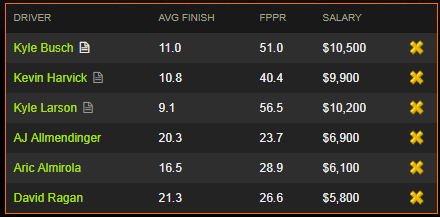 Feel free to fade Harvick in gpps as I think Kyle Busch is going to lead the most laps Sunday.  If Harvick doesn't lead any laps then you can spend better money elsewhere and maybe balance out the lineup a little more.
Good luck PAS-Holes and I'll see you in the winner's circle.
Comments
comments