Daytona Recap
Daytona was mayhem yet again.  In overtime, Ricky Stenhouse Jr. won his 2nd consecutive restrictor plate track race of the season.  In Stenhouse's win at Talladega back in May, we saw a mild to tame restrictor plate track race where I began to doubt my "Stack.  The.  Back," mantra I perpetuate at the plate tracks.  But I wasn't going to let a single race change my entire DFS perspective at the restrictor plate races; I'm not that fickle.  I held firm at Daytona and loaded up on guys in the back and it paid off.
In terms of DraftKings, stacking the back worked.  In fact stacking the back won all of the money last week.  If you followed my three keys for plate tracks last week: 1) scale back your volume, 2) play gpps only, don't bother with cash games, and 3) stack your lineups with guys starting 25th or worse, you won money.  Here's a list of the highest scorers in DraftKings scoring from the Coke Zero 400 at Daytona:
| | | | |
| --- | --- | --- | --- |
| Player | %Drafted | FPTS | Started |
| Brendan Gaughan | 12.72% | 66 | 32 |
| David Ragan | 17.67% | 65 | 30 |
| Paul Menard | 12.16% | 63 | 24 |
| Michael McDowell | 7.39% | 62 | 23 |
| Ricky Stenhouse Jr | 7.55% | 58.75 | 6 |
| Corey Lajoie | 5.09% | 58 | 36 |
| Ryan Newman | 20.29% | 57 | 22 |
| AJ Allmendinger | 19.38% | 55.5 | 27 |
| Chris Buescher | 10.52% | 53 | 29 |
| Clint Bowyer | 10.45% | 52.5 | 11 |
| Ty Dillon | 29.15% | 49.25 | 34 |
| Matt DiBenedetto | 4.36% | 47.5 | 28 |
| Erik Jones | 9.26% | 46.75 | 17 |
| Darrell Wallace Jr | 10.56% | 46.5 | 31 |
Look at those starting positions boys and girls.  Sure, so maybe I need to relax key point #3 from 25th to 20th starting position or worse but you get the picture.  I certainly scaled back my volume rolling out only 6 entries in the $4 per entry NAS $80K Chrome Horn for a total outlay of a whopping $24.  All 6 of my lineups employed the stacking the back strategy and all 6 lineups cashed for a total of $150 of winnings.  I know netting $126 in profit isn't terribly special (I was sitting at $277.50 in winnings before that overtime played out the way it did but hey) and there are players out there in the DFS world that might walk past a $100 bill without stopping to pick it up.  But I'm more intrigued by the game theory and strategy of DraftKings NASCAR than anything and if I can win a few bucks along the way, and hopefully help fans of the Point After Show win some cash, then that's just gravy on top.  For example, my best lineup Sunday finished in 62nd place out of 23,529 entries.  That lineup spent $34,400 of the available $50,000 of salary cap, leaving a whopping $15,600 of salary on the table which is just bananas.   We wouldn't do that in any other sport on DraftKings or daily fantasy NASCAR for that matter outside of restrictor plate races.  We're on a bit of a heater here with solid cashes in three straight weeks which means in NBA Jam terms, "He's on fire!"  Let's keep it rolling at Kentucky.
Kentucky Preview
Race 18 is the Quaker State 400 at Kentucky Speedway Saturday night at 7:30pm EST.  Kentucky is a 1.5 mile D-shaped oval which means we will make 267 laps for scoring purposes.  Kentucky is one of the newer tracks on the circuit with only six races from which to discern data and information.  You will hear a bunch about the track being repaved again since last year when it was also repaved.  Typically repaves increase the handling of the cars with the fresh asphalt, add in the fact that this is a night race, which means cooler track temps which also increases the cars' abilities to holding the desired lanes, and we're going to see a fairly single file race where we're going to want to target the drivers starting up front.  Over the six races here, the top 3 starting positions have led 68.73% of all laps led.  This is a gigantic number which we need to target.  I think two lap leaders is the strategy to deploy this week and fill out the rest of the lineup with place differential options.  Let's get to the picks.
Top Tier (over $9,000)
Two guys have elite track history here and that's Brad Keslowski ($10,100) and Kyle Busch ($10,200).  Busch is starting on the pole and the only race he started on the pole here he won the race and led 125 laps.  BK is a play in gpps this week but I want laps led or place differential upside with my high priced guys and starting 10th limits his upside somewhat.
Martin Truex Jr. ($10,400) is starting 2nd on the front row alongside Busch.  Truex has been the most consistent driver this season and is a near no brainer as he ran 2nd and 2nd in the two practice sessions also.  He's fast, play him.
Rounding out my triumvirate here is Kyle Larson ($10,000).  Larson was 3rd and 1st in the two practice sessions so he has the machine and skill to run up front.  But Larson missed qualifying and is starting DFL (dead f***ing last) in 40th.  He should be 100% owned in pretty much every format, cash games and gpps alike, this week.  This is the easiest play of the season.
Mid-Tier ($8,900-$7,000)
So I want to try to get Truex, Larson, and Kyle Busch in my lineups so we need to be selective in the mid-tier.  I think I'm going to focus my attention on the lower part of this tier with the like of Ryan Newman ($7,300), Ricky Stenhouse Jr. ($7,400), Austin Dillon ($7,600), and Kasey Kahne ($7,700).  Newman starting 29th seems like a near lock.  Ricky is starting 18th but ran 11th and 12th in the practice sessions.  Austin Dillon is starting 25th which allows for enough place differential upside if he even finishes 15th.  Kahne is a roll of the dice starting 23rd as he's as likely to finish top 10 as he is to crash.  Limit him to gpps only.
Bottom Tier ($6,900 and under)
While I'm not terribly interested in playing these guys since the race should be fairly tame (unless the rain washes all the rubber off the track making it slick) we're probably going to need at least one or two plays down here.  A lot of green flag laps means the guys starting in the 30s will be doing down laps pretty quickly.  Allmendinger ($6,500) and Landon Cassill ($5,500) might be the most interesting here if we want to talk punts.  Dinger is starting 28th with an average running position of 20.3 in his six races here.  Cassill is starting 35th and is a pure punt play because I want the three studs at the top this week.
"Sgrignoli's Strategery"
I'll likely get some action in cash games and gpp this week.  We took off cash games last few weeks with the road course and Daytona but Kentucky seems like it's unfolding nicely for cash games.  In cash I think Kyle Busch, Truex, and Larson are locks.  Let everyone else try to make the cute plays, we just want to play the best drivers with the most upside and it's these three drivers: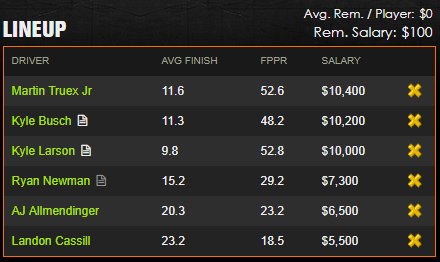 In gpps feel free to choose only Truex or Busch in hopes one runs up front and leads half of the laps and use the extra cash to upgrade the punt options to a few mid-tier drivers and go for place differential and finishing position points with the bottom half of your rosters.
Good luck PAS-Holes and I'll see you in the winner's circle.
Comments
comments