It's not likely that the Golden State Warriors will visit the White House. It is being reported that the team has unanimously voted to boycott any invitation from the Trump White House. It's important to note that the invitation hasn't been made yet. But, every major championship team is invited to the White House and Trump has kept that tradition alive, thus far.
Now, one of two things are going to happen here. Either Donald Trump is not going to invite them, out of spite or he's going to absolutely have a meltdown on Twitter.
Either way, it's going to be fun to watch. A few members of the Patriots was funny. This is embarrassing.
NBA champion Warriors skipping the White House visit, as a unanimous team decision per reports.

— Downtown Josh Brown (@ReformedBroker) June 13, 2017
The @Warriors' leadership is inspiring. I'd be honored to welcome the team to the U.S. Capitol. #DubNation

— Nancy Pelosi (@NancyPelosi) June 13, 2017
The Golden State Warriors voted unanimously to skip their entire visit to Donald Trump's White House.

As woke as any team in sports.

— Shaun King (@ShaunKing) June 13, 2017
---
TheRoot.com: "Josh Brown of CNBC's The Halftime Report, tweeted shortly after the Warriors won their second title in three years that the team decided unanimously to skip the traditional championship visit to Washington due to the president's hatred of all things basketball represents, like teamwork and black men and smiling.
"The Warriors will be the first team to boycott a visit to the White House following a championship. After the New England Patriots won the Super Bowl earlier this year, some members of the team skipped the visit, but the likes of head coach Bill Belichick, owner Robert Kraft, tight end Rob Gronkowski and others still attended," TSN reports.
The Pittsburgh Penguins recently won their second Stanley Cup Championship Sunday, and there has been no word on whether the team plans to make a trip to the White House."
---
Also,  just sayin'…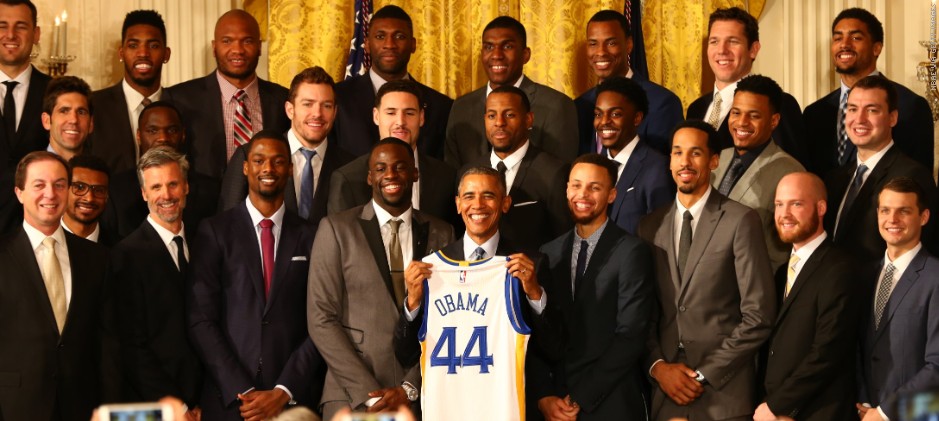 NBA Champion Golden State Warriors
---
TheFader.com: "Various members of the Warriors have been critical of the President in recent months. Coach Steve Kerr called Trump a "blowhard" and "ill-suited" for the office he holds.
Meanwhile, Warriors MVP Steph Curry responded to UnderArmour CEO Kevin Plank's assertion that Trump is a "real asset" to America by joking, "I agree with that description, if you remove the 'et'."
---
Comments
comments