Pocono Recap
Kyle Busch dominated much of the early portion of the race (he started on the pole which has become a theme this season) leading 100 of the 160 laps but a caution with 15 laps to go was his ultimate undoing when he stayed out while the cars behind him pitted and had the fresh tires to run him down.  Rookie Ryan Blaney held off a charging Kevin Harvick to claim his first cup series victory.
In terms of DraftKings, it was an unmitigated disaster; my apologies folks.  When Corey Lajoie ($4,500) outscores Jimmie Johnson ($10,000), Dale Jr. ($8,500), and Kasey Kahne ($7,700) you know it was a rough week.  Johnson, Jr., and Kahne were three of the four mid to top tier drivers that didn't finish the race (McMurray was the other).  All were in a good spot, moving through the field early in the race before ending the day behind the wall.  Definitely a deflating week but we need to hop back on the saddle at Michigan.
Michigan Preview
Race 15 of the NASCAR season is the FireKeepers Casino 400 at Michigan International Speedway.  Michigan is a 2 mile D-shaped oval and often draws comparisons to Fontana.  With 200 laps, we need a blend of lap leaders and place differential plays to fill out our lineups this week.  The top 2 starting positions have led 51.99% of the laps over the last 8 races at Michigan.  That's a huge number so we're definitely going to focus on the front row in cash games.  I will sprinkle the front row drivers in some gpps and roll out a few lineups whereby I completely fade those two guys and hope for an ownership leverage play should things not go as expected with the two guys starting in the front row.
Top Tier (over $9,000)
So I've stated that we want the two drivers starting on the front row.  Kyle Larson ($10,200) and Martin Truex Jr. ($10,000) have been the two best drivers this season by a significant margin and they are giftwrapped on the front row (Larson is on the pole and Truex will start alongside him).  Cash games are simple this week, just play both of these guys.  Don't overthink it.
The pricing is such that we can get one more elite driver in our lineups.  Chase Elliott ($9,400) has finished runner up in his only two races here and is starting 10th but his practice speeds we're terribly great (7th, 18th, 15th) and didn't show any long run speed in practice either.  Kevin Harvick ($9,900) also has good track history here and will start 11th.  Harvick had the 5th best 10 lap average in practice 2 and 3rd best 10 lap average in practice 3.  Brad Keslowski ($9,700) and Jimmie Johnson ($9,800) are starting 12th and 13th respectively and are 6th and 7th in my model this week meaning they are good bets to gain enough place differential points to matter in gpps.
Hint…if you figure out what to do with Kyle Busch ($9,500) this week you could win some gpps.  He's starting 4th but has some TERRIBLE track history here.  Here are his last 8 finishes here; 19th, 40th, 11th, 43rd, 39th, 41st, 31st, 4th.  That's as bad as it gets for an elite level driver.  I think the track history guys are clearly going to be off Kyle. This should mean lower ownership and that's golden in gpps.  Oh, and he was 2nd fastest in all three practice sessions and had the best 10 lap average in practice 2.  I will be on Kyle in gpps this week, but only in gpps.
Mid-Tier ($8,900-$7,000)
There's honestly not much jumping out to me in this range.  Given that we can play three of the top-tier drivers I might pluck only a few guys out of this range.  Denny Hamlin ($8,600) is starting 5th and had the 3rd and 2nd best 10 lap averages in practice.
Dale Jr. is $7,800 this week.  You read that right; the 88 car is sub $8k and deservedly so.  But Junior is actually decent at Michigan and starting 17th.  If he can finish in 10th place he will score enough points to likely factor into gpps.
Other guys I like here are Erik Jones ($8,000) starting 15th and Daniel Suarez ($7,500) starting 20th.  Jones had the 4th best 10 lap average in practice 2 and Suarez had 10th best 10 lap average in practice 2 and 6th best 10 lap average in practice 3.
Bottom Tier ($6,900 and under)
So Clint Bowyer's price dropped $1,800 from last week and he's now priced at $6,800 for Michigan's race.  Bowyer has had a decent enough season that I'd say he should be priced closer to Matt Kenseth who's at $8,900 rather than David Ragan at $6,300.  I feel like this is the DraftKings social experiment for the week.  The problem is Bowyer is starting 3rd and comes with nearly as much risk as he does upside.  He's sandwiched between studs and the top in Larson and Truex and the wildcard play of the week Kyle Busch.  I will be rostering Bowyer some this week just hoping he can hang on to a top 10.
Paul Menard ($6,500) has some unreal track history at Michigan.  Over the last 8 races he hasn't finished lower than 18th (18th, 18th, 12th, 8th, 4th, 4th, 4th, 14th).  Starting 30th I think Menard is close to a must play which kinda grosses me out to type that.
I looked briefly at Trevor Bayne ($6,400) starting 27th but I kept bypassing him in favor of Ty Dillon ($6,100) starting dead last 37th.  He's a lock for me this week.
"Sgrignoli's Strategery"
I feel like cash games are going to be straightforward.  You take Larson/Truex/Menard/Ty Dillon and then fit in the last two guys you like.  In gpps I am going to hope people are off of Kyle Busch. Maybe pair him with one of Larson or Truex and hope for the leverage: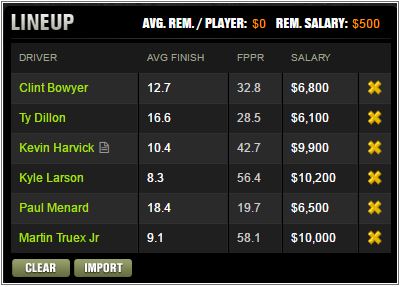 Clint Bowyer worries me some but I think he's a decent play in cash games.  In gpps maybe pivot to Bayne in this range.  I'll have Kyle Busch in gpps and look at paring him Jimmie/Keslowski and hope they can sneak into the top 5.
Happy Father's Day PAS-Holes and I'll see you in the winner's circle.
Comments
comments