Michigan Recap
Michigan was pretty much a three horse race amongst Kyle Larson, Martin Truex Jr, and Kyle Busch.
Truex won both of the stages with Larson and Busch nipping at his heels. Busch took the lead late which
of course means a caution would eventually come out forcing a restart. Busch can't catch a break when
he finds himself leading towards the ends of races lately (some of that "bad luck" is self-imposed).
Larson lined up alongside Busch for the late restart and a good push from Ryan Blaney vaulted Larson
and his 42 machine to the checkers.
In terms of DraftKings, we had a nice little week. I did have one lineup in the NAS $325K MEGA BEAST
($8 entry) with Larson, Truex, and Kyle Busch who scored the three highest point totals on the
afternoon. I played a bunch of Kyle Busch in my gpp lineups which worked well enough but the fact that
Larson and Truex scored 85.5 and 74.5 DraftKings points, respectively, dampened the impact Busch was
able to have for me. If either Truex or Larson have any sort of hiccup, I'd be looking at a bigger payout
but beggars can't be choosers and any week we triple up our entry fees is a good week. The mid-tier
plays of Denny Hamlin, Junior, and Erik Jones worked as planned as did Paul Menard, Ty Dillon, and
Trevor Bayne in the bottom tier. I mixed and matched all of the guys I wrote up and it turned into
profitable and fun week. Then again any week you make money is a fun week. We were coming off
consecutive disappointing weeks so hopefully you stayed with me and were able to cash in as well.
Sonoma Preview
Race 16 is the Toyota/Save Mart 350 at Sonoma Raceway in Sonoma, CA Sunday at 3:00pm. Sonoma is
our first of two road courses which means drivers will have to also turn right this week (crazy, I know but
brace yourselves it's going to happen). Personally, I enjoy the road courses as a nice change of pace. So
much of the superspeedways are machine focused and the higher budget teams have the engine power
advantage whereby road courses put the emphasis on the driver's abilities to seamlessly get through the
gearbox and hit his marks on the turns. Sonoma stretches 1.99 miles per lap and with only 110 laps on
the docket our focus is going to be place differential and finishing position. We're going to want drivers
who can move up a few spots each and can secure the finishing points since the balance versus the "fast
points" is way overweight to what we would see at a track where we see, say, 350 or more laps.
To win the gpps this week you will still need the one or two guys who secure the most fast points but the data
suggests they are going to be harder to find. Over the last 8 races at Sonoma 59.64% of the laps led
come from the top 6 starting positions which is a little deeper than we have generally been looking for
our lap leaders. I'll likely be plucking one or two drivers starting in the top six spots and then focusing
mainly on drivers who can move up at least five positions in conjunction with the potential to finish top 15.
Top Tier (over $9,000)
So I was all set to fade Kyle Larson ($9,300) heading into the first road course of the season but then he
went ahead and won the pole plus DraftKings kindly lowered his salary $900 and now we get to roster
him under $10k. It's not to say Larson hasn't been good on the road courses (90.0 driver rating over the
last 8 races here is solid) but he's not been the driver who's raced to a 11.4 driver rating so far this year.
Look, he's on the pole and he's had speed every week. I can't in good conscious say fade Larson.
A.J. Allmendinger ($9,500) gets a wicked $2,900 price hike from last week's race but he's fashioned
himself as an elite road course racer in his cup career. He's starting 5th which correlates with his practice
times so as long as he can avoid incident he should run top 5 most of the day.
Truex and Kyle Busch are starting 3rd and 4th . It's been a running theme the past few weeks but I'll say it
again here…play Truex in cash and save Kyle Busch for gpps.
So we need place differential, where do we look? Fortunately we have some of the top tier drivers
starting back in the field. Jimmie Johnson is starting 24 th and he's Jimmie Johnson so you have to
assume he finds his way into the top 10 or so by the end of the race which is what we need this week.
Joey Logano is in a similar position starting 18 th and has an average finish of 6.4 over the last 8 road
races. Kurt Busch fills out the trio back here starting 17 th with an average finish of 7.0 over the last 8
road races as well. I can argue Bowyer and Harvick here too so I think all the +$9,000 crowd is in play
this week.
Mid-Tier ($8,900-$7,000)
The most obvious and chalky play is going to be Matt Kenseth ($7,500) starting all the way at the rear in
38th . He's not been fantastic at road courses but if he can finish close to his average running position of
17.9 over his last 8 races here then he's in store for monster place differential which is golden.
Brad Keslowski ($8,600) is typically a little better at Watkins Glen than he is at Sonoma but starting 23rd
is deep enough for me to pull the trigger. Denny Hamlin ($8,900) should have won this race a year ago
but he "overdrove" the final turn allowing Tony Stewart to claim his final victory.
Erik Jones ($7,000) had mixed results at road courses in the Xfinity series but he's starting 30th which is
intriguing. The issue was his practice times were fairly pedestrian registering 34th and 34th in the practice
sessions. He's a gpp flyer only I think.
Bottom Tier ($6,900 and under)
Not a whole lot jumping out to me down here. Ty Dillon ($6,400) starting 35th is in play but I don't
envision too many scenarios where he finds himself finishing much higher than 20th . If he does then he's
a near lock.
Michael McDowell ($6,100) has been talked up as having good road course skills and if he can move up a
few spots from his 16th place starting position he'd be a good value play.
Danica Patrick ($5,800) ran well in practice and qualified 6th which is really good for her but she might
come with more risk for negative place differential than she does upside for a good finishing position.
Reserve her for gpps only.
If you want to punt all the way down here take a look at Alon Day ($4,700) starting 32nd but ran 23rd in the final practice.
"Sgrignoli's Strategery"
I'm likely to bypass cash games this week and roll out a somewhat scaled back gpp attack. There are so
many different strategies that can play out at a road course as the drivers and crew chiefs try to reverse
engineer the number of pit stops they need to make it to the end so the fuel mileage game is firmly in
play here which is scary for cash games but lovely for gpps. Here's a lineup I'm comfortable rolling out in large field gpps: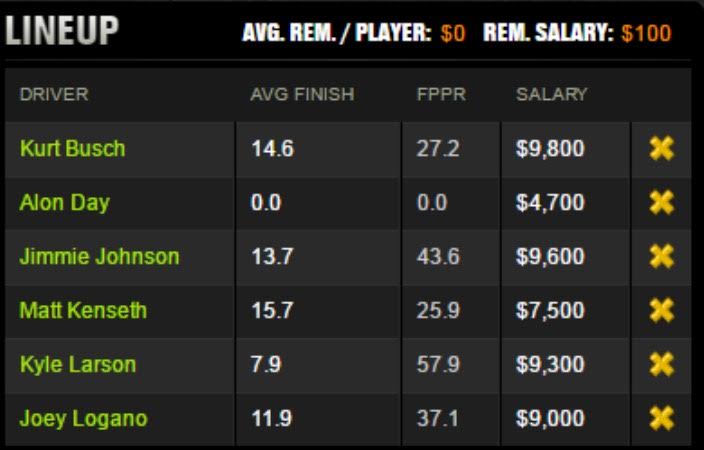 The point scoring is going to be very tight this week since there aren't as many fast points to spread
around. My advice is to mix and match in gpps and hope you hit the magic combination using some of
the names referenced in my article.
Good luck PAS-Holes and I'll see you in the winner's circle.
Comments
comments