Dover Recap
Kyle Larson dominated much of the race at Dover leading at race-high 241 laps. He looked like he was
going to cruise to another victory until a caution flag flew with three laps left to set up a showdown with
Dover royalty Jimmie Johnson. Johnson got the best of the restart as Larson spun his tires on the restart
in the outside lane and just couldn't get the 42 pushing forward quick enough and he watched the 48
drive away for his 11th career Dover victory.
In terms of DraftKings, it was finally nice to get back on the saddle with a good week. Hopefully you
hung in there with me over the past few weeks and we can get this ship righted going forward. Kyle
Busch had a Kyle Busch type issue which is why I said he was only a gpp play. He's the cleanup hitter
who will either hit a dong or strikeout which is what we want in gpps but not in cash. Truex Jr. ran well
and led 102 laps. Joey Logano oddly never got rolling which was somewhat disappointing and limited
the chance at a really special day. Danica luck-boxed her way into a top 10 finish which is more than we
could have hoped for given her price tag. All in all it was a solid weekend and I'm hoping to continue the
good form at Pocono.
---
Fantasy NASCAR Pocono 400 Preview
Race 14 is the Pocono 400 at Pocono Raceway in the great state of Pennsylvania (I live there). Pocono,
aka the "Tricky Triangle," is a unique track in that it is a 2.5 mile tri-oval with relatively flat banking.
Most of the other "Superspeedway" tracks are typical cookie cutter quad ovals. Pocono has received its
fair amount of criticism over the years as a track that doesn't lend itself to the most fan friendly viewing
experience. Other tracks in the "flat tracks" category include Indianapolis, Martinsville, New Hampshire,
Phoenix, and Richmond. We have a paltry 160 laps this weekend which will shift our focus to place
differential plays in a big way. There are just not enough laps here to warrant jamming in three or four
drivers starting inside the top 10. We want drivers starting deep in the field who have the ability to
finish inside the top 12.
Top Tier (over $9,000)
Given that there are only 160 laps to collect the fast points this week our focus is place differential. Sure
Kyle Busch on the pole is in play for gpps again this week. And, just like last week, Martin Truex Jr. will
start on the front row alongside Busch. However Truex had to change engines in his 78 car and will not
start at the rear of the field, but for DraftKings purposes he will still be scored as if he is starting 2nd . This
likely takes him out of play in cash games but starting at the rear should suppress his ownership enough
to warrant clicking his name in a gpp or two.
The place differential plays in the top-tier are Jimmie Johnson starting 19th , Kevin Harvick starting 12th ,
and Chase Elliott starting 25th . I can justify starting my lineups with these three guys this week as they all
should be inside the top 12 in short order.
Brad Keslowski has been very good at Pocono. He's starting 6th which is high enough to envision him
leading some laps. Pocono is typically a "strategy" race versus "the best car wins" race and the 2 team
seems to always have the right plays when it counts.
Kyle Larson is just fast. Everywhere. He's starting 7th and ran 1st and 3rd in the two practice sessions. He
needs to be in some of your lineups this week.
Mid-Tier ($8,900-$7,000)
There are really only two place differential plays that jump out to me in the mid-tier. Dale Earnhardt Jr.
is starting 28th . The 88 machine hasn't been terribly impressive this year but if there's ever a time to
take him it's this week on a track where he's had good success in the past.
Kasey Kahne will be racing for his future Sunday (somewhat, as he's been informed he won't be back
with Hendrick Motorsports next year). He's starting 26th and should provide solid place differential if he
doesn't find himself pushing too hard to impress his next boss.
Kurt Busch is really good at Pocono and I think he has the potential to win this race starting from the 6th
spot. I can't recommend him in cash games but I think he's a sneaky gpp option.
Bottom Tier ($6,900 and under)
Given the size of the track this week, 2.5 miles, we expect the cars in the back to stay on the lead lap
more easily than a short track.
Danica came through for us last week but this is one of her worst tracks so I don't think I'm going back to
that well.
Sure Chris Buescher won the fog shortened Pocono race last year but it's not like he dominated the race.
He had a 76.2 driver rating that race which is really good for him but in the grand scheme of drivers it's
an average race. That said, he's in play starting 29th . Other options I'd consider here are Landon Cassill
starting 34th , David Ragan starting 31st , and even the lowest priced driver this week Corey Lajoie starting
35th at $4,500 if you need the salary relief.
"Sgrignoli's Strategery"
Place differential is our focus this week. We're not talking full restrictor plate track lineups but still
leaning heavily on the differential points. Here's a perfectly serviceable cash game lineup: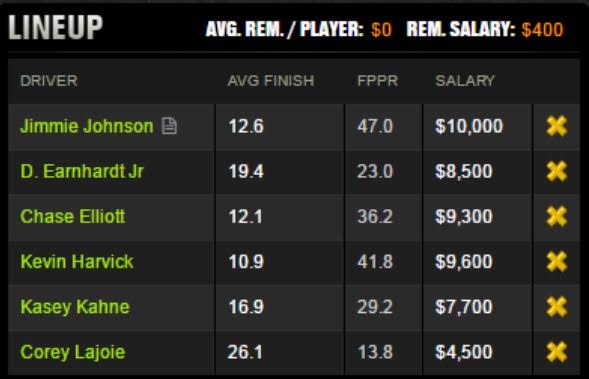 Kyle Busch is a gpp only play for me again this week. It's a little worrisome loading a lineup without any
true option starting up front but if the top 5 guys in the lineup do what they are capable of doing, this
lineup should have no problems cashing in 50/50s and double ups.
Good luck this week PAS-Holes and I'll see you in the winner's circle.
Comments
comments