Charlotte Recap
Just. Play. Martin. Truex. Jr. I mean seriously…the dude absolutely crushes the Coca Cola 600. 3 years
in a row now he's led the most laps in the race at Dover Speedway. The 78 car just knows how to tune the car for a
perfect setup for night races. I wasn't heavy enough on Truex last weekend and that turned out to be a big
mistake. Austin Dillon did win the first cup race of his career as Jimmie Johnson ran out of gas and Kyle
Busch couldn't quite get to the bumper of the legendary 3 car.
Dover Preview
Race 13 is the AAA 400 Drive for Autism at the "Monster Mile" at Dover International Speedway. Dover
is a steep-banked 1 mile oval track; think a bigger, faster Bristol race. We do see a lot of similarities in
results at the two tracks so it's something to consider this week. We have 400 laps this week so we're
going to need one or two lap leaders and the rest of the lineup for place differential plays. The top 4
starting positions have accounted for 53.60% of the laps led here over the past 8 races so I likely won't
be looking too much deeper in the field for my lap leader (although Kyle Larson starting 5 th is an
intriguing play).
Top Tier (over $9,000)
Kyle Busch ($10,400) is on the pole this week and the pole sitter, so long as it's not Kevin Harvick, has
been a near must play this year. I will have a significant share of Kyle Busch this week.
So Truex ($9,900) is hotter than a smoking pistol right now and he's starting alongside Busch on the
front row. Truex is priced under $10K this week which seems absurd for the driver with the highest
driver rating on the season. I think the decision this week is whether or not you pair Busch and Truex in
the same lineup.
Joey Logano ($9,200) will be starting 26 th but in reality he's a top 10 racecar and if he's able to avoid the
trouble on his way toward the front he should finish top 10 and secure solid place differential points.
Jimmie Johnson ($10,600) has incredible track history at Dover with 10 career wins. He's starting 14 th
which is deep enough to be a solid place differential play.
I want to play all four of these guys but it's not pretty to squeeze them all in a single lineup. I'm likely
going to mix and match them in a variety of lineups.
Mid-Tier ($8,900-$7,000)
In the mid-tier I can endorse place differential plays for Clint Bowyer ($8,800) starting 22 nd , Jamie
McMurray ($8,200) starting 19 th , and Kasey Kahne ($7,700) starting 20 th . All have the potential to creep
into the top 10 which is what you need to win a gpp.
Kurt Busch ($8,300) is a sneaky play starting 6 th . He's unlikely to lead a ton of laps but he's cheap
enough that if he can maintain a top 10 finish he may be worth the price.
Ricky Stenhouse Jr. ($7,600) is an even sneakier play starting 12 th . Ricky runs well at Bristol so this track
could set up well for him to sneak into the top 10. His practice times were 11 th and 9 th .
Bottom Tier ($6,900 and under)
Here's where the money is made most weeks. Getting the one or two punts correct is almost as
important as nailing the correct lap leader. Ideally we want drivers who are going to finish on the lead
lap but the short, fast track is going to challenge this bottom tier to stay on the lead lap. There's really
four, possibly even five, drivers here I like that I will mix and match with the studs I like. We have Chris
Buescher ($6,300) starting 29 th , A.J. Allmendinger ($6,200) starting 24 th , Regan Smith ($6,100) filling in
for Aric Almirola in the 43 car starting 30 th , and Michael McDowell ($5,700) starting 28 th . Then there's
poor Danica ($5,900) starting 30 th . She has two top 15 finishes here in the past four races at Dover. I
think people might be off her given her struggles this week but she can definitely return value.
"Sgrignoli's Strategery"
In cash games this week I think the play is 100% Truex and fade Kyle Busch. The fact is Busch is as likely
to lead 200 laps as he is to crash out by overdriving. In gpps I think the roles may be reversed somewhat
with more Busch than Truex lineups though I won't fade Truex completely in gpps: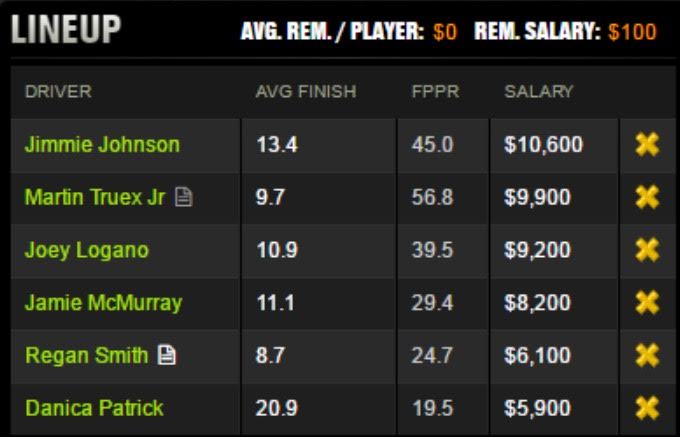 I'll love Truex, Logano, Jimmie in cash or gpps. Kyle Busch is a gpp only play for me this week.
Good luck this week PAS-Holes and I'll see you in the winner's circle.
Comments
comments