The president of BC Lietuvos Rytas, Gedvydas Vainauska decided to make some wildly racist remarks at a press conference. He had some disparaging and racist remarks to make about the black players that play on his Lithuanian professional basketball team.
---
FIBA.com: "We've always held a stance that there shouldn't be more than two black players on the team. What happened was that coach Tomas Pacesas likes to play with black players—to control them, to teach them, to tutor them—and we ended up with four players that are black. All of a sudden, they came together to form…how should I put it…a sort of a gang. It cannot be that way; no more than two black players—I can say that from my 23 years of experience in the business. Teams, don't ever have more than two black players … (smiles) Because that's when bad things start to take place."
---
There's no place for bullshit like that. Not in America and not in Lithuania. I had to google Lithuania. If these fools want to keep talking spicy, maybe the European Union should just give them back to Russia. "Here. You can have them, Mr. Putin."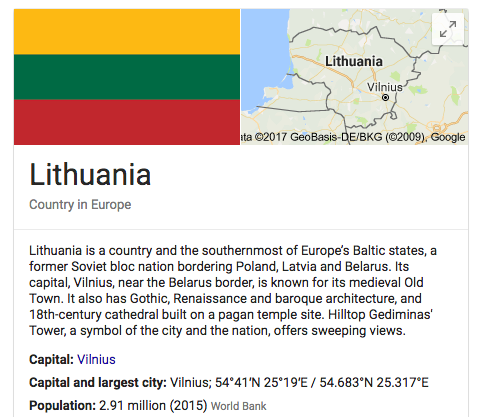 Thankfully, Euroleague basketball has stepped in and decried the statements. They've also announced disciplinary actions.
---
EuroleagueBasketball.net: "Following the comments made yesterday by Gedvydas Vainauskas, President of 7DAYS EuroCup club Lietuvos Rytas Vilnius to the media, Euroleague Basketball wishes to clarify the following: by no means do these words represent neither the sport of basketball, the European basketball family nor the Euroleague Basketball organisation at any level. On the contrary, European basketball has always been and will continue being an example of integration on and off the court, where cultures, races and religions have always come together under one passion, the sport of basketball. It is precisely these many cultures, languages, races and ways of understanding and living the sport which makes it a unique and enriching experience as well as a tool for bringing people together, people who have made history with some of the greatest performances in European basketball. The views expressed by Mr. Vainauskas are deeply offensive, harmful, and contrary to the principles of inclusion and respect.
Euroleague Basketball continues with its firm support to celebrating multicultural and multi-ethnical differences, using sport as a bridge between cultures. Euroleague Basketball strongly condemns any kind of discriminating comment or act of any kind against race, gender, sexuality or any other human condition.
A disciplinary proceeding has been opened by Euroleague Basketball against the Club, while it will be proposed at the upcoming 7DAYS EuroCup General Assembly that Lietuvos Rytas Vilnius ceases to represent EuroCup clubs at the Board of the competition."
---
Unbelievable racism: Lietuvos Rytas president Gedvydas Vainauskas attributes club's downfall to increased number of black players on team. pic.twitter.com/8P0wT07gy0

— Simonas Baranauskas (@LithuaniaBasket) June 15, 2017
Comments
comments