Late Round Draft Picks Win Championships
Do you have a part time fantasy owners in your league? You know, the ones that come to draft with the top 300 player list they printed from NFL.com or CBSSports.com. We all hate these people. They have no real knowledge of fantasy football, and that "next best available" strategy is enough to piss off anyone.
That strategy may work for the first 5 rounds or so, but what happens in the late rounds? The late rounds are where the sharks come out. Rounds 9-16 are where the "weekend warrior" owners learn that the deep water is no place for a fantasy football magazine or top 300 list. Listening to your favorite podcasts (The Point After Show) or going to your favorite fantasy football website (you're on it now!) are what separate the men from the boys.
The Diamond In The Rough
Every season, fantasy football owners search for that diamond in the rough. These are the players no one is talking about, but could inevitably be the difference maker on anyone's team. Rounds 9-16 are where you find the diamonds in the rough. Here are 5 players you will need on your fantasy team in 2017, and they can be targeted in these late rounds.
Terrance West – RB (Baltimore Ravens)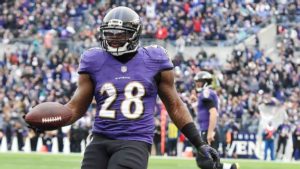 Terrance West's current ADP is 10.09* and being drafted as the 50th running back off the board. Seems like a bargain for a guy who led the Ravens last year in carries, yards, and touchdowns, even though he wasn't even considered the starter. Not to mention, he will be the Ravens starter the first four weeks while Dixon serves a suspension.  Four games is a lot of time to be a starting running back on a fantasy roster. Especially when you only have to spend a 10th round pick on him? Remember DeAngelo Williams last year?
Target Rounds: 10th-12th
Disclaimer: He is only a two down back, and with Danny Woodhead entering the backfield this year, don't get too crazy and reach for him. 
Samaje Perine – RB (Washington Redskins)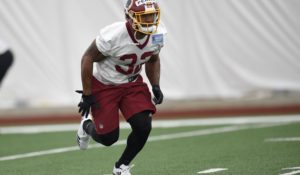 Samaje Perine's current ADP is 9.12* and is being drafted as the 43rd running back off the board. Probably one of the latest spots to get a rookie running back from this year's class. That stands to reason. Coming into the season he was expected to compete against Rob Kelley and Matt Jones for playing time. That landscape has changing quickly.
Washington is so pleased with Perine, they have already made it known, Matt Jones will no longer be part their future plans.  Perine is more talented than Kelley and it will only be a matter of time that he claims the starting role. So how much opportunity is there in Washington for a running back?  In 2016, the Redskins averaged 4.5 yards per attempt (9th) and scored 17 rushing touchdowns (6th). In other words, the pieces are in place for a competent running back to make a major fantasy impact.
Target Rounds: 8th-10th
Disclaimer: In order to get him at this price come August, he will still have to be presumed the backup to Rob Kelley. You may not see immediate dividends, just like Terrance West. 
John Brown – WR (Arizona Cardinals)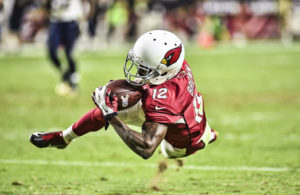 John Brown's current ADP is 10.07* and being drafted as the 46th wide receiver off the board. 2016 was not the year John Brown owners had hoped for and because of this his draft stock has plummeted. Concussion and sickle cell anemia were the primary cause of his rough 2016 campaign. Now fully healthy, he should look more this his 2015 season of 65 catches, 1,003 yards, and 7 touchdowns.  It is no secret Bruce Arians holds Brown in high regard and knows talent when he sees it. Brown should be a WR2 value pick in the 10th round.
Target Rounds: 9th-12th
Disclaimer: Carson Palmer and the Cardinals offensive line will need to improve dramatically in 2017. 
Quincy Enunwa – WR (New York Jets)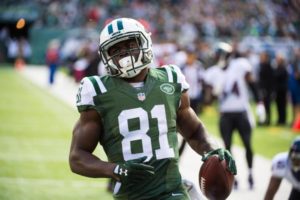 Quincy Enunwa's current ADP is 14.05* and being drafted as the 63rd wide receiver off the board. Enunwa could very well go down as the steal of 2017, similar to Davante Adams last year. With Brandon Marshall out of the picture and Eric Decker's health still an unknown, Quincy has a chance to become the focal point of the Jets passing game. Now, I know you are saying, "What passing game?". I don't disagree, but Josh McCown can sling. Besides, most likely the Jets will be playing from behind in every game forcing them to throw a lot. Enunwa had 105 targets last year and I don't expect that number to decrease this year.
Target Rounds: 12th-14th
Disclaimer: Like all wide receivers, Enunwa will only be as good as the quarterback play allows. Eric Decker playing or not playing will also affect his productivity. 
Jeremy Maclin – WR (Kansas City Chiefs)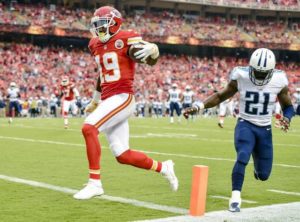 Jeremy Maclin's current ADP is 10.11* and being drafted as the 49th wide receiver off the board. Remember back in 2015 when Maclin had 124 targets? I get it, that was 2 years ago. Last year Maclin missed half the season due to injury. Another disappointing receiver people had high hopes on and now will forget about in 2017. Well, guess what? So will defenses. No one has high hopes on him this year and that's a good thing for you. After last season Hill and Kelce will demand more attention. Maclin has the talent and potential to be a WR2 or WR3 in fantasy. It will really depend on Alex Smith.
Target Round: 10th-12th
Disclaimer: Maclin will need to stay healthy to hit the WR2 projection. He has only played 16 games in 1 of last 4 seasons. 
Target Don't Reach
Remember, these guys are ones you want to target after the 9th round. Don't get out of hand and reach for these guys too early. It's important to have guys targeted for a certain round and do not alter from your plan.
Let me know what you think of these 5 guys and anyone else you feel could be on the list of Diamonds In The Rough in the comments below.
Follow me on twitter: @TheFFAdvantage
*Courtesy of www.fantasyfootballcalculator.com
Comments
comments