Avoiding The Overdraft Bust
Avoiding the overdraft bust is something every fantasy owner hopes to do on draft day. Reality is, it happens every season to at least a handful of people. Based on ADP from fantasy football calculator, there were 9 draft busts in the first two rounds of 2016. If you were the unfortunate victim to draft Todd Gurley in the 1st round, and then double down with Brandon Marshall in the 2nd, you know what I'm talking about. Right Tom?
Keep in mind, a draft bust it designated as a guy drafted in the critical rounds of a draft that doesn't live up to his potential.  If DeAndre Hopkins was drafted last year in round 6 with a WR3 expectation, he wouldn't have been considered a draft bust. Unfortunately his ADP was 1.09 last year and he was expected to be a WR1. We all know how that turned out.
So how do you avoid draft bust? Do your homework. That doesn't mean get a top 300 sheet or fantasy football magazine at your local gas station. Do real research. Follow your favorite podcast and fantasy website for advise. We just so happen to know a good one.
5 Draft Bust Players To Avoid
So who are the top fantasy players to avoid in the first 4 rounds of your 2017 draft?
Todd Gurley – RB (Los Angeles Rams)
Todd Gurley's current ADP is 2.05* and being drafted as the 10th running back off the board. Have we learned nothing from last year? Basically he is still being drafted off his rookie stats from 2015. There is no other explanation why Gurley is still going in the second round of any draft. In 2016, he didn't even break 900 yards rushing and averaged 3.2 yards per carry.
The offensive line was the biggest problem and let me assure you, it didn't get much better this off-season. It has been widely publicized that with the addition of Malcolm Brown and Lance Dunbar, Gurley's 43 catches last year is expected to drop. So what is the upside for anyone drafting him in the 2nd round? For Gurley to be worth this type of CapEx he would need at least a 1100 yard season and double digit touchdowns. Let someone else overdraft him.
My Target Round: 5th 
Spencer Ware – RB (Kansas City Chiefs)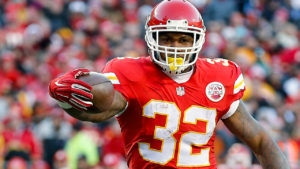 Spencer Ware's current ADP is 3.05* and being drafted as the 15th running back off the board. With a golden opportunity handed to him in 2016, Ware failed to impress. Taking over as the lead back in an offense designed for a pass catching back to explode in, Ware fizzled at best.  Maybe the bar was set to high for Ware as he was the predecessor to Jamaal Charles.
Ware didn't have terrible numbers, but the fact is he lacks that Charles like flash and talent. Ware ran for 922 yards with an average yard per carry of 4.3. He also had 33 catches for another 447 yards. All while fending off Charcandrick West for playing time. My concerns however are this offense is not a down the field, big chunk plays offense. Alex Smith is a dink and dunk passer who relies heavily on his running back to make plays. Prior to his injury bug Charles flourished in this offensive scheme. The bigger issue I see for Ware is the this year's third round draft pick, Kareem Hunt. This kid has all the weapons to not only steal snaps from Ware, but steal the outright starting job.
Hard to give up a third round fantasy pick for a running back that will be looking over his shoulder all year.  My expectation is Hunt will be the starter by week 6.
My Target Round: 7th 
Carlos Hyde – RB (San Francisco 49ers)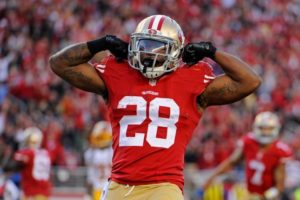 Carlos Hyde's current ADP is 3.08* and being drafted as the 16th running back off the board. This one is difficult for me. I would absolutely take him over Spencer Ware, but an absolute bust waiting to happen in the 3rd round, nonetheless.
Ever year since his rookie debut this guy has been a breakout waiting to happen. Problem is, just before it happens he gets hurt. Last year Hyde averaged over 88 scrimmage yards per game and 4.6 yards per carry. All while playing for one of the worst offenses in football.  As a matter of fact, in the 3 years Hyde has been in the league he has never averaged under 4 yards per carry. That being said he has also never played more than 14 games in a season.
Hyde tore his MCL in Week 16 of last season. The concern is he decided not to have the injury surgically repaired. As recent as April Hyde was still not 100%, saying "I can cut, just not all the way I like to run, but I'm making improvement." I will not take my chances on an injury plagued running back that appears to already be injured coming into the season.
My Target Round: 6th 
Brandon Cooks – WR (New England Patriots)
Brandon Cooks' current ADP is 2.10* and being drafted as the 11th wide receiver off the board. Cooks' current ADP is a direct reflection of something shiny, something new. Cooks going to the New England Patriots in the off-season, for some reason, has skyrocketed his draft stock? Doesn't make sense.
In 2016, Cooks was being drafted in the 3rd round and the 14th wide receiver off the board. Oh, by the way, he was catching for a guy named Drew Brees last year. The same guy that has more career passing yards by over 5000 than Tom Brady. Also the same guy that has passed for over 5000 yards, five times in his career. That's more than any other quarterback in history.
So now he goes to the most game scripted, we find ways to use everyone, team in the NFL and everyone is crazy about this guy? News flash, he is not Randy Moss, so stop thinking that. New England will continue to win the way they always do. They use the talent they have and never force the ball to anyone. Edelman and Gronkowski will still get targets. White and Lewis will continue to vulture catches and the owner of Cooks will be frustrated week after week.
My Target Round: 7th 
Davante Adams – WR (Green Bay Packers)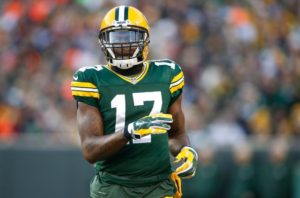 Davante Adams' current ADP is 3.10* and being drafted as the 16th wide receiver off the board. It's always scary to put a wide receiver on a bust list that has Aaron Rodgers throwing to him. Adams' for me has all the potential to be a draft steal, but not in the 3rd round. I understand that he finished as the 7th best receiver in fantasy last year, but you have to dig a little deeper.
In 2016, Adams' had 75 receptions(22) 997 yards receiving(24) and 12 touchdowns(2). That being said, you have to believe he will once again put up double digit touchdowns to justify a third round tender. Just to put that into perspective there were 5 wide receivers in 2016 that hit double digit TDs. Who were they? Besides Adams' just a couple of no names like Jordy Nelson, Antonio Brown, Mike Evans and Odell Beckham.
Here is my closing argument.  Through 3 full seasons in the league, besides last year, Adams has never had over 50 receptions, 500 yards receiving or 3 touchdowns. Call me crazy, but I'll take my chances on a guys like Demaryius Thomas, Jarvis Landry and Michael Crabtree.  All being drafted after Adams.
My Target Round: 6th 
Let me know what you think of these 5 guys. Who do you think will be an overdraft bust this year?  Comments below.
Follow me on twitter: @TheFFAdvantage
Comments
comments