Richmond Recap
Joey Logano started all the way in the back of the field after changing transmissions and drove his way to Victory Lane last Sunday holding off his Penske teammate Brad Keslowski. Matt Kenseth dominated the early part of the race leading 164 laps and finishing 1st and 2nd in the two stages before a rub with Chase Elliott on his right rear tire blew it out forcing him to pit. In terms of DraftKings lineups, it was almost over before it started as Erik Jones made contact with Kasey Kahne on the first lap resulting in a cut tire a few laps after. I was heavy on Jones in just about every lineup on Sunday but I still managed to squeak out a few bucks in cash games but every gpp lineup was a loser. 100% exposure to anyone is always risky, but we're here to try to hit the big one…Ricky Bobby said, "If you ain't first, you're last!"
Talladega Preview
Race 10 is Sunday at 2:00pm at Talladega Superspeedway for the GEICO 500. Talladega is a 2.66 mile tir-oval. It's the biggest, fastest track on the circuit. Yes, it's a plate track. Yes, there will be "pack racing" as we saw and discussed at Daytona. Most likely, there will be at least one gigantic crash at some point that takes out multiple drivers (a.k.a The Big One). Our goal this week is to get all six drivers to finish the race. Sounds simple, right? Not at the restrictor plate tracks. The strategy that proved out at Daytona was loading up on drivers starting in the back of the field. The thought here is hopefully they can hang back while drivers battling for positions ahead of them crash out and these drivers can slowly creep up the leaderboard. The other reason we're focusing on place differential is this race is only 188 laps which limits anyone starting up front. The lead will likely change hands multiple times with 4-6 drivers each leading 20 laps or so. To score big at the plate tracks you need the drivers starting in the 20s and 30s to drive up and challenge for a top 10. I'd love to see DraftKings "YOLO" a plate track race and price all the drivers the exact same (NFL preseason style) and see what transpires. It won't happen but it'd be fun. Now onto some picks…
Top Tier (over $9,000)
Pick a top tier driver you like and think can lead the most laps. Typically the driver that leads the most laps is one of the big name studs we're used to seeing run up front. Target your 1 and only "fast laps" driver from the drivers starting inside the top 8 starting positions. My model says over the last 8 races at Talladega, 64.13% of laps led have come from the drivers starting inside the top 8. Keslowski, Junior, Harvick, Logano, Elliott, Kenseth, Hamiln…mix any of the +$9,000 guys in as the sole driver to hopefully lead you some laps…
Then just play Jimmie Johnson. He's starting 30th which is the worst starting spot for any driver in the top tier here. He also has the highest driver rating here over the last 8 races. Best driver rating AND starting 30th this week? He's the first guy in your lineups if you dare to play cash games this week. I think he's a decent gpp fade this week as everyone will see him starting in the back and plug him into their lineups.
Mid Tier ($8,900-$7,000)
This is looking pretty much like a dead zone for me this week. Most of these guys are starting in the teens to early twenties which means unlikely to lead the laps we want and unlikely to score the big place differential we need.
Ricky Stenhouse Jr. is on the pole this week at $7,200. We need to pick one lap leader this week and no reason it can't be "Wrecky" as the Ford's dominated practice and look to be the fastest of the manufacturers this week.
Trevor Bayne is starting 5th and has one plate track win to his name. Sprinkle him in as your lap leader choice this week.
Bottom Tier ($6,900 and under)
Here's where we're going to want to focus. Not by choice but by necessity. Literally pick any 4-5 of these guys in gpps. Just close your eyes and make the choices; it's going to be ugly but if you want to win a gpp you just have to do it.
"Sgrignoli's Strategery"
I have two steadfast rules I follow at the restrictor plate tracks: 1) Scale back my volume, and 2) Do not bother with cash games. It's a personal preference for me here. Trying to pick the "right" cash plays here is just such a foolhardy task. I'll just roll out a few gpp lineups for funzies and sit back and enjoy the mayhem. No less than 5 of your drivers should be starting 20th or worse if you want to win a gpp this weekend. The ideal roster construction should have 1 driver that can lead 50+ laps and 5 place differential drivers starting in the back. Here's an example of a perfectly acceptable gpp lineup this week: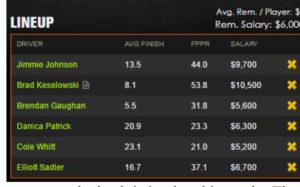 Literally anyone at the back is in play this week. The deeper they are starting the more upside they have. The winning lineups at Daytona had all six drivers starting 30th or worse. Absolutely do not be afraid to leave salary on the table this week…like a lot of it. At any other track, or any other DFS sport for that matter, we try to spend every last dollar of salary. Don't do it this week. Leave money on the table, like a lot of it. $1,000? Sure. $5,000? I dig it. $10,000? Now we're in full YOLO mode and that's what it takes to win a plate track gpp!
Good luck this week PAS-Holes and I'll see you in the winner's circle.
Comments
comments