Kansas Recap
Everything was going so well.  Then late race spin outs by Erik Jones and Jimmie Johnson torpedoed most of my lineups and took my winnings on DraftKings with it.  I was able to break even for the most part thanks to almost 100% exposure to Martin Truex Jr.  He was my top play on the board and he definitely came through for me.  He battled Ryan Blaney most of the night for the top spot but Truex took the rookie to school on the last few restarts with some sweet scissors cross over moves reminiscent of Cole Trickle in Days of Thunder.  I mentioned in last week's article that the pole sitter at Kansas always leads laps and Blaney did just that leading 83 laps (Truex led a race high 104 laps).  The golden ticket last week was pairing Blaney and Truex in the same lineup, which I did in 2 out of my 10 entries in the $4 entry Chrome Horn but I unfortunately had Paul Menard with -6 points somehow in both of those lineups.  So close, yet so far.
For those of you that watch NASCAR for the wrecks, I get it.  The excitement is heightened when cars are tumbling all over the track, but the crash on lap 200 involving Joey Logano, Danica Patrick, and Aric Almirola was pretty scary.  Initially I thought Danica took the brunt of the crash turning hard into the wall then being seemingly engulfed in flames.  A few seconds later Almirola barreled into Logano head on and his car leapt off the track.  Any head on collision with as much force as the 43 car had is always cringe worthy.  Hopefully Almirola make a full and speedy recovery and hopefully poor Danica can just find a stroke of good fortune when she finds herself running in the top 15 one of these weeks.
Charlotte Preview
Race 12 is the annual "Sunday-night-before-Memorial-Day-race," the Coca Cola 600 at Charlotte Motor Speedway at 6:00pm.   This is the longest race of the year as drivers will 1.5 mile quad-oval 400 laps totaling 600 miles.  As we saw in the All Star race, the front row is going to dominate as they have for the majority of the year.  Especially at a night race with the cooler track temperatures which translates to better grip, drivers will be glued to the bottom of the track and we will see a decent amount of single file racing after the restarts.  NASCAR did add a 4th stage to the race for Sunday night because, well, NASCAR can do whatever they want.  Additional cautions should help keep a few extra cars on the lead lap this week as a 600 mile race will ultimately result in the cars in the back getting gobbled up by the lap leaders.  Over the past 8 races at Charlotte the pole sitter has led 25.66% of the laps and 49.36% of all laps led come from the top 3 starting spots.  We saw Martin Truex Jr. lead a whopping 392 of 400 laps in last year's Coco Cola 600…guess where he started, yep, he was on the pole.  I'm not going to get too cute this week, I'll be focusing on the front row for my "fast points" and finding my value down the pack.
Top Tier (over $9,000)
So I just said we want to take the front row and now we have Kevin Harvick ($10,300) starting on the pole and Kyle Busch ($9,800) starting 2nd.  These are two elite drivers who know to run up front and dominate a race.  I will be rolling both out in cash games and gpps without hesitation and maybe even in the same lineup.
Kyle Larson ($10,100) is starting 39th.  Yes, you read that right.  Just play him everywhere for the place differential upside as we need to assume he will find his way to the front in short order so long as he can avoid the crashes as he maneuvers through the field.
Jimmie Johnson ($10,200) is starting 14th with elite track history.  I think he could be a sneaky play if folks are going to be jamming in Larson, Harvick, and Kyle Busch.
Truex absolutely crushed here last year as I said earlier.  People will play him and I may sneak him in a lineup or two given his success at 1.5 mile track this year.  But he's the most expensive driver at $10,700 and he starting 8th which might be far enough back that keeps him from leading the laps we need when we're clicking the most expensive driver.
Mid-Tier ($8,900-$7,000)
This looks like a bit of a dead range to me this week and given the fact that I want 2 or 3 of the $10,000+ drivers I think I'm ok with little in this range.  Kasey Kahne $8,000 is the one driver catching my eye here as he's starting the deepest of anyone in this tier at 24th and has decent track history.
Bottom Tier ($6,900 and under)
First off Michael McDowell is egregiously priced at $4,900.  I wish he wasn't starting 21st as I'd feel more comfortable with him starting 31st with the upside to finish 21st but I think he's capable of finishing top 20 and I think you are going to need the savings to pay up for the studs.  Cory Lajoie starting 40th is absolutely in play at $4,800.  Sure he might finish a few laps down but so long as he finishes the race he will get a point every time someone crashes out.  Ty Dillon starting 27th is interesting as he seems to have the car most week to run in the top 15 but he needs to avoid the bonehead moves.
"Sgrignoli's Strategery"
I'm loading up on all the Larson, Harvick, and Kyle Busch this week and filling in around them as best I can: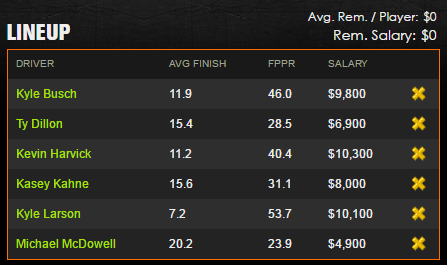 Leaving $0 remaining salary in gpps isn't the best idea, as people love to spend every dollar and will ultimately result in duplicate entries.  I'll also swap in some Jimmie and Truex in gpps.
Have a fun and safe Memorial Day weekend!
Good luck this week PAS-Holes and I'll see you in the winner's circle.
Comments
comments