Full disclosure, I am a Steelers fan, and I think Martavis Bryant has tremendous talent.
Martavis The Great
A person who separates themselves from other people and possesses his or her own agenda is called an individual. This is exactly what Martavis Bryant has portrayed himself as since being drafted by the Pittsburgh Steelers in 2014. Unfortunately for Martavis, football is a team sport, and the Steelers cannot become an organization where they forget that.
The Pittsburgh Steelers organization has been run by the Rooney family for 83 years. For 83 years, the Rooney's set the standard for how a team should be run. I won't go as far as to say that the Steelers never had problems, but I will say those problems never lasted long.
Love vs. Business
Great teams are successful for one reason. No individuals welcome. The Steelers always played as a team. Most recently, you don't have to look any further than the New England Patriots. An organization that has zero tolerance for individuals.
You can always tell when a player is playing because they truly love football or if they are playing for the business aspect. Its simple, teammates play for the love of the game. Individuals play for themselves as a business.
Martavis The Talent
I won't take anything away from Martavis Bryant's and his abilities. In his rookie season, he had a total of 26 catches, 549 receiving yards, and eight touchdown receptions in ten games with only three as a starter. You would have to look hard to find a guy who can get off the line of scrimmage faster. Martavis has the ability to blow by a defender and make any play a big play opportunity. Impressive numbers and abilities aside, talent cannot overshadow a distraction.
Martavis The Distraction
It is no secret Martavis Bryant has had his share of problems staying on the field. In fact, through his first 3 seasons in the NFL, Bryant has missed 20 games. Now, I'm not counting the first 6 weeks of his rookie season he missed because of a shaky training camp. I brush that off to being a rookie. No, I am speaking more specifically to the 20 games he has been suspended over the last two seasons. In 2015, Martavis was suspend the first 4 games of the season due to violating the league's substance abuse policy. More specifically, he was smoking weed. In 2016, he was suspended a second time. This time it was the entire 2016 season. Again, for violating the league's substance abuse policy. Again for marijuana.
Weed? Really? I'm not going to condemn a man for smoking weed, but for Christ sake think about what you have. Playing in the NFL is a gift 99.9% of men, between the ages of 18-40, wish they had the opportunity to do. When smoking weed becomes more important than the gift you were given. When it becomes more important than your teammates in that locker room, or the organization that gave you the chance, you need to self evaluate.
More Distractions
The Steelers are undoubtedly excited about Bryant's reinstatement. That didn't stop them, however, from drafting wide receiver JuJu Smith-Schuster this past weekend. JuJu is a clear indication by the Steelers organization that if Bryant wants to continue to be a problem, they are prepared to move on. So, this should have been a clear wake up call for Bryant to stop being a distraction right? Right?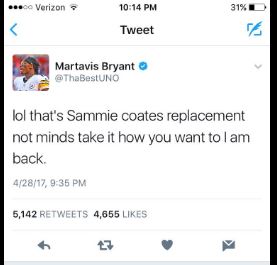 Nope! It took less than an hour after Smith-Schuster being drafted for Martavis to call out one of his own teammates. Marty put poor Sammie Coates on blast, simply to defend his own ego and once again prove to everyone he has no self-reflection.
You see Marty, maybe JuJu Smith-Schuster was drafted to replace another wide receiver on the team. Maybe it wasn't a warning for you. Maybe Sammie doesn't have as much god-given talent as you. Those are the "Maybe's". Do you want to hear the "For Sure's"? You are for sure talented. You are also for sure selfish. I for sure hope you are not playing for the Steelers this year. I would rather watch Sammie Coates out there with "maybe" lesser talent and "for sure" more character. Individuals don't deserve to wear the Black and Gold. In case you still need further proof you think you are an indivual, look no further than your own twitter handle. @ThaBestUNO
Sorry I'm not sorry!
Follow me on twitter: @TheFFAdvantage
Comments
comments