Martinsville Recap
The first short track race of the season didn't disappoint, as Brad Keslowski pulled away from Kyle Busch and the rest of the field down the stretch to become the first repeat winner of the 2017 season.  Busch was the top DraftKings scorer of the day as he led 274 laps.  I vacillated between Truex Jr. and Kenseth to fill out my lineup ultimately choosing the wrong driver.  Track history is so important at Martinsville as the brake patterns in and out of 1,000 entries and exits of turns are critical.  We live, we learn, and we move onto Texas.
Texas Motor Speedway Preview
This week's race is the O'Reilly Auto Parts 500, Sunday at 1:30pm at Texas Motor Speedway.  Texas is a super-fast 1.5 mile intermediate quad-oval and we will see speeds over 200 mph down the straightaways here.  This will be our third 1.5 mile intermediate track so far this season and the same teams generally run well at this type of track.  With 334 laps this week, we're looking to target a blend of ideally two guys who can soak up the majority of the "fast laps" and the rest as place differential plays.  A whopping 71.55% of the laps led at Texas over the last eight races here come from drivers starting in the top 3 positions.  We will want to see who qualifies up top, see which drivers have the track history on their side, and then see who is fast in practice to warrant selection.
Top Tier (over $9,000)
So a weird thing happened at Texas qualifying; several cars never made a qualifying lap because of failed inspections.  This has led to the gifts of Kyle Larson starting 32nd, Chase Elliott starting 33rd, and Kyle Busch starting 34th.  These are 3 of the top 6 drivers so far this year in terms of year to date driver rating and you rarely get drivers of this quality starting this far back.  All should battle their ways to the top 12 and accrue solid place differential points if they can keep clean cars as the work through traffic.
Jimmie Johnson has won 5 of the last 9 races at Texas…that's good folks.  He will be scored starting in the 24th spot but in actuality he will be starting in the rear of the field as he spun out following his qualifying lap.  Yes, he's won this race a bunch recently but his average starting position over the last 14 races here has been 8.6 meaning he usually starts up front and needs to only pass a few drivers until he reaches the clean air and dominates.  That's not the case this week starting in the back.  Sure, fire him off in gpps but given the aforementioned trio starting near the rear there are safer cash game options.
Kevin Harvick will be starting on the pole.  He was wicked fast at Atlanta earlier this year before he went all Bill Buckner on us and gaffed pit road with a late caution speeding penalty.  Over the last 8 races here the pole sitting leads 31.0% of the laps.  Harvick was just ok in practice but I expect he will be able to run up front most of the day and battle for the fast points.  The other two drivers I think will challenge him are the Penske nerds (c'mon, those two guys look like nerdy caricatures).  Brad Keslowski is starting 5th and is coming off a win and has strung together 5 straight top 5 finishes (lots of 5's there).  Joey Logano will start 4th and will work with his teammate and force their ways up front to battle Harvick.
Mid Tier ($8,900-$7,000)
3 cars for me here…Dale Jr. starting 37th, Erik Jones starting 36th, and Kasey Kahne starting 35th.  These guys also never made a qualifying lap.  My model has all 3 drivers finishing inside the top 20 and offer good floors for cash games.
Bottom Tier ($6,900 and under)
Back to the Aric Almirola well here you ask?  Potentially…he ran 9th and 4th in the final two practices but he may be starting too high in the 18 position.  I typically like Almirola starting 25th or worse.  The other guy piquing my interest down here is Chris Buescher starting 38th (also didn't run a qualifying lap).  He averaged 13.7 over the 3 practice sessions so he has some upside for some place differential for cheap.
"Sgrignoli's Strategery"
Given the fact that we have so many playable options across the board this week, I think I might fade cash games all together and focus on cobbling together gpp lineups with combinations of the drivers mentioned here.  I could make an argument for a lineup such as this one in tournaments: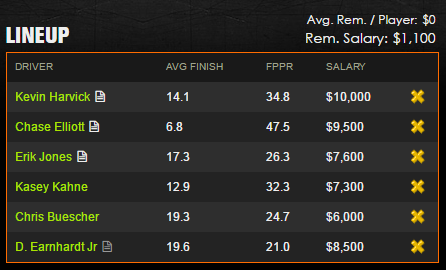 Play around here…swap in Keslowski or Logano as your guy up front, and mix Larson in with the crew starting deep.  This definitely feels like a gpp week to me.
If you project Harvick to lead a slew of laps and the other 5 drivers to bank 10-20 differential points you could find yourself taking down a gpp on Sunday.
Good luck this week PAS-Holes and I'll see you in the winner's circle.
Comments
comments