Fontana Recap
Fontana was a two man show, Kyle Larson vs. Martin Truex Jr. The diminutive Larson outpaced Truex Jr. for his first win of the season. Larson looked like he was shot out of a cannon on every restart down the stretch to capture the checkers at Fontana and increase his point lead. The 42 machine is on another level right now. Trust me, I once dropped 39 points in an intramural basketball game so I know a little something about guys being in the zone and Larson is absolutely scorching at the moment.
Martinsville Preview
This week we head east to Martinsville Speedway for the STP 500 Sunday at 2:00pm. Martinsville Speedway is oftentimes called "The Paperclip" for its resemblance to the nifty little document holder. It is a .526 mile oval, the shortest track on the circuit. This race will feature our first 500 lap race of the season which means we will be targeting drivers up front who can capture a bevy of "fast points" (laps led points and fastest laps points) this week. Over the last 8 races at Martinsville, 48.55% of the laps led come from drivers starting inside the top 4 and the correlation to fastest laps from the lap leader checks in at .535 this week meaning we should get a slew of combo fast points with laps led/fastest laps points.
Top Tier (over $9,000)
Kyle Larson is on the pole and is coming off a win last week. As I mentioned earlier, Larson is en fuego right now. He hasn't been fantastic at Martinsville so far in his young career (73.0), but he's steadily improved over the past few races here. He will again have the first pit stall which will be uber important again this week with the crawling pit road that encompasses the entire track. I can't in good conscious fade Larson right now in cash games.
The rest of the top 5 starting spots belong to Chase Elliott, Martin Truex Jr., Brad Keslowski, and Joey Logano. All but Elliott showed good speed in practice and it may be playing with fire but I'm fading Elliott this week with his questionable track history here (63.4 driver rating). The other three drivers in the top 5 are upper echelon drivers who should all find their way to the front for portions of the race. Kyle Busch has the highest driver rating over the last 8 races at 110.4 clip and he's starting 10th and ran 2nd, 8th, and 2nd in practices.
Mid Tier ($8,900-$7,000)
Here's where we begin looking for our place differential plays this week. AJ Allmendinger gets the biggest increase in DraftKings pricing this week ($6,600 last week up to $8,300 this week). Allmendinger has great track history here with a 91.1 driver rating so the increase is warranted. He will be starting 30th which should yield upside for 15-20 differential points. Matt Kenseth falls into a similar boat starting 25th and owns a 109.8 driver rating here over the last eight races.
Clint Bowyer is my sleeper pick this week. He has shown vast improvement this year with the team change as his driver rating is up almost 30 points. He runs well here (85.2 driver rating) and was the fastest car on the track in final practices. The other guy tickling my fancy a little bit in this range (don't tell my wife) is Erik Jones. Jones has been better than advertised in his rookie campaign and will be starting 15th and ran well in post qualifying practices (9th and 7th).
Bottom Tier ($6,900 and under)
I'm diving straight to the bottom of the barrel this week and looking at Chris Buescher at $5,200 and Cole Whitt at $5,100. Beuscher starting 33rd and Whitt starting 31st and I think both guys have potential to climb 8-10 spots. The only concern is that these guys will likely get a lap down fairly quickly with the short track so they may not have the upside to win a gpp. Other playable options here are Menard, Stenhouse, and Danica for me.
Tentative Cash Lineup – Just lock Larson in; he's so hot right now. Kyle knows how to turn fast laps here and should work his way into the top 5. Truex wants some revenge and will start right behind Larson.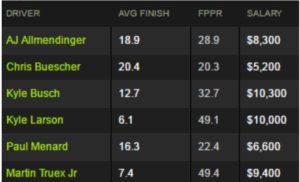 Good luck this week PAS-Holes and I'll see you in the winner's circle.
Comments
comments